What is it?
The DR01 dash cam is a relatively new product by AUKEY, a technology company who are known mostly for designing in-car chargers. Retailing at £69.99, the DR01 could definitely be considered a cheap alternative, targeting buyers at the budget end of the dash cam market.
Does it have the video quality of the Roadhawk HD-2 or the extra driver safety features of the Mio MiVue 688? Well, no. But it is very good for the price. The Sony image sensor records at a maximum of 1080p (30fps), or at a faster 60fps and 720p. While this is good enough for the average buyer, Full HD recording can seem a little dated next to the Quad HD offered by some dash cameras.
What's it like?
The box is small and neatly packaged. In it comes the dash cam, a suction mount, a sticker mount, a dual-port USB 12V charger (meaning you can charge a phone or satnav at the same time as the dash camera), a 5V mini USB cable, some stickers, cable clips and some paperwork. The user manual states that a 16GB micro SD card is included, however, this wasn't the case with our demo model.
The user manual recommends using a Class 10 micro SD card with a maximum storage capacity of 128GB, which is quite a lot bigger than most other cameras, which are usually only compatible with 32GB or 64GB cards. Once the SD card is full, recording will loop and the oldest files will be overwritten by new ones - unless you backup the file.

The dash cam is quite small, with a 2-inch LCD screen. It doesn't feel as durable as some other dash cams we've tested, but it's been dropped a number of times - by accident - and has survived unscathed. It's small size is also quite useful because it can be attached to the top, middle of the windscreen without impairing any vision of the road.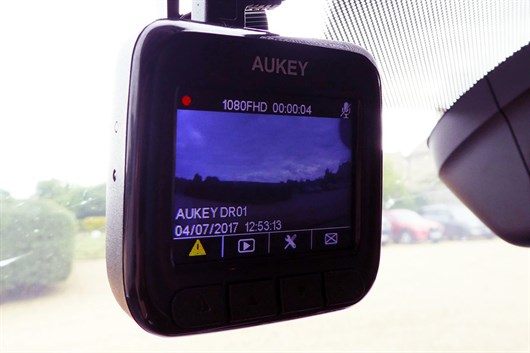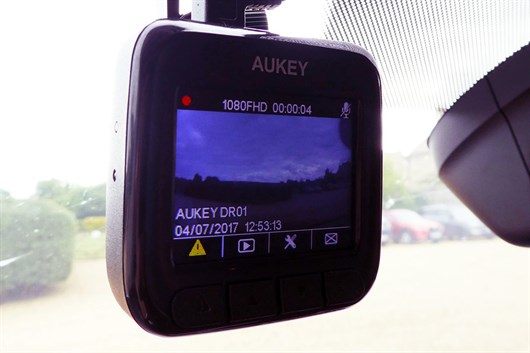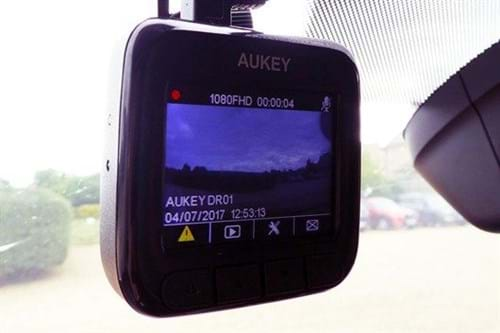 It's a very straightforward device, setup is simple and the user manual is only comprised of six pages. The DR01 only has four buttons - and one of them is the on/off switch - so it's fairly intuitive to figure out how it works. 
The suction cup mount is easier to move around, but there is a more permanent mount that uses double-sided tape and we tested both. While the sticker mounts did the job very well, the suction mount did fall off a couple of times during our testing. This resulted in a few minutes of footage of the floor because it was too difficult to reach and reattach it. Not ideal if you get into an accident.
Video quality is good, especially for the price of the dash cam. It records well regardless of the time of day and the wide angle lens covers 170 degrees. This gives a great field of vision, which you can see in the video below.

However, I did have some quibbles with the device. The lack of internal battery is frustrating, especially in instances when you turn the ignition off and want to replay footage. The dash cam turns off almost instantly when not connected to a power supply. The USB cable, which has an L-shaped connector, also sits exactly where the microSD card goes - meaning you have no choice but to unplug the power whenever you want to put the SD card in or take it out. 

Another inconvenience is the long power cable (about a foot and a half longer than most). While it isn't a deal-breaker, it does mean that the excess wiring has to be bundled up under the floor mat to be kept out of the way.
What can it do?
Motion Detection mode means you can use the DR-01 to monitor your vehicle while it's parked. This function allows the dash camera to start recording when it detects motion in front of it and stop recording when motion is no longer detected.
The Time-Lapse recording feature takes a picture per second to make a video played at 30fps. The DR01 also has Emergency Recording Mode, so when the G-Sensor is activated by sharp turns or sudden stops, the dash cam automatically starts filming.
There aren't many settings to alter, but you can control the recording resolution the length of clip you want to record - between three, five and ten minutes. Audio recording can be turned off, although this can be useful if you need to read out a license plate number in case the video doesn't pick it up.
The DR01 has three sensitivity levels configurable via the menu and you can select whether a 50Hz or 60Hz base frequency is used, so flickering headlights don't cause strobing.
There's no GPS, WiFi or smartphone app to make remotely controlling the dash cam a little easier. There's also no lane departure and proximity sensing. The DR-01 is strictly a video recording device, but that's what you can expect from the price.
Should I buy one?
The DR-01 can't offer the same detail as many of the higher quality dash cams. Footage is a little grainy, but you can read number plates. This is very much a no-frills dash cam that does what it says it does. So despite some pitfalls, it's very good value and offers very good video quality for the money.