What is it?
Adzome isn't a familiar name when it comes to dash cams and you probably won't be surprised to learn this is another Chinese firm that sells mainly through Amazon. Check out the Adzome website though and it looks far more professional than many other dash cam brands from the Far East. It only sells a few models - including the GS63H. It retails at around £75 but we've never seen it for more than £60 on Amazon, putting it in the mid-range and up against the likes of the Nextbase 212 and Aukey DR02
It comes with an impressive specification for the price with GPS, WiFi, motion detection, a Sony sensor camera and the ability to capture footage in 4K Ultra HD, although more of that later. There is also a companion app - called rather unfortunately 'LuckyCam' - which lets you view any footage, plus save it to your phone, share it or email the file to someone.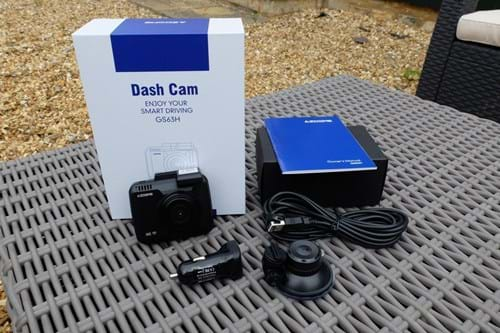 What's it like?
The GS63H feels a good quality unit with a nice weight and a solid feel to all the buttons. In the box comes the camera of course, along with a suction mount, USB charging cable and a 12v socket. The latter usefully comes with two USB ports, so you can still charge or power something while the dash cam is being used. We much prefer this design to the moulded units you often get.
The SD card reassuringly slots in the side, the power lead is nice and secure while the mount is a neat bit of design too. It's far smaller than most and instead of a big clip, you simply twist the back to make the suction cup stick to your windscreen.
The dash cam itself just slots in from the side, so it's a doddle to take off without having to remove the mount. There can be a slight vibration from the mount and we found that over time, the small adjuster comes loose, so it needs a retighten every now and then.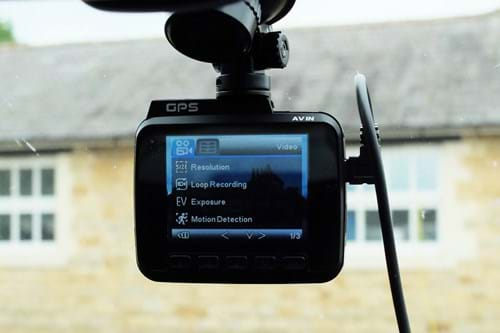 The instruction manual is pretty minimal but the on-screen menus are self explanatory and easy to navigate, although it took us a while to realise you have to press the M button twice to begin with in order to access the second menu. There's the usual settings, so you can change the camera resolution, have your speed in mph or km/h, format the SD card and turn off the annoying beep that greets every button press.
Azdome says the GS63H supports 8 to 64GB Class 10 MicroSD cards and recommends using something like a Kingston, SanDisk or Samsung. We've been using the latter (with a 64GB capacity) in it and it's proved faultless so far - we've not had the camera freeze or crash. The same can't be said for many other dash cams we test...
So what about the quality of the footage? Well as you can see from the clip below, in its highest resolution setting of 2880 x 2160p at 24fps the quality is very impressive indeed, especially so when you remember this is a camera that's priced at just £60. We've tested plenty of more expensive dash cams that don't produce as good quality footage. Do remember though, that Youtube compresses videos, and that the actual footage is slightly better quality.
If you have a smaller SD card and need to save space, you can knock this down to 1920 x 1080p but given that the idea of the dashcam is to capture the best footage possible, we'd recommend sticking with the higher resolution. Number plates are sharper and easier to read from distance too. If you ever need footage for the police or insurance use, this extra level of detail could prove invaluable.
Azdome describes this as a 4K camera. It's even written on the front. However, the minimum resolution for 4K is 3840 × 2160p, which the GS63H cannot record in. The footage is still excellent, but if you specifically want a 4K camera, be aware that technically this isn't one. It is however UHD and we have no complaints about the quality of the recordings.
As well as having a wide angle lens, the Azdome also performs well in direct sunlight and at night, again much better than many more expensive cameras. It has plenty of features too including GPS- which records not only your location but more importantly your speed - as well as WiFi. This works alongside the companion LuckyCam app which is very easy and intuitive to use. It allows you to instantly view clips, share them (if you really fancy showing your journey to the garden centre to everyone on Facebook) and also email them.
The GS63H has a parking mode with a motion sensor, so the camera will switch on and start recording if the camera is moved or jolted. It automatically protects this clip too, although when we tested this, we found it needed a considerable amount of movement for it to switch on. A minor 'nudge' from another car wouldn't necessarily see it switch on and record.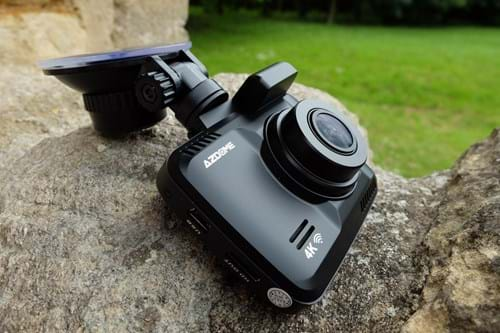 Should I buy one?
While Azdome may not be a familiar name to many, the GS63H is a superb camera for the money. Given that it's just £60, it outperforms more expensive dash cams from many well known brands, both in terms of features and the footage it captures. Yes it may not technically be 4K, but it's very sharp and clear nonetheless.
Easy to set up, the GS63H is a camera you can leave in your car and not have to worry about. As soon as turn on the ignition it starts recording and you can forget about it. You can also set the screen to turn off when you're driving to make it less distracting - a little lights tells you it's still recording. With GPS, WiFi, an easy to use app and reliable software that works well, the GS63H is a great dash cam and one that's easy to recommend.