What is it?
Whether you're a marathon runner, or just want to improve your health with a few extra steps on your lunch break — a fitness tracker is likely something you'll look into. And in the fitness watch market, Fitbit is king. The Fitbit Alta HR is, as the name suggests, the Fitbit Alta update which includes a heart rate monitor.
Fitbit's PurePulse heart rate sensor improves the sleep-tracking features and, on top of keeping an eye on your heart and your sleep, the Fitbit can make note of how you're eating and drinking — so it can tell you how many calories you're burning. Instead of just tracking your exercise regime and sleep stages, the HR moves more into fitness monitoring to help you improve your health.
If you get a text while you're out running, or need reminding of an event in your phone's calendar, you'll also get vibration alerts straight to your Fitbit. But, considering the £130 price tag is identical to the Charge 3, is the Alta HR the better choice?
What's it like?
In the box you get the fitness tracker, charging cable and instruction manual (although it's very self-explanatory). With the Alta HR, there is a one-year limited warranty. You can also swap the silicone wristbands out when they wear down a bit, or just to change up the look of the Fitbit for different occasions. Colours include navy blue, fuschia, black, light pink and coral (or orange to most of us).
Our Fitbit Alta HR is the light pink/rose gold wristband, which is a Special Edition colour that costs an additional £20 (along with the Black/Gunmetal Special Edition). We can only assume that these Editions were made to appeal to those who want something extra masculine or feminine...
There are different leather options available if you want something a bit fancier, as well as a strange stainless steel metal band, which looks both uncomfortable and unfunctional (it doesn't track heart rate).
For fashion-forward folks, the Alta HR is definitely a more attractive prospect to the comparatively bulky Charge 3. However, being the slimmest fitness tracker available with continuous heart rate tracking might not be enough to draw people away from the extra features the Charge 3 offers.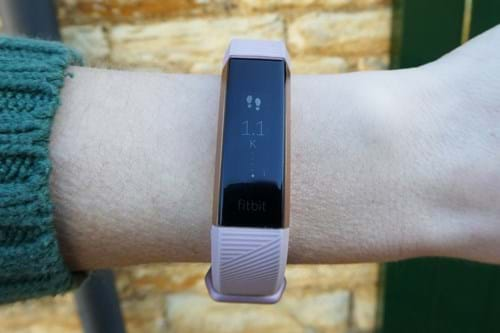 The Alta HR seamlessly pairs to mobile phones, computers etc (see the specs below for compatibility information) through Bluetooth. To monitor fitness and sleep activity, as well as setting fitness goals and inputting calorie details, you have to set up an account — which was very quick and easy to do.
The app is free and, once paired, it's used to configure things like the Alta HR's display, view sleep insights and alter our daily step target. We discovered that although the sleep average for our age range is seven to nine hours, we're lucky if we get seven hours (and more of it is light sleep than deep sleep). We also moved our step target down from 10k to 7k (not so healthy) because we kept falling short of the target.
However, having the Alta HR definitely improved our fitness routine by making us more aware of how little we were up and about during the day. While we've not gone from a couch potato to an evening jogger, we do tend to walk around at lunchtime rather than sitting at our desk to eat. It encourages you to go to bed earlier to feel better rested and drink more water — which has improved reoccurring dehydration headaches.
We haven't used the calorie counter too much because it's a bit of a faff to enter everything we eat into the app, especially when we're at work snacking throughout the day. But the display on the Alta HR does tell us how many calories we've burned if we're ever interested in looking.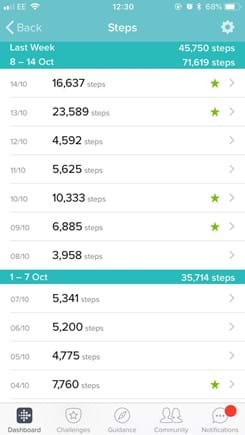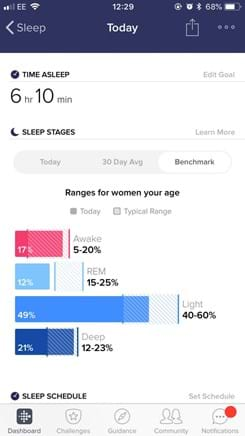 The OLED touchscreen display can be a bit temperamental, which isn't ideal when you want to see how you're doing on a run (we wore ours on a charity 5K). A firm tap often does the trick, although we've discovered that tapping the top of the display works more effectively. It's also difficult to see the display in sunlight.
Tapping the screen lets us scroll through the menus for the clock, step count, heart rate, distance, calories burned and duration of exercise. Rotating your wrist to look at the Alta HR should also activate the display, but it works intermittently.
The slimmer screen design means that when you get a text (or other messages/call/calendar reminders) with your synced device nearby, reading said message is more of a struggle. The writing moves across the thin screen much like the writing on the rectangular information displays on trains that tell you what stop is next, which means twisting your arm sideways to read the message on the Fitbit.
As for comfort, we've got no complaints. Our skinny wrists mean we opted for the small size and it was never irritating while we slept. And — unlike a watch — it doesn't get in the way at work when you rest an arm on the desk to type. The strap is easy to use, though if we had one complaint it would be that the material makes the strap slightly hard to adjust when trying to put it back on after showering (it isn't waterproof).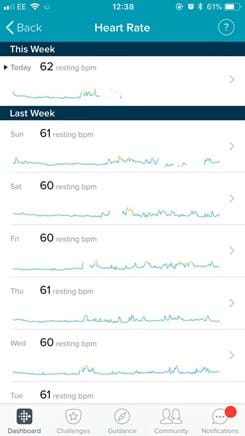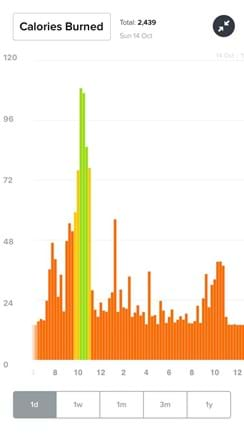 And that moves us swiftly onto our next point, the Alta HR is sweatproof but not waterproof — so you can't wear it in the shower or the pool. The Alta HR doesn't include the Charge 3's dedicated workout modes, guided breathing or Connected GPS either. However, the Alta HR does a decent job of recognising your type of exercise on its own. Occasionally it will categorise incorrectly, i.e. when we were jogging it thought we were doing 'Sport'. But it's generally spot on (though it didn't track two hours of skating at all).
The Charge 3 also lets you see notifications from apps like Facebook, WhatsApp and Strava, plus you're able to send quick replies. The more expensive, Special Edition of the Charge 3 comes with Fitbit Pay too, which offers contactless payment. But if you don't mind living without these extras, the Alta HR does just fine.
With the Alta HR, seeing how your heart rate reacts to exercise indicates your fitness level and helps to improve your daily resting heart rate. There's also plenty of tips on the app to help reach new personal bests. Badges are a good reward system to remind you of how much you've improved, and being able to set up challenges against friends with Fitbits is a good incentive to keep at it.
There's a set target of 250 steps per hour, so if you're part way through writing something (like this review) it gives a vibration alert to remind you to get up and have a walk around. 250 steps isn't much at all either, we walked for two or three minutes and felt much better when we got back to work.
The Fitbit Alta HR will last about five days in our experience before it needs charging. The charger clips onto the device — so if we lose it we can't just use the generic Micro USB lead we have knocking about. A replacement charger will also set you back £17. The charger is easy to use, but the cable is almost ridiculously short, meaning you have to charge it on the floor. It was charged behind our sofa most of the time, meaning we forgot to put it back on after charging a few times. Out of sight, out of mind and all that...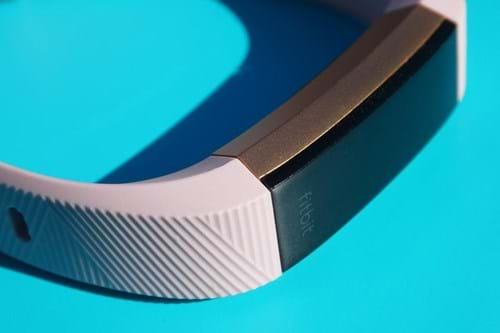 Should I buy one?
Almost certainly. It's stylish, easy to use and won't need to be charged more than once a week. But the main reason for recommending the Fitbit Alta HR is that it really does do a good job of keeping you fit without being too confusing to get to grips with. Notifications to get up and walk around every hour sound obvious, but when you work in a desk job, it's easy to stay glued to your screen for longer than is healthy.
Simple tips to improve your fitness, sleep recommendations to better the quantity and quality of your sleep and basic goal setting all play a key role in helping you become healthier — which is something everyone can do with. In fact, the Fitbit Alta HR is actually a better device for someone that doesn't do lots of exercise than someone who does plenty because it's the entry-level way into getting fitter.
Fitness fanatics will surely opt for pricier fitness wearables, and so they should. The Alta HR doesn't offer ANT+ or activity-specific tracking, like the Wahoo TICKR Fit heart rate monitor or ELEMNT Bolt GPS bike computer, but if you want a daintier fitness watch that still does a good job then the Alta HR fits the bill.