What is it?
The Garmin Dash Cam Mini is the smallest dash camera we've ever tested and you'd be hard-pressed to find anything smaller on the market. At just 5cm long it's smaller than most car keys, which means it can sit pretty much unnoticed in your windscreen. There's no screen but it can be set up using the Garmin Drive app, which also lets you view, edit and download (or send) footage thanks to the built-in WiFi and Bluetooth.
While it may be small, it still records in 1080p at 30fps and has a standard 140-degree lens. One thing it doesn't have is a suction mount. The adhesive mount is strong and works well but it's not ideal if you want to regularly use this in different vehicles. 
The Mini has a parking mode which will automatically begin recording if it detects motion but this requires the dash cam to be hardwired. In the box, you get the camera, instructions and two USB cables - one 1.5 metres and the other 4 metres long.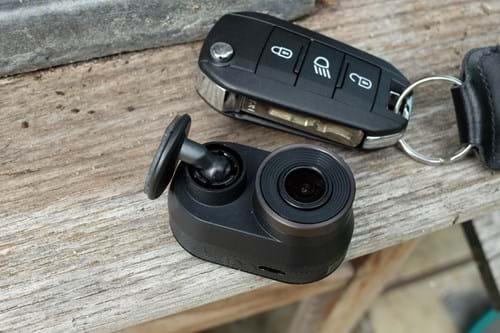 What's it like?
It may be a compact design - as you can see in our pictures, it's smaller than most keyfobs - but the Garmin still feels a high-quality and well-built product, although you'd expect nothing less given the £100 price tag. It's also very simple. There's a port for the power lead on one side, a slot for the micro SD card on the other (it requires the standard Class 10 type up tp 256GB) and a button that will save clips. You can also turn the microphone on and off using the button on the side.
The adhesive mount works well and feels very secure, but the lack of a suction mount (there's not even one available to buy separately) means this isn't suitable for those who want to move their dashcam between cars regularly. You can at least buy replacement adhesive mounts for £9.
Setting up the Garmin Mini requires your phone and the Garmin Drive App - free on the App Store or Google Play. While it's quick to download, we struggled to get the camera to connect to the app. Despite seemingly connecting successfully via Bluetooth, we then occasionally got a WiFi connection error message. This happened repeatedly during our time testing.
Once connected, you can preview what the footage will look like, allowing you to move the camera so it's pointing exactly where you want it. One thing we learnt was that although it's tempting to tuck the camera away behind the rearview mirror, you do need to allow some room for manoeuvre to adjust the Mini's view. We also came across the problem of moving the angle of the camera when attempting to press the save button on the back.
As with most dash cams, once the Garmin Mini is set-up, it's designed to be left alone. It starts recording as soon as you turn the ignition on, although there's no internal battery - instead, the Garmin uses a supercapacitor. And while there's a parking mode - which will start recording if the camera senses movement or a collision - this requires it to be hard-wired in. You'll also need the parking mode cable, which costs another £30.
It will save any sudden occurrences thanks to 'automatic incident detection', which is essentially a G-sensor that locks any clips where there's hard braking or swerving, plus of course anything following a collision, should you be unfortunate enough to be involved in an accident.
While we had a few issues connecting to the Garmin Drive, the app itself is very good and easy to use. You can view all the clips on your dash cam and edit them down if need be. This is handy as, unlike most dash cams, the Garmin Mini doesn't record in three or two-minute clips. Instead, it films entire journeys. This means it can take some time to find and cut down the clip you want, but it's doable after some practice.
The footage itself is clear and smooth, if not quite as sharp as a Nextbase 222, but you can clearly read number plates and it copes well in bright conditions. It's important to note that YouTube compresses footage and even on the best 1080p settings, so the video above isn't as sharp as the raw footage captured by the camera.
While it has WiFi, the Garmin Mini doesn't have GPS so won't record your location or - more importantly - your speed. If you are sending footage to the police or an insurance firm this information could be critical and for a camera costing £100, we're surprised it's not a feature.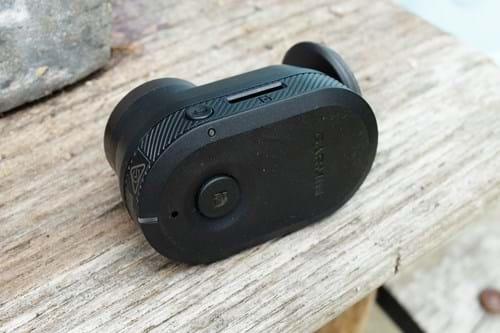 Should I buy one?
While we like the compact size and the quality of the footage from the Garmin Mini, we found connecting to the app frustrating when we wanted to set up the camera or view footage. This isn't a huge problem as, once it's set-up, there's no need to use the app unless you want to save or edit some footage.
The biggest criticism of the Garmin Mini is the price tag. Yes, it's a very small and clever design, but at £100 it's up against some very good competition. And with no GPS or parking mode (unless you pay another £30 and get it hardwired), it lacks the features of many similarly priced dash cams.
If having a tiny dash cam is crucial to you, the Garmin Mini will fit the bill. But for most drivers, we think you're better off investing in something like the excellent Nextbase 322GW or saving money and getting something almost as small - like the YI Smart.