What is it?
Most people know Garmin for its sat navs and, more recently, its range of fitness products. But Garmin also supplies action cameras, like this 360-degree camera.
Technology like this is expensive, but Garmin reckons its VIRB 360 — which retails for around £650 — hits the sweet spot between amateur enthusiast and serious filmmaker. And it's packed with features, including live streaming, WiFi and built-in GPS — great for showing your friends where you are and just how fast you're going.
What's it like?
In the box, we get the VIRB 360 camera, a charging cable, a lithium-ion battery, a tripod, an action cradle and an instruction booklet. The camera itself is a fairly small and lightweight device, with fisheye lenses protruding from the front and rear. These look like they could be damaged fairly easily if you're not careful, but Garmin sells a replacement kit which can be fitted in seconds.
There is a microSD slot for storage (though the VIRB 360 doesn't come with a microSD supplied). There are buttons on the device as well as a small LCD touchscreen menu to let you flick through settings like timelapse, or to choose to use one of the lenses rather than both.
The two large CMOS sensors are 12-megapixel, each with 201.8-degree field-of-view. The camera records two different videos, one from each lens (offering a resolution of up to 5.7K @ 30fps depending), and automatically stitches the overlapping clips together if you select to record in any resolution up to 4K — which is high enough quality for most purposes.
Up to 4k @ 30fps the video is automatically stitched and ready to be uploaded straight onto a 360-compatible platform — like YouTube or Facebook. However, if we want to watch 4K videos in 4K resolution, we'd need a 4K monitor.
The best resolution we were able to view our footage on YouTube is 1440P, beyond that it looks very low quality (which you can see in Garmin's own video further down in the review).
When it comes to previewing the camera angle or changing the settings in more detail, we need to use the VIRB smartphone app (compatible with iOS and Android). As with other smartphone apps for action cameras, it's a case of turning on the VIRB 360's WiFi and connecting to it with our mobile phone.

We can use the app to live stream, but we did get an error when we tried to go live with the VIRB. Apparently, this feature only works with Apple phones. Sorry Android users (including us).
Automatic stitching of the two videos is a big pro because not needing to edit the video we captured saves a lot of time. For those interested in recording their adventures in 360, but who don't want to (or don't know how to) faff about with time-consuming video editing software, the pre-stitched video will likely be what sways you towards the VIRB 360 rather than its rivals.
The VIRB 360 also records footage up 5.7K @ 30fps — but at this resolution, the clips are two separate, non-stitched 360 video files that we have to combine ourselves. To stitch and edit the 5K or 5.7K RAW footage, you need software that isn't provided by Garmin. Not so handy... (though you can stabilise 5.7K RAW footage stitched in VIRB Edit).
VIRB Edit is a desktop app — which can be downloaded from Garmin's website. The software let us complete a few basic editing actions — like trimming video, splicing them together and titling recordings. We were also able to use lock mode to secure the orientation of the camera in a specified direction.
The Edit desktop app also let us access what Garmin calls G-Metrix, which are built-in sensors that record GPS, speed, jump height, distance etc information that you can overlay on the video.
It's worth noting that the VIRB 360 is waterproof to 10 metres, which should be plenty if we wished to take it canoeing, surfing or the like (but it's a bit too chilly for that in autumn when this review was written).
The battery — which lasts about an hour in the 4K setting — doesn't offer an extremely long runtime if, for example, you're spending a day skiing. But that's going to be an issue with any camera of this size. Plus, the battery is removable, so we can extend the battery life by carrying spares.
Before you get to filming, you'll need to secure the camera to whatever it is you're wanting to film. There's a small but robust tripod, which is fine if you're wanting to keep the camera in one place and film the surroundings. It also works well if you want to hold it and walk around, but the best way of capturing exciting footage is to attach it to a bike, canoe or the like via Garmin's action cradle.
The camera works with most GoPro accessories too, which is handy as Garmin itself doesn't sell many accessories for the VIRB. We connected the VIRB to a GoPro suction mount and stuck it onto the bonnet of a 4x4, giving a 360-degree view of where we were driving.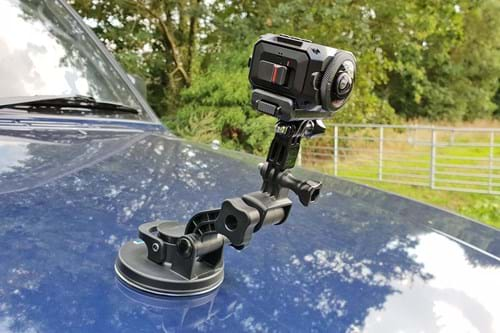 While it's easy enough to press a button to start the recording, the VIRB 360 can also be controlled by your voice. For example, if you're about to ski down a mountain, you can shout "OK Garmin, start recording", and it'll do just that. Or ask VIRB 360 to "remember that" to tag specific moments while recording and quickly find them again later. It works much like the voice-controlled Garmin 55 dash camera.
As you'll see from the VIRB 360's footage, the level of detail of the recording is very impressive, although it does struggle with overcast days and does tend to err on the dark side. There are four microphones and they tend to get washed out with the sound of wind. Fortunately, you can connect an external microphone using Bluetooth.
Should I buy one?
A quick mobile phone video just doesn't cut it on social media these days. Even some action camera footage of you skiing down a mountain or abseiling off a cliff face is unlikely to get more than a handful of likes. What you really need to impress your friends is a 360-degree camera to fully immerse them in the experience.
At £650, the Garmin VIRB 360 is an expensive gimmick — which is one of the main reasons we didn't rate it any higher considering it's very feature-packed. But if you're the kind of person who leads a very active lifestyle and wishes to share it with your friends, it's a very cool way of doing that. Especially if you know how to edit footage.
We like how easy the VIRB is to use, and the 360-degree footage is very, very good (as long as you have a screen that suits watching 4k footage). There are issues; it can be underexposed, and we'd like a longer battery time, but any camera as small and robust as the VIRB 360 is going to have compromises.