What is it?
Motorbike helmet specialist HJC, has launched another Limited Edition collaboration with Star Wars, following the success of the previous Boba Fett (our personal favourite), Kylo Ren and Rebel Fighter helmets. The 2018 collection includes the Darth Vader RPHA 90 and the Stormtrooper CS-R3 helmet — which we're testing. And, unlike the uniformed Stormtroopers of the Star Wars universe, you'll look very unique with this limited edition lid.
The Stormtrooper design replicates the well-known white combat helmet with blue air-supply hose-inspired stripes and added distressed markings. Currently priced around £145 on Amazon, we think it's a steal if you're a Star Wars fan who also happens to be in the market for an entry-level motorcycle helmet.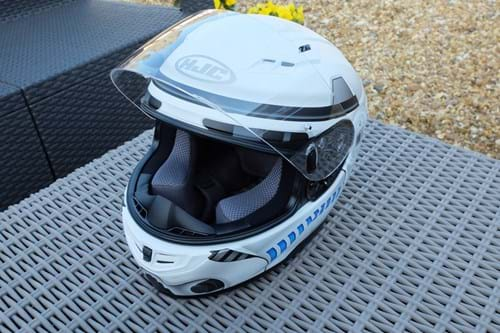 What's it like?
The helmet itself has a polycarbonate shell, and the moisture-wicking Nylex interior pads are removable and washable. It also features an Advanced Channeling Ventilation System (ACS) — closeable forehead and chin vents, plus two rear mesh exhaust vents — so your head won't get too toasty when you're out there policing the Galactic Empire.
The CS-R3 itself is very lightweight and comfortable (if not slightly snug on our cheeks). But don't worry, HJC sells alternative cheek pad thicknesses to different shaped faces.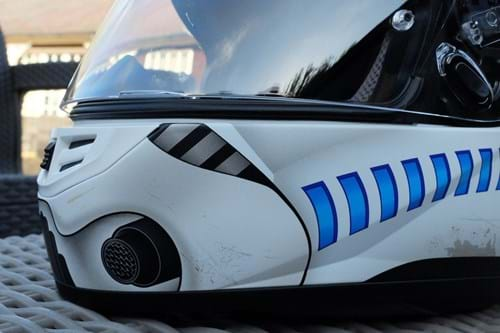 The visor is anti-fog and scratch-resistant, providing 95 per cent UV protection and is Pinlock ready. It's secured with HJC's RapidFire Replacement System, which means the visor can be removed and replaced quickly and without the need for any tools.
We can lock the visor closed with a switch on the left side, lowering wind noise at high speeds. The visor can also sit in three positions: fully open, half open and open just a crack — which is useful for ventilation during urban riding. There's a micro buckle adjustment strap too, which is very easy to use even with gloves on.
Should I buy one?
We've been huge fans of HJC's previous character helmet lineups (the Monsters Inc Mike Wazowski helmet is worth a look) and this one definitely doesn't disappoint. Aside from just the exterior design, the Stormtrooper-themed CS-R3 is a great helmet in its own right, with lots of features for the price. The ACS ventilation system means heat and humidity won't be an issue in summer while HJC's RapidFire Replacement System is excellent.
If you like Star Wars and want an entry-level helmet, this is where you should put your money. If you're going to join the Dark Side, you might as well look good doing it. Plus, it's extra safe because you won't hit anything. You know, because Stormtroopers have absolutely awful aim... We'll see ourselves out.