What are they?
Audio is sometimes a second thought compared to visual experience. While screen resolution has progressed rapidly over the last few years, audio is still playing a bit of catch up. So, if you're looking for audio involvement that actually matches the involvement you get with things like 4k TV, this is for you.
Manufacturer Hooke Audio says the Verse headset is the "world's first Bluetooth 3D audio microphone." And while we have no reason to doubt that claim, it's very similar to one made by the manufacturer of the last set of 3D recording headphones we reviewed - Sennheiser's Ambeo.
The key thing here, though, is the Bluetooth bit; Hooke can genuinely claim that the Verse is the first wireless binaural sound recording in-ear headset on the market. If you don't know what 3D sound is, it's virtual reality for your ears, basically. By placing a microphone at either side of your head, binaural recording returns an audio track that properly replicates the way you hear the world around you.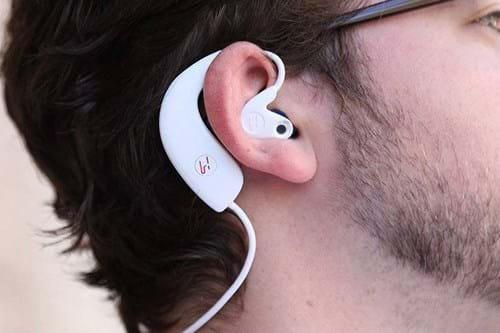 Although binaural and stereo both technically employ two microphones to capture sound and 'space it out', binaural uses two omnidirectional mics placed where the ears would be in order to accurately represent the location of any given sound.
In practice, it means that while you'll be able to distinguish the basic left and right channels of a stereo recording using headphones, with a binaural recording you'll feel you can 'place' exactly where specific sounds are coming from relative to your head. It can be quite spooky actually. Plus, a binaural recording will work with any old headphones. Good, eh?
What are they like?
They're easy as pie to use. Connect the headset to your smartphone via Bluetooth, download the Hooke app, and off you go. Plus, unlike the iPhone-only Sennheiser Ambeo headset (for the time being anyway), the Verse works with Android too.
The free app is excellent, essentially taking control of your phone's camera but overlaying it with specific controls for volume and such, plus a recording button that tells you whether you're in binaural (3D) or 2D sound modes. Each video you record is automatically exported to your phone's photo/video stream – they're not held in the app for you to transfer manually, which is handy. That said, saving and exporting can take some time if the video is on the longer side.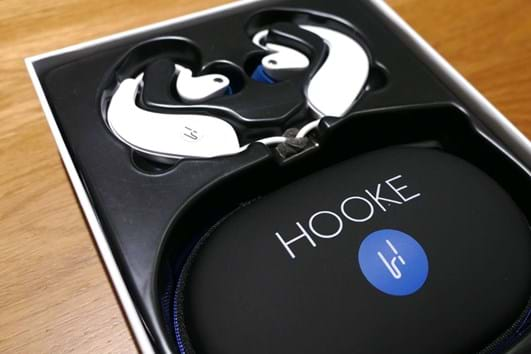 At £148 (or £187 for black), they're not exactly cheap. You also have to buy them from Hooke's website because there aren't any UK retailers selling the Verse yet. So the prices you'll likely see advertised will be $190 for white set or, inexplicably, $240 for black - plus $15 (or about£11) for shipping to the UK. Hooke tells us they'll soon be available from Amazon though.
Yet, while the app is free download, you'll have to pay to remove the watermarks from video recordings. You can also opt to unlock additional audio filters, which seems a little bit cheeky considering you've just spent a significant chunk of money on the headphones themselves.
But it's still significantly less expensive than the £260 that Sennheiser is asking for the Ambeo headset, albeit the Sennheisers have active noise cancellation, which these do not. That aside though, when it comes to the main function of both – binaural recording – we found that the Verse headset performs better.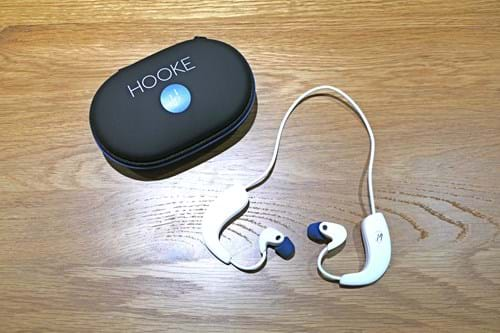 For a start, the Bluetooth thing means the Verse is much lighter and less clumsy to use – the Sennheiser's short wires and big control panel make wearing it quite awkward and uncomfortable.
Plus, in our experience the recordings we made with the Verse resulted in a slightly more obvious sense of space. It's a quite freakish thing to hear for the first time. Below is a dopey video I quickly shot after setting up the headphones.
Have a quick listen below (using headphones). My wife is sitting about 15ft to my left in the recording. She will also kill me for publishing this. Alternatively, check out Hooke Audio's official Verse video here.
The compactness and portability afforded by Bluetooth is always going to give you a particular advantage, though it's especially obvious set against the clunky Ambeo headset. That said, these aren't the most comfortable earphones you'll wear, nor the most stylish.
The bulk of the innards sit in a case that rests behind your ear, which isn't necessarily heavy but makes the headphones feel cumbersome – and gives them the appearance of old school hearing aids, especially in white. We'd like the connecting wire that wraps around the back of your head to be very slightly longer too.
The £148 you'll pay for these (in white) is also enough to buy you a decent mid- to upper range set of in-ear Bluetooth headphones from the likes of JBL, B&O, Sony and Dr. Dre himself. Any of those will almost certainly give you a sound with more bottom end punch than the Verse – it's not big on bass frequency and can sound tinny at higher volumes – but it's probably unfair to compare it like-for-like with standalone headphones. It's not a bad headset, it just lacks depth.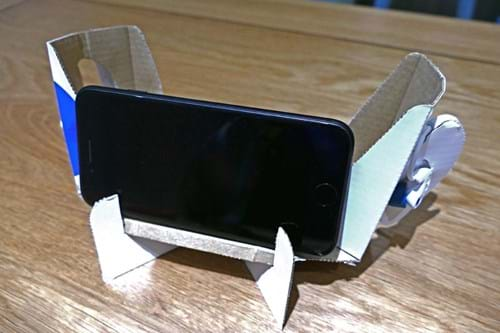 This headset also comes with a DIY recording stand of sorts, which you make by removing and folding parts of the outer packaging. It's a nice idea, but in reality it's flimsy and looks kind of…well, daft. Can you imagine holding this limp piece of cardboard origami in front of you at a gig? I didn't think so.
On a far more positive note, the Verse also comes with a proper cable for attaching it to a GoPro – another advantage it has over the Sennheiser unit. And the included carry case is especially nice – high quality, sturdy and neatly designed, inside and out. Any Verse buyer will get a 14-day, no questions asked returns guarantee, as well as a one year warranty for parts and labour, and a 'lifetime' of customer support too.
Should I buy them?
Although the Verse headset provides an average music listening experience, and a flawed wearing one, it's exceptional at its main job. And it feels like a much more modern, more sophisticated piece of kit than the Sennheiser Ambeo we reviewed recently. 
It also feels lightweight without feeling flimsy, the app is very well designed and the resulting sound recordings are highly impressive. It's just a shame that the earphones themselves are so dopey looking and the musical sound quality lacks depth. 
Still, it would be harsh to focus on those areas of criticism because anyone looking to add truly immersive, spatial audio to their recordings can do so here in a very convenient way and at a very appealing price.