What is it?
The Hyperkin SmartBoy allows you to play old Game Boy games on your smartphone (designed to work with Galaxy models) and is an instant nostalgia hit for anyone of a certain age. It uses the same chunky, off-white plastic as the original Game Boy and replicates the control pad and buttons faithfully, not just in looks but how they feel when pressed.
As you take it out of the box, you do get the impression that this really is a GameBoy - just one that's missing a screen.
What's it like?
However, the first issue with the Hyperkin SmartBoy makes itself known as soon as you take it out of the box. It will only connect to phones with a USB Type-C connector. And, although this is becoming increasingly common, it will rule this product out for large numbers of people. It's an approved Samsung accessory, but will work with any Android phone with a USB Type-C connector. Sorry, Apple fans.
The Hyperkin SmartBoy doesn't require batteries - everything is powered by the phone itself - and it works by reading the cartridge and saving it to the phone's memory to be played. The padded sides open up to accommodate the phone and slide back together to hold it snugly in place.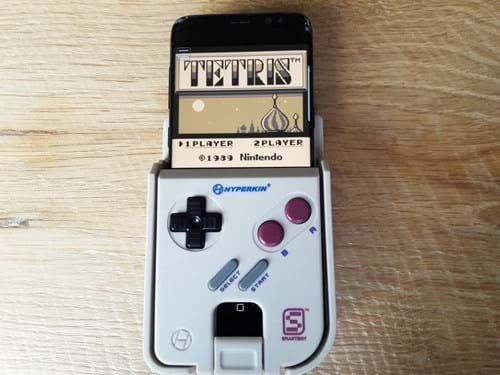 You require two apps to be able to run game: MyOldBoy and SmartBoy companion. This is where we began to struggle with set up - as it's not the plug-and-play experience that we were expecting. The menus for SmartBoy are confusing and poorly design, plus if you're using the SmartBoy, there's only a small amount of screen space to work with. We ended up removing the phone and completing the set up separately, as it was too frustrating to do it with the SmartBoy attached. It probably took 10 minutes to set up and the instructions needed to be followed meticulously.
Once up-and-running, the first thing that strikes you is just how crisp and clear the screen is. For those of us who battled with the blurry green, too dark/too bright and black screens of the original - it's impressive to see these games playing on modern screens. Plus, unlike the original, you can play them in the dark with no problems. It's a similar story with the speakers, which have also moved on considerably since the early 1990s. It's not possible to hear lots of little nuances in the sound files that were previously hidden by a low-fi speaker.
After the initial frustrations of set up, we did lose several hours to old games - Tetris especially - and this is where the SmartBoy redeems itself, as it makes it possible to enjoy your old games all over again.
Should I buy one?
Hyperkin has created a product that's not as easy to use as the original Game Boy - and that's a problem. With the original Game Boy, it was a case of putting the cartridge in and pressing the 'ON' slider. It couldn't be simpler. But the two apps and various menus of the Hyperskin SmartBoy remove that simplicity and - ultimately - some of the magic associated with the original Game Boy is lost with it. It also means that it doesn't actually feel like a Game Boy at all - despite the accurate physical reproduction.
That said, it's still a fun little device that's worth picking up if you can find it on offer (otherwise it's around £40). After all, Game Boys have started to rise in price as retro tech comes back into fashion. If it worked with a wider variety of phones and wasn't quite so fiddly, this would be a four or five-star product.