What is it?
The MiVue 688 is one of the most advanced dash cameras in Mio's latest range. This new model has significant improvements over its predecessor, the MiVue 618, including the Lane Departure Warning System and Parking Mode. It also now records higher resolution footage and comes with a Sony optic sensor to improve video quality in low light conditions.
The MiVue 688 currently retails at £159.99 - £60 more than the 618. It also, strangely, comes in at only £10 less than the touchscreen model 658 that offers integrated wifi and most of the same features. For its price, can it offer that much extra than the more affordable dash cameras?
What's it like?
The device has a 2.7-inch screen, 4 buttons along the right side for selecting menu options and an orange emergency recording button so that specific recordings are kept in a protected folder instead of being overwritten. The footage is recorded to microSD, and an 8GB card will record about an hour of footage before the device begins to overwrite old footage to make space. The memory card is not included with the device though.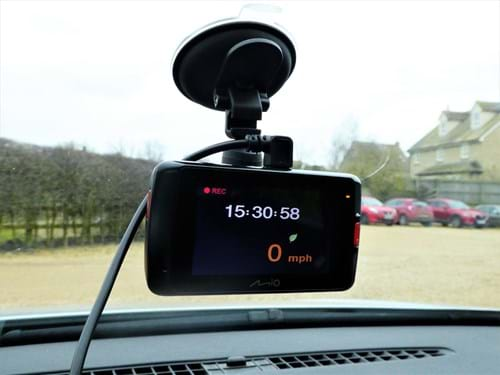 The dash camera comes with a long in-car power/charging wire and a suction cup to fit the mount to the windscreen. Getting the MiVue 688 out of its sliding mount is relatively easy, however, getting the device back in is slightly more difficult because of the small attachments.
Although many people like to keep their dash camera out of sight when it's not in use, the new Parking Mode feature gives some incentive to leave it plugged in when parked. The motion detection activates and records without a driver present, making it very useful for recording footage of bumps and scratches when the car is unattended.
However, the Smartbox power supply accessory (sold separately) is needed for this and the device only records frontal footage so may not capture everything.
The MiVue 688, like the 618, includes GPS tracking so that it records your location, speed, altitude, longitude and latitude along with the video. The speed and time indicator are especially helpful if the footage is used as evidence in an accident. The 3-axis G-sensor captures impacts and sudden/sharp braking or acceleration.
The Safety Camera Warning is useful and comes with free monthly updates to keep the database accurate. Although this feature is good for reminding drivers when to be extra careful of speeding, the device doesn't include the locations of mobile speed cameras.
There's a Headlight Reminder, which is especially helpful around this time of year when it gets dark earlier and driver's forget to put their lights on. The Fatigue Alert warns you to take a break if you've been driving for a while and can be set to remind you at two, three, or four hours.
The Lane Departure Warning operates when you start drifting out of a lane on the motorway. In theory, the Eco Drive Indicator is a helpful tool to make your driving more economic. A little green leaf shows on the screen most of the time, but turns orange if you accelerate too hard. However, if you keep your dash camera in the corner of your windscreen (as is suggested so it doesn't obscure your vision) it's virtually impossible to even see the screen.
The final safety feature is the Forward Collision Warning. It notifies you, either by beeping or a spoken message, that you're too close to the vehicle in front and might be in danger of crashing. We found this safety feature way too sensitive, often triggering when not even close to another moving car. The good news is that you can easily select the features that you wish to turn on or off.
You can view footage directly from the memory card, but using the MiVue Manager interface allows you to see the G-force and location information as the videos play. It also allows you to upload footage directly to YouTube or Facebook - and footage is very good. There is a sample clip below. Note that raw, uncompressed footage is of better quality.
Should I buy one?
For all that you get with the Mio MiVue 688, £159.99 is not a bad price. It's certainly not the cheapest dash camera on the market but it has above average video footage quality, various safety features, and is easy to use.
However, the MiVue 618 can offer a similar result - but with slightly lower video quality and less features - for £99.99. With such a big price difference, we would be more obliged to go for the 618 despite how well the 688 performs. If you're looking for video quality over value though, the 688 is a safe bet.