What is it?
The Navdy is an aftermarket head-up display (HUD) that connects to your car's OBD-II port and your mobile phone. Once hooked up, it enables you to navigate, make and receive calls, stream music and access information from your phone while on the move, without taking your eyes off the road.
Control is via voice or a wireless rotary dial that attaches to the steering wheel. It's intuitive to use when installed, plus installation itself is easy. The only major downside is the cost – currently the RRP is a very steep £599, although it's available for less £400 if you shop around online. 
What's it like?
Out of the box, the Navdy immediately feels well made. It requires an OBD-II port to function, but almost every car made from 1996 onwards has one, so there are very few cars it won't fit. Installation is easy and takes a few minutes.
The Navdy magnetically attaches to a sort of 'cradle' that uses an adhesive mount to sit above the instrument binnacle. The cable for the OBD-II port is attached to the cradle and can then be routed and neatly tucked out of way, with provided cable tidies. The OBD-II provides power as well as data from the car.
That magnetic mounting system means the Navdy can be removed easily from its cradle and hidden out of sight when parked, without having to be fully reinstalled and set up every time you return to your car. The only thing that does take a little time is reattaching the rotary controller to the steering wheel and a paring it all up with your smartphone – then you're ready to go.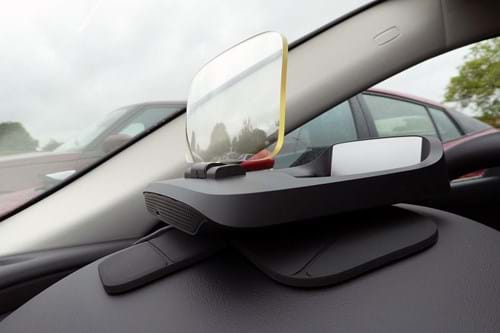 The Navdy can be removed from its mount and hidden out of sight
The amount of stuff the Navdy can do is a bit overwhelming at first. It reads your WhatsApp messages, text messages, emails and even tweets and Facebook notifications, plus it enables you to make and receive calls and navigate with Google Maps, complete with traffic updates. You can also use certain Google Now or Siri voice control features and see your true GPS speed plus, on most cars, a tachometer and fuel gauge.
You can also reply to messages via voice, plus you can dismiss or open notifications (called 'Glances') by gesture, swiping your hand across the front of Navdy to accept or dismiss. Once you delve a little deeper, you can configure what kind of notifications you want to receive from your phone, to minimise distracting updates, like Twitter follows.
The information is customisable using the rotary, wheel-mounted dial so, for example, you can have the full screen occupied with navigation, or you can have a simpler speedometer, clock and compass. Either way, the display is very clear and in full colour. It even seamlessly adjusts its brightness to suit the ambient light.
If your car has a Bluetooth connection then you can link up both the Navdy and your phone to the vehicle, which means you can control wireless audio streaming from the Navdy. It enables browsing playlists and album artwork, as well as the expected track-skipping and pause/play functions.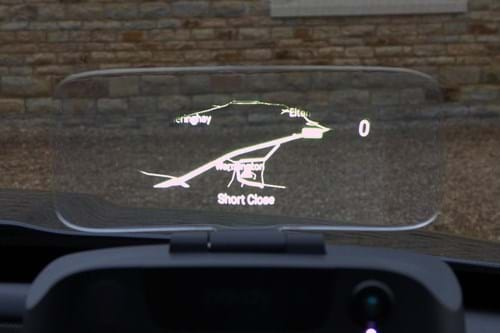 Navigation is clear and includes traffic updates
When you're away from your car you can use the Navdy app to set up routes in advance, ready to start when you get in the car. You can also configure finer details, like the amount of information displayed in Glances. It's extremely comprehensive and it's slick to use.
Should I buy one?
The Navdy has a better set of features than any manufacturer-fitted HUD around – and we think it's a good preview of what makers like Audi will be doing in a few years to come. It's like a taste of the future – but it's only going to appeal to real technology lovers.
However, if you're into the latest gadgetry and you have the money, there's nothing quite like the Navdy. It's a truly impressive bit of equipment that works brilliantly and brings a wealth of features directly into your eyeline when driving. And it's regularly updated, with new features coming in frequent over-the-air software patches.
There is a lot to take in when using Navdy, though - so while it promises to minimise distraction and keep your eyes on the road, it can do the exact opposite at first. However, once you get used to its core functions, it manages to work very well and help you stay informed and connected while equally keeping both eyes on the road at all times. 
Details
Price: £599 RRP (available for £395 on Amazon)
Alternatives
Garmin HUD: £129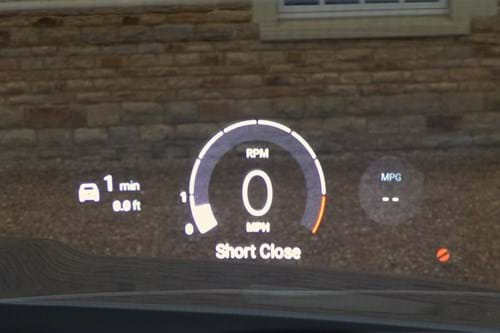 The display can be configured however you want it