What is it?
The 312GW is the new mid-range dash camera from Nextbase. It shoots in 1080p at 30fps or 720p at 60fps, plus it has a GPS sensor for recording location and speed information. It also comes with a quick release mounting mechanism, making it easy to fix and unfix from the windscreen.
Another handy feature is built-in WiFi, which lets you view and save footage via a smartphone using an app. That's handy if you're out and about and need to send a clip to someone on the go or make a backup after an incident. It's still possible to connect to a PC via USB cable too.
What's it like?
As is to be expected of Nextbase, the 312GW is nicely made, with a sturdy plastic structure and familiar rear button layout. Navigating through settings menus is straightforward, but the red emergency button, for saving interesting or important clips, is quite small so might be fiddly when on the move.
The quick release system means you can leave the suction mount in place in the screen, hooked up to the power lead. When you leave the car the body of the camera can be removed, then slotted back in place when you want to get back on the road, with no need to adjust camera angles or fiddle around with wires.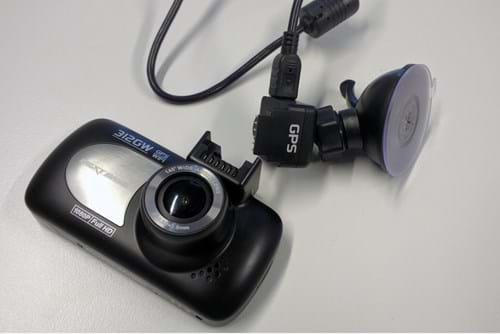 It's extremely convenient, so much so that it could be the deciding factor for some dash camera buyers. It would work especially well in conjunction with a hardwiring kit, which most car electricians can fit for a few pounds – Halfords, which sells the 312GW, will do it for £30.
When a power source is connected the 312GW starts recording automatically, saving three-minute clips to a memory card up to 32GB – not included with the camera. The default mode is 1080P at 30fps and footage is very clear, even in fairly low light conditions, but if you want a higher frame rate the camera supports 720P at 60fps.
The viewing angle for the lens is 140 degrees, which is wide enough to capture plenty of what's happening in front of the car. For a £99 it's hard not be impressed with the quality of the footage, some of which can be played back below. Just note that YouTube compression reduces the quality slightly and introduces some pixelation.
The software package for the 312GW can be downloaded for free from the Nextbase website and it's very easy to use – just open video clips from the memory card and it will plot the location of the journey on a map, along with speed and G force information. It's a very powerful tool in the event of an accident since it shows vital info that a dash camera without GPS would miss.
Footage is clear even on grey days
Should I buy one?
In short, yes. In terms of value for money, the 312GW is probably the best dash camera Nextbase makes. It's £99, but it records very high-quality footage and is packed with useful features, particularly the quick-release mount. Its WiFi functionality is handy, but it's not likely to be used that often in reality.
The Nextbase 212 is broadly the same as the 312GW, but it foregoes WiFi connectivity and GPS, meaning it costs just £69.99. However, the benefits of having a GPS receiver are worth the extra cash, in our opinion – making the 312GW our top choice of dash camera on sale today.