What is it?
It's a dashcam with a twist – there are two lenses, one for looking forward and one for looking back. Typically dash cameras only have one lens, meaning you need two separate cameras if you want to monitor the road both ahead and behind at once. On the Nextbase Duo, both of the cameras record together, with the saved footage showing front and rear side by side.
This footage can then be plugged into some desktop computer software, compatible with both Mac and Windows, which shows GPS location plotted on a map, G-forces, speeds and other useful information. That's very handy in the event of an accident, since you can give the insurers some hard data to prove who was at fault.
What's it like?
In the box is the dash camera itself, a long 12V power cable, a suction mount with a built-in GPS receiver, a data cable for connecting to a computer and a software CD-ROM, the contents from which can also be downloaded for free if your laptop has no CD drive. No memory card is supplied, so you'll need to buy a high quality microSD card.
The camera itself is nicely put together and is made of a mixture of brushed metal and solid, hardwearing plastic. There are two cameras mounted to swivels so they can be adjusted to point in the right direction, plus there is a nice bright screen for adjusting settings, aligning the cameras and playing back footage.
Installing the camera is simple enough thanks to the sturdy suction mount, which shouldn't come loose even in the event of a minor accident. Once the camera is in place it needs to be adjusted so the wide angle lens points forward and the zoom lens points rearward – these are clearly marked to make life easier.
Once in place you can either run the camera off its battery or connect it to the 12v outlet. Running it off the 12v socket makes the most sense, since it will automatically record when the car comes on, then switch itself off when the ignition is turned off. The camera records short loops and will overwrite the oldest footage once the memory card fills up.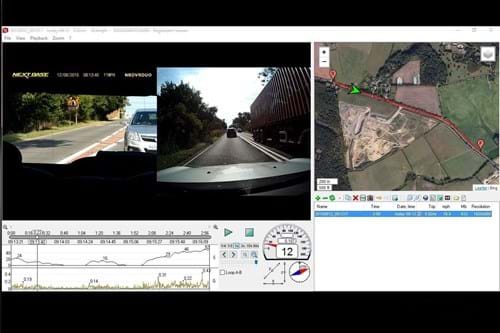 Supplied software is user-friendly and powerful
Video quality is good enough through both lenses, but the Duo does need more careful setting up than a single lens camera. Typically when setting up a dash camera it needs to be angled slightly downward, which makes the built in sensor collect the correct amount of light from the road ahead, rather than bright sky. Setting the camera too high results in an over dark video.
This is tricky to get right with the Duo, since you have to delicately set the angle of the rear camera. In our case this meant the front camera was pointing a touch high and we got some dark footage. That said, it was still clear enough to make out details and number plates, so it's a small quibble. If both cameras could be adjusted for elevation as well as rotation this wouldn't be an issue.
Navigating through the various settings menus on the camera is a bit of a fiddle at first, but learning the various controls takes very little time. After that, playing back video clips or changing the video resolution is easy. Playing footage back through the provided software is a better idea, since it is clearer and shows vital information like speed and map position.
If something happens that requires you to save a clip there is a button with a hazard triangle on it. Pressing this prevents the camera from looping over the last recorded clip, so if there is an accident, or if something interesting happens on the road, you can watch the footage back later without it being automatically deleted.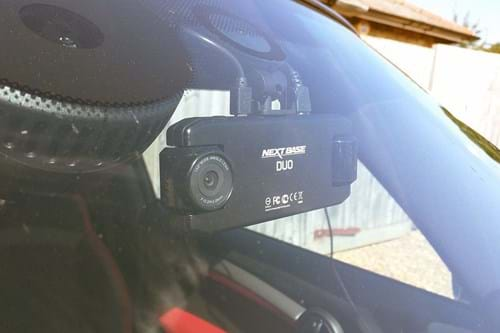 Should I buy one?
If you want a basic dash camera then there are simpler, cheaper alternatives like excellent Nextbase 402G, but if you need record what is happening both in front and behind of your car then the Duo is ideal. It's far more user-friendly and much less fiddly than setting up two separate cameras.
The only real issues are its size and price. It isn't the slimmest unit, which means you'll probably need to remove it after every journey for security. Furthermore, at £200 it's expensive, particularly if you already have a front-facing camera. If that is the case then buying a separate rear-facing camera might be more cost effective, even if it is more of a faff.