What is it?
This may just look like a standard USB charger that plugs into a 12v socket, but the Nonda ZUS includes a bit more to justify its price of around £30 on Amazon. Not only does it fast charge via the two reversible USB ports, but it has a built-in Bluetooth tracker, what Nonda calls a 'parking meter alert' (it's essentially a timer with an alarm), two reversible USB ports and a car battery health monitor.
It works alongside the ZUS app which includes a mileage log and also works with other Nonda products including a tyre pressure monitor, reversing camera and an OBD II connector for monitoring your vehicle status.
What's it like?
Nonda makes a lot of the military grade quality of the ZUS and the fact it uses Bayer Material coating. It's certainly a sturdy USB charger - this is none of your £5.99 at a local garage rubbish - and with titanium coated connectors it feels as though it will last. It plugs into a 12v socket with a satisfying feel and stays secure with no rattling about or movement. This does of course depends on the 12v socket (or cigarette lighters as they used to be called) but we tried the Nonda in various cars including a Ford Fiesta and Mercedes C-Class and it has stayed put
It's not the most exciting of designs, although there's not much you can do with a USB charger, but the fact both USB ports are reversible, in other words there's no 'wrong' way to put in a USB lead, is handy when you're trying to plug something in when it's dark. It charges fast too and will get a depleted smartphone battery back up to 100% charge in around 2.5 hours, which is quicker than many other in-car chargers we've tried.
But there's more to the ZUS than just the charger. It also has a built in Bluetooth tracker - think of this like a charger with an integrated Tile. The idea is that, by using the free ZUS app, you can locate your parked car if you forget where it is.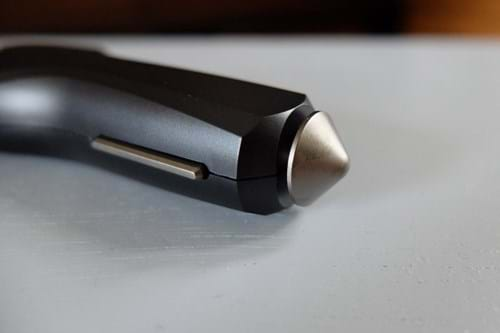 The chances of that in every day use are slim unless you're very forgetful, but it's handy if you've parked in an unfamiliar town or city late at night where one back road looks like another. Or similar at festivals or big outdoor events where you end up parked in a field. That said, if there's a poor GPS signal, it struggles to locate your parking location, so in rural areas or multi-storey car parks with intermittent signal, it can be hit and miss.
You can also share your vehicle location, which is handy if you share a car with family. For instance if you drive to the local train station and park in a side road, but your partner finishes work earlier and picks up the car, you can send its exact location. There's a map or a compass on the app and it's very accurate, working to within a few feet of the car (when the GPS works), although chances are, you'll have seen your car by then.
Nonda also includes a parking meter alert in the app. Although, to be fair, this is just an alarm you set for how long you've paid to park, and it will alert you 10 minutes before. It's handy but nothing you couldn't do using the clock/alarm on your phone. The ZUS also acts as a car battery meter, and although we found that less useful, it will tell you if the performance of your car battery is failing.  The app has several extra functions - like a tyre pressure monitor - but you have to pay for the hardware.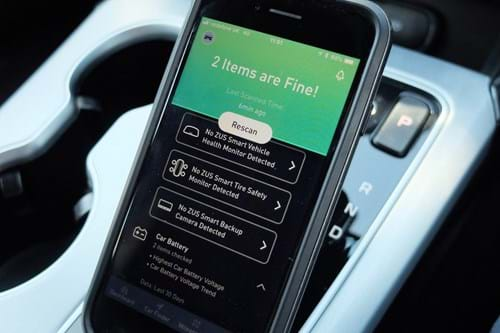 Should I buy one?
The Nonda ZUS is a clever bit of kit and there's nothing on the market like it. We like the fact it charges so fast and the reversible USB ports are really handy - we're surprised no one else really does this. But of course what makes this stand out is the fact it's a Bluetooth tracker. We found the car finder a little hit and miss, mainly because of poor GPS signal in certain locations, but the map still gives you a good idea of where your car roughly is.
Of course whether that justifies its £30 price tag depends on whether you regularly lose your car or can't remember where it's parked. If that's the case then it's probably very useful. If not, you're paying £30 for what is essentially a USB charger, albeit a very good one.