What is it?
If you've ever been shopping for car-related accessories, parts or tools then you'll probably have encountered one of Ring's products. The brand was established in 1974 and primarily supplies bulbs and equipment to the automotive market.
Over the past few years it's been branching out and in 2015, it launched a range of dash cams. Today, it offers three different models. The camera tested here, the RBGDC50, is Ring's mid-range dash cam. It's not overly expensive, with a list price of £59.99, which means it's ideal if you're seeking an affordable, reliable dash cam from a recognised brand.
The RBGDC50's specifications lend it further appeal. It's a compact, subtle unit that has a 2.7-inch widescreen display on the back, records in 1080p HD and has a wide-angle lens to capture more of what's going on ahead of you.
It also packs a host of recording features, simplifying its use. It has motion detection and a G sensor for automatic footage capture, for starters, plus will also switch on and off automatically with the car's ignition. It will loop footage, too, if you want it to – meaning it will simply keep overwriting recorded footage until an incident triggers a file save event. This means you can get away with using a smaller memory card, if desired.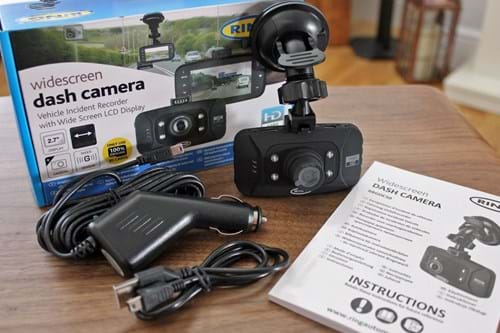 What's it like?
The RBGDC50 comes in a stout, easily unpacked box. Included is the mount, a USB cable for transferring files and a standalone 12v adaptor for in-car use. The unit itself is a light, compact and smart-looking affair that doesn't feel flimsy or cheap. The mount, on the other hand, is a bit more low-rent but it isn't difficult to adjust and sticks well to the windscreen.
A dash cam should be easy to use, so you can simply jump in your car and go without having to delve around in menus. Fortunately, the RBGDC50 is a straightforward affair. Press the sucker on the mount firmly against the glass, flip the lever, plug the unit in, start your car and you'll be in business. Because the camera's relatively small, it's not difficult to tuck it up out of the way – and the cable is very long, allowing you to route it in a fashion that conceals it from view. Ring also sells a hardwiring kit, should you wish to make the install permanent.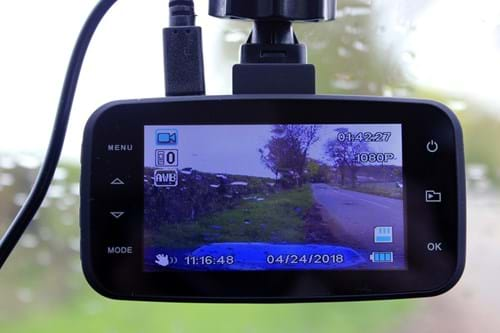 Adjusting the settings is easy, thanks to a logical interface and well-defined buttons on the sides of the dash cam. Getting footage off the camera is similarly simple. Plug the USB cable into the top of the unit – not the charging port on the mount – and the device appears as a USB drive that you can access the video files on.
The footage from the camera is adequate, considering the price, as you can see in the clip below. Although you do have to remember that Youtube compresses videos when uploading. Number plates are just about legible up close and the images aren't washed out, so it's easy to see what's going on in saved clips. Video at night suffers from some quality issues, which isn't a surprise, but it's clear enough to serve its purpose. This dash cam's field of view is narrower than some rival offerings, however, meaning the camera captures less of what's occurring around your car. 
There are also some other points worth bearing in mind. Firstly, don't expect to get far without the charging cable – as, like many other dash cams, the internal battery grants only a short runtime to allow files to be saved if the main power source is shut off.  Secondly, the RBGDC50 doesn't come with a microSD card, so you'll have to buy one in order to use the unit.
Ring's only recommendation is to get a Class 6 card or better, which will cost less than £10. We threw in a 32GB Class 10 card from Sandisk we had spare – available for around £12 – and this worked perfectly. Coincidentally, this is the maximum size of card supported by this dash cam. The sound recorded by our test unit was also marred by a persistent crackling. This may not be an issue for you but, if sound is important in your application, this flaw may raise its head and prove problematic.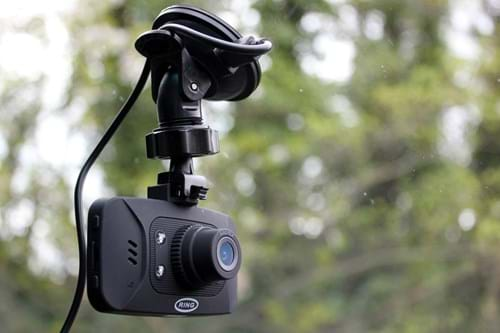 Should I buy one?
The RBGDC50 is of a decent quality, easy to use and produces usable footage. If you're looking for a straightforward, serviceable unit from a known brand, this should do the job. Buyers who just want a cheap and effective dash cam, however, could save themselves some money by opting for the likes of the £21.99 Lanka Full HD dash cam.