What is it?
Roadhawk says the HD-2 is its "most technically advanced camera to date." It records in 1080p at 60 frames-per-seconds, has a GPS receiver and promises excellent image quality in all light conditions, day or night – but it has no screen for playing back footage on the fly. It's also expensive at around £250, though Roadhawk pitches it as a high quality camera for professional drivers like truckers.
What's it like?
The Roadhawk HD-2 comes in a sturdy cardboard package and is supplied with three different mounting options – a permanent windscreen mount that the camera unit clips into, a long-armed mount for flat windscreens like those in HGVs or buses, or a more traditional suction mount. It's provided with an exceptionally long power cord, which can be neatly routed around the windscreen with provided wire clips.
The camera unit itself is simple, chunky and very strongly made. There is a flap covering the SD card slot, two status LEDs and an emergency button for saving useful clips. Aside from that, there is nothing to the HD-2 – it has no screen and no interface for changing settings, framerates or image quality, it just plugs in does its job automatically.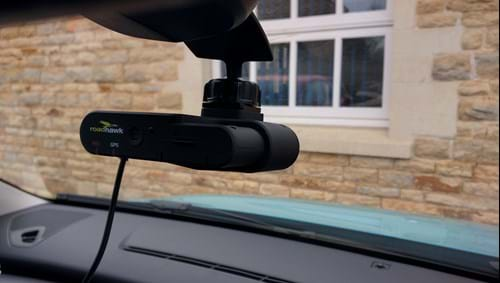 To change any of the settings the camera's SD card has to be plugged into a computer with the Roadhawk software installed, which is available from the roadhawk.co.uk for both Windows and Mac. It's not the nicest piece of software to use, but once the camera is set up for your needs it shouldn't be necessary to use it again unless there's an accident.
Like most dash cameras, the HD-2 starts up when the ignition is turned on and records automatically, though since there is no screen it has an audio message and LED to let the driver know it has started up, and another when it finds GPS reception. Aside from that, you can forget about it and get on with driving – the only other thing to think about is the E button for saving interesting or important clips.
Image quality is very good, even in poor light conditions such as when driving directly towards the sun. Number plates and other important details are fairly easy to pick out in most footage, plus when playing back recordings in the Roadhawk software there is a display of GPS location on a map, along with G force and speed.
The lens has a very wide angle of view, meaning it clearly records of what's going ahead of the car without large blind spots. But it's not all good news - the footage recorded at night, while very good, could be better for a camera at this price. It's also a shame that there is no screen, which means playing back any important footage at the scene of an accident is impossible.
A sample clip can be found below, though uncompressed footage from the camera is clearer and higher quality, since YouTube's encoding method creates a pixelated mosaic effect in places.
Should I buy one?
At £250, it's quite hard to recommend the Roadhawk HD-2 for the average motorist. A Nextbase 512G or 402G will provide footage that's almost as good but for less money. Both are easier to use on the go too, thanks to built-in screens for playback and changing settings. That said, if you're the type of motorist that's on the road all day – a trucker or delivery driver, for example – then the HD-2 is probably worth buying.
If you are a professional driver then image quality, sturdiness and reliability will likely matter most – and the HD-2 delivers all three. If you're in your vehicle all day then it's probably worth getting the camera hard-wired by an auto electrician too, since it frees up the 12V socket and keeps tell-tale wires out of view.