What is it?
Roadhawk is better known among professional drivers than everyday motorists – it has a history of making sturdy cameras suited to trucks and vans, such as the HD-2. The Vision aims to bring Roadhawk's impressive image quality to a more mainstream audience, with a price of £149.99.
It has built-in WiFi, so video clips can be played back on a smartphone. That means it has no built-in screen, so it's very compact and easy to hide away neatly in the windscreen. Otherwise, it's a fairly typical dash camera, shooting in up to 1296p @ 30fps or 720P @ 60fps.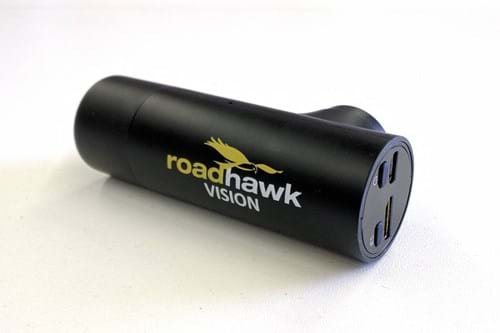 What's it like?
The neatly packaged Vision is very compact and feels sturdily-made. It comes with two mounting options – a suction cup or an adhesive pad. Opting for the adhesive pad doesn't mean the camera is a permanent fixture, though – the camera itself can be detached from the mount easily to be hidden out of sight.
Cleverly, the mount enables the camera to rotate through 360 degrees – so if you drive a truck or coach with a flat windscreen the Vision is very easy to set up. It starts recording when it gets power, whether from a USB, 12V socket or from a hardwiring kit. By default it records in 1080p at 30fps, with one minute clips.
When the memory card is full (an 8GB card is supplied) the camera will loop over old footage, unless it is marked to be saved by the G sensor detecting an incident. Clips can be viewed on a PC either by connecting the camera or using a memory card reader, or they can be watched on a smartphone via the free Roadhawk app.
The app connects to the camera via WiFi, which can be switched on an off via a switch. It's fairly straightforward to use and shows a live feed of what the camera can see, with a slight delay, when connected. It can also be used to playback and save clips or change settings, such as clip length or resolution.
While the app is easy to use, we did have some connectivity problems with the Android version – though only on a Google Nexus 6 handset. With iPhones and the other Android handsets tested the app worked properly, but even so it might be worth asking to try a sample with your particular phone.
Recording quality is very good, with clear, crisp images even in less-than-ideal lighting conditions. High dynamic range recording means the camera can record clearly even when driving into sunlight, with all important details visible in freeze-frame. That said, there is no GPS sensor on the Vision, so it can't record location data or speed information, nor can it automatically set its date and time via satellite.
The sample below gives an idea of the quality of footage, but files from the memory card are clearer and crisper, since YouTube compressions lowers the overall quality.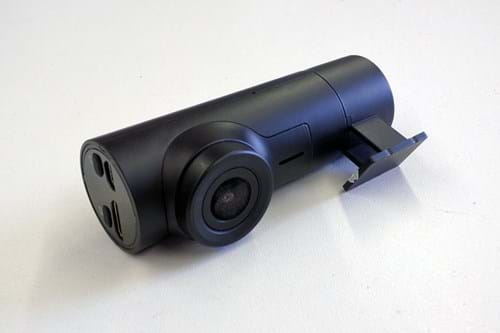 Should I buy one?
As good as the image quality is, the Vision is expensive at £150. For less money it's possible to buy other WiFi-enabled dash cameras like the Nextbase 312GW, which also has a built-in GPS sensor and a built-in menu screen for changing settings easily or watching footage without linking to a smartphone.
That said, if you want very crisp video then the Roadhawk Vision is great – but it just feels quite expensive next to cameras that offer GPS and a built-in screen for video playback. With a GPS sensor we'd recommend the Vision without hesitation, but as it is there are probably better ways to spend £150 on a dash camera.