What is it?
Designed for large lawns, the Toro 56cm PoweReverse ADS is a serious bit of kit. Powered by a Briggs and Stratton 163cc engine, it's a self-propelled mower (of sorts) and has some unusual features such as a reverse drive function and sliding handlebar controls. It can be folded upright for storing too which is handy if you're short of space in your garage or shed.
Competing with the likes of the Honda Izy range of mowers, Toro may not be a name as familiar to many but the US firm's mowers are used by the likes of Real Madrid FC and St Andrews Links, so it comes with a strong reputation. The 56cm PoweReverse 20965 costs around £600, although we have seen it discounted to £550 from some online retailers.
That's not cheap but there are are plenty of functions such as vibration-isolating handlebars that are height adjustable and a washout port, allowing you to connect a hose to easily clean the underside of the deck. Cutting settings range from 25mm to 102mm.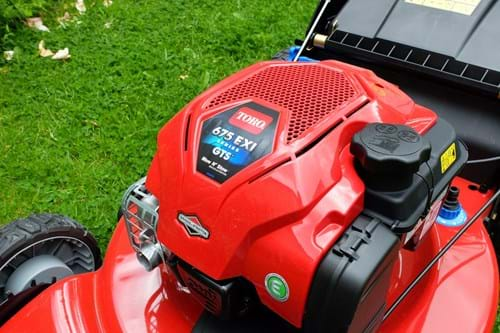 What's it like?
The first thing to say is that this Toro is not a mower designed for small areas. It's a hefty machine and a bulky thing to handle when it's not running. However, it's certainly solid and feels built to last. The Briggs and Stratton 675 EXI engine starts easily and first time, with minimal effort required on the pull cord.
While this is technically a self-propelled mower, the Toro is quite different from others in its control. To get the rear wheels to power it forward, you push the top plastic section on the handlebars in (or down as it were). But if you're expecting the Toro to zoom off under its own power that won't happen - instead it kind of 'assists' you as you push the mower. 
At first, it's hard to tell whether the AutoMatic Drive System is actually working (lifting the rear wheels and seeing them spin reassures you it is), but it does at least make the Toro feel lighter than its 35kg weight. What's clever about the Toro is that it has PoweReverse, so when you pull the plastic handlebar section back, the front wheels power up to help push the mower back.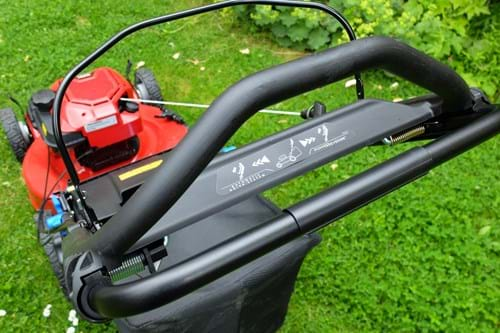 Again, it's more assistance than self-propulsion, but more annoying is that if you switch from forwards to reverse too quickly, the back wheels can lock. It's something you get used to (it just requires a bit of patience when manoeuvering) but we did still find it frustrating, especially if you have a tricky area around borders or paving to mow.
You can also inadvertently end up ruining your lawn with the locked wheels and grippy rubber wheels creating divots in the grass. It's especially disappointing as Toro markets this particular mower as one that's manoeuvrable around obstacles. 
What those tyres do mean, however, is that the Toro grips strongly, even on longer and wet grass, helped by the bigger rear wheel. The cut itself is excellent and while the Toro won't give you nice stripes like the Hayter Harrier, (although you can buy a striping kit separately), it gives a consistently tidy finish. The huge grass bag has a capacity of 74 litres which means you even on longer grass, you won't have to be continually emptying it.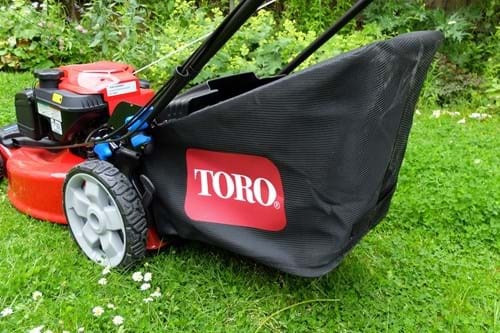 You can easily switch from bagging cuttings to 'recycling' them thanks to a simple lever which closes the grass bag opening, just remember to open it again when you put the grass bag back on. We also like the adjustability of the handlebars, which easily change for height plus they do a good job of minimising vibrations through your hands, which you'll appreciate if you're mowing very large areas.
The handlebars fold down like most mowers but the good thing about the Toro is that it can be stored upright. You simply lock the handlebars when they're folded forward and it balances on its end. It's very clever and means the mower can be neatly stored against a wall, taking up much less space. Just be aware that the blade will then be on display should you have small children around.
Keeping the Toro clean is easy thanks to the integrated washout port. You simply attach a garden hose (with a standard type connector) and the water will clean all the grass cuttings and muck out from the underside of the deck. Do this every time you mow and while it may seem a chore, it will prevent grass building up and affecting the cutting performance. Plus it's a lot easier and safer than flipping the mower and doing it by hand.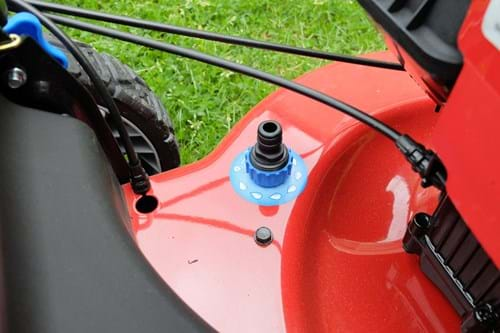 Should I buy one?
If you have a very large lawn or a serious area of grass to cut such as a long verge, the Toro 20965 will certainly not let you down. Its solid design and durable finish mean it's a machine that will last. It also has a two year 'full coverage' warranty which covers the cost of parts and labour. What's not so good is the AutoMatic Drive System and PoweReverse which we found hampered its manoeuvrability. In this respect, a standard self-propelled mower is still better in our opinion.
On the plus side, it gives a neat finish, the grass bag is huge and the washout port means it's easy to keep clean. For us, another big selling point is the fact it folds up and can be stored upright. If you want a serious mower, the Toro is more than up to the job, but our money would still go on a Honda Izy.