What is it?
The 800w stainless steel juicer from VonShef is a low-budget rival to more expensive brands like Philips and Breville. If you're trying to eat more fruit and vegetables, lose weight or improve your lifestyle (or all three) - then a juicer like this one is ideal. At £45 (at time of writing), the VonShef juicer is considerably cheaper than big name brands, but it does cut some corners to get there.
What's it like?
In the box, we get the motor base (main body of the machine), food pusher, juicer cover (with feed chute), stainless steel mesh strainer, juice container and pulp container. The feed chute that the fruit or veg goes into is a useful 75mm, which means we didn't often have to chop veg into smaller pieces for them to fit. Even whole tomatoes and carrots fit easily.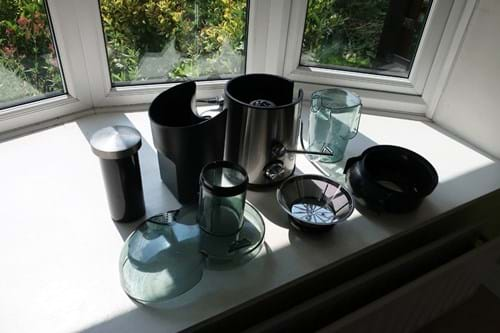 The 1100ml juice jug sits on the right side of the machine so the juice can flow into it, however, it isn't attached to the juicer so that it can be used to store and pour your homemade juice. It doesn't fit flush against the juicer, which isn't too much of an issue but it does mean that a few drops of juice sometimes leak out onto our kitchen counter if we aren't careful with the placement.
The two-litre pulp container is fully detachable to make cleaning easy, as well as holding enough pulp to make batch juicing mess-free. Assembling the juicer is easy, as is taking it apart - but we aren't so sure how durable the 800w juicer would be long-term compared to more expensive models, considering many of the parts are made of plastic.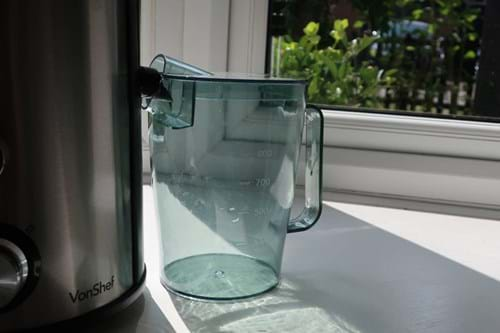 On the plus side, the VonShef juicer is fairly small when it comes to kitchen appliances, slotting easily into a corner of our kitchen counter. There are two speed settings, with the slow (1) speed being used for soft ingredients like berries, oranges and tomatoes and the faster speed (2) being used for hard foods like apples, ginger and carrots. For added safety, the juicer will only turn on when the lid has been locked in place with the locking arm.
Operating the juicer is very simple, with the food being placed into the chute and pushed down into the spinning blades within the device. The juicer doesn't seem to make as much juice as rivals, needing four oranges to produce a glass of orange juice - but you get what you pay for. We also found that some of the juice that the VonShef machine produced was a bit pulpy. Some people won't mind that but we prefer smooth juice. To each their own, eh?
Cleaning is also a very easy process with everything disassembling quickly, and all parts (except the main body of course) being dishwasher-safe. Just bear in mind that there are quite a few parts to clean so handwashing won't be a particularly quick task. The juicer comes with a two-year warranty, too, but you have to register within 30 days to be able to get said warranty.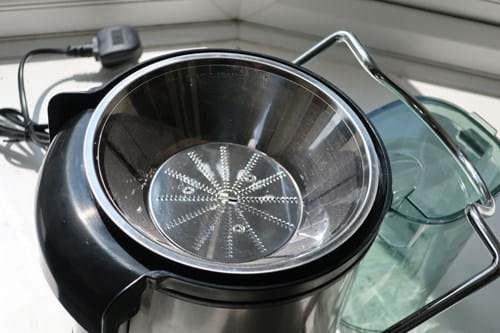 Should I buy one?
The VonShef is a very tempting option because of it's low price, much like the VonShef 1000w Stand Mixer we've reviewed. While you don't get the reputable brand name of a juicer from a manufacturer like Breville, you do get a relatively compact juicer that does the job it's intended to. Did the build quality and performance blow us away? No. But if we had some spare cash to spend on a juicer, we'd consider this one. 
Despite producing juice that's a bit pulpy on occasion and features stainless steel that doesn't seem as high-quality as its competitors, we like how simple the juicer is to use and clean. However, if you're going to be juicing fruit and veg every day, we'd suggest investing in something more durable-looking.