What is it?
The VonShef 1000W Stand Mixer markets itself as a low-cost alternative to well-known bakeware brands like KitchenAid. Featuring three attachments, eight-speed settings and a pulse function for around £65 - the VonShef mixer is a very attractive option for new or seasoned bakers who don't want to shell out hundreds for a big name mixer.
What's it like?
The design isn't exactly award-winning, but it's functional - which is all a mixer really needs to be. You can opt for black, red or white - there's no difference in pricing for different colours - and it's very lightweight.
In the box, we got the mixer with detachable bowl, three metal attachments, a splashguard and a user's manual which includes helpful tips - like which attachment to use and how long to use them for depending on what you're baking - and a few recipes.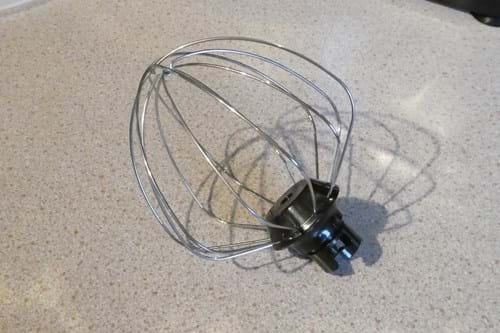 As the name suggests, the VonShef mixer has a 1000W motor that can handle all sorts of dough, cake, meringue, ice cream etc mixtures. The featured attachments include a dough hook, flat beater and balloon whisk.
We used the whisk attachment to make some cranberry brownies. The whisk is suggested for light mixtures - like meringues and sponge mixes. The airy sugar and egg mixture was mixed very well with no lumps, but the recipe required the stand mixer to be on maximum setting (eight on the dial) and it is fairly loud at full power.
The stainless steel, 4.5-litre mixing bowl can handle a large amount of mix, with VonShef claiming it has a 3-litre working capacity. Although, we would have liked a handle on the bowl to make carrying it a bit easier.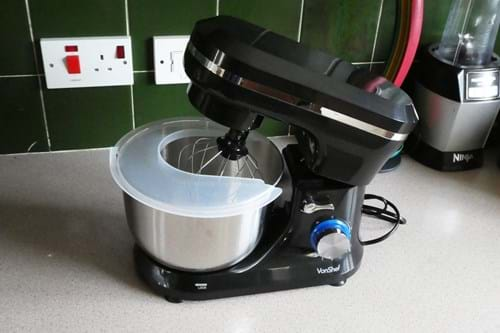 The top half of the mixer lifts up via a tilt head design, so more ingredients can be added. It doesn't lift up a lot, but we had no trouble adding bits and bobs to the mixture as we went along. The transparent splashguard also has a usefully wide ingredient chute so you don't have to remove it to add things to the mix.
One significant annoyance is that it's not possible to remove the bowl from the mixer if the attachment is locked in place. This means when we twisted the mixing bowl off the mixer to detach it (so we could add ingredients), we also had to twist the whisk off in order to get the bowl out - which is a bit irritating, especially when the whisk is covered in brownie mix.
When the bowl is less full, we could just about get it out without removing the attachment - but this isn't an easy manoeuvre and we risked spilling the mixture.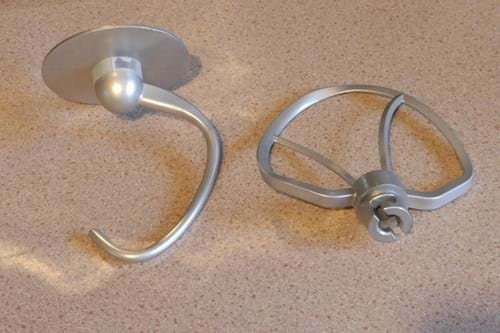 The mixer struggles a bit to mix heavier batters and doughs, so it's a better option if you prefer to cook mostly light mixtures like sponges rather than being an avid bread baker. With sticky mixtures, the attachments also don't reach the bottom of the bowl very well because it's so large - so you'll end up scraping it off the sides of the bowl yourself.
Should I buy one?
The VonShef 1000W Stand Mixer is a great entry-level mixer for those looking to bake without spending a fortune. It's very reasonably priced, sitting at around £250 less than big name brand mixers, but obviously, it won't compete against these higher quality rivals in terms of performance.
If you're new to the world of baking and mixers, or you want something cheap and cheerful that'll get the job done, this mixer is just the ticket. Plus, you get a two-year manufacturer's warranty.
However, if you want something very durable that'll last years and years, it might be worth buying something expensive. The cheapest KitchenAid mixer features ten speeds, ten attachments and has the benefit of a great reputation for quality - but it'll also set you back £399.