What is it?
The YI Ultra Dash Camera is a medium price dashcam that offers a number of appealing features. It has a maximum 1520p resolution at 30fps - compared to 1080p for many dashcams - and is fitted with a large aperture f1.9 lens with a wide angle of 140.6 degrees which promises good performance in dark conditions and a wide field of view.
It also includes a number of useful and desirable functions such as playback through your smartphone via an app, a three-axis sensor for automatic storing of incidents and voice control. There's a large 2.7 inch colour screen at the rear controlled by a series of small buttons along its base.
What's it like?
YI bills the Ultra Dashcam as being made of lightweight aluminium, but a closer examination of the outer casing suggests a greater proportion of it is more humble plastic. However, given its relatively light weight of 96g it feels sturdy and well built. As well as a power cable a twin USB 12v power socket adapter is included, as well as a good quality Toshiba micro SD card.
Helpfully the Ultra Dashcam comes with two mounts - one adhesive and one suction cup, both of which attach screw onto the cam. There's even a handy shoehorn-like tool included for removing the suction cup from your windscreen.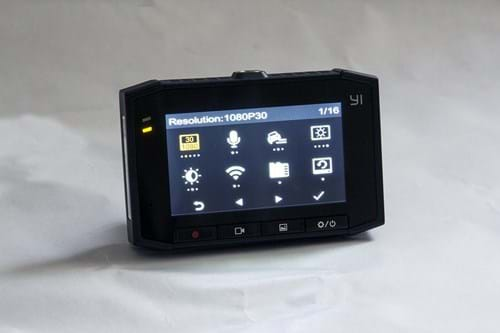 Controlling the YI Ultra Dashcam is pleasingly straightforward too. Although accessing the menus via the buttons means cycling through various options, the key functions are kept on the first page. The companion app is also a breeze to use.
It's easy to hook the app up to the dashcam itself, almost all the functions can be controlled through your phone and you can view the clips in high quality and with smooth playback with just a few taps of the screen. The voice control works well too, although this will depend on how noisy the inside of your car is.
The images that the YI Ultra Dashcam produces are excellent. In the full 1520p mode the details are sharp and easy to pick out, and even the most basic 720p mode the standard is more than acceptable.
The wide angle lens does produce an image that is quite rounded and there is no option to change the viewing angle, but from a safety perspective it captures as much as possible. Driving data isn't displayed within the live screen but after 10 minutes of driving a 'driving report' is produced that contains speed, acceleration and braking data.
Should I buy one?
While there are cheaper alternatives on the market, few offer as much functionality and quality as the YI Ultra does. The images it produces are of a high standard even in low light conditions and it gives you instant access to them whether you want to simply save them to your SD card or share via social media.
It also comes with everything you could reasonably need straight out of the box, although investing in a bigger memory card would be worthwhile if you want to record at maximum resolution all the time. The biggest omission is the lack of live GPS data, which for some buyers will rule out this particular dashcam altogether.