Top 10: Essentials for camper van owners
The only downside to owning a campervan or motorhome is that you can never have all the kit you could possibly need...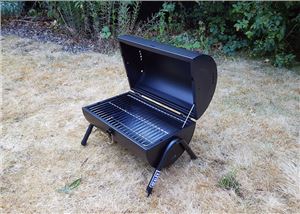 1
Sealey portable BBQ
A good barbeque that doesn't eat into precious luggage space is a real boon on campervan excursions and this Sealey model is perfect for such occasions. Designed to be mobile and taking just a few minutes to set up, the Sealey can operate in a single or double format to offer ample cooking space despite its size, we provided food for four adults with ease. 
After cooking and cooling down the Sealey has a pair of trays you can lift out to dispose of the spent coals and allow quick clean-up, while the top half has a carry handle to allow easy transportation. Due to the design, the Sealey gets very hot around its base so it must be used on a concrete or gravel surface that is impervious to heat.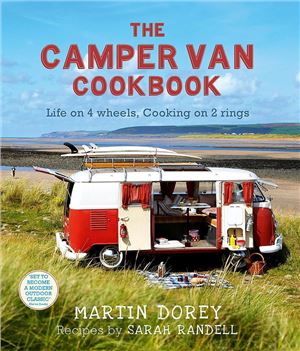 2
The Camper Van Cookbook: Life on 4 wheels, Cooking on 2 rings
Cooking in even the most luxuriously-appointed campervan can be a bit of a stressful experience because space is at a premium, while hobs and ovens tend to be on the smaller side too. Thankfully The Camper Van Cookbook is the ideal companion to liven up mealtimes and make travelling a gourmet experience.
The book contains 80 recipes designed to be completed either on a two-ringed stove as you'd find in most campers or on the barbeque, but it also delves into the other delights of the campervan experience including foraging for food and is an enjoyable read too.
Buy it now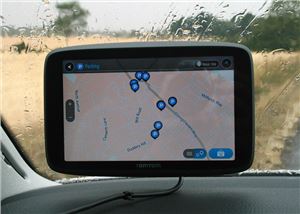 3
TomTom Go Camper sat nav
Designed specifically to take the stress out of navigating a larger vehicle around the country, the TomTom Camper sat nav brings all the welcome features of a regular TomTom with a few extras thrown in. The Camper attaches to your camper via a dashboard or windscreen mount and has a large 6.0-inch touchscreen, and comes with TomTom's MyDrive downloads and updates for maps, safety camera locations and traffic for life.
The camper van routes - which are customised to fit the van's size and weight - are mostly good, but the Go Camper is prone to the odd bout of confusion as it sent our van down single track B roads that would leave the door mirrors brushing against hedgerows. That said, route directions to camp sites and places of interest were faultless. We found the parking feature to be great for finding campervan friendly places to park up for a couple of hours to explore a town or village.
Buy it now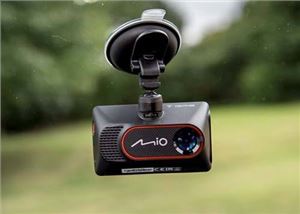 4
Mio MiVue 766 WiFi dash cam
It might not be the most fun gift, but it'll definitely be something you wish you had if you get into an accident. The Mio MiVue 766 WiFi records in 1080p at 30fps to provide clear videos that make it easy to read number plates on playback. The GPS tracking also provides accurate location and speed details, while the WiFi function hooks the camera to a smartphone for mobile video playback and quick downloads.
For complete peace of mind, the MiVue 766 can also be connected to a rear-facing camera in the form of the MiVue A20. Obviously, this is sold separately at around £50. 
Buy it now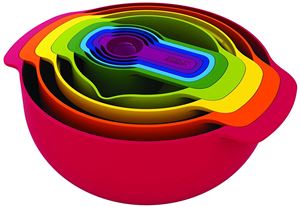 5
Joseph Joseph nest bowls set
So good they named them twice, this set of nesting bowls from Joseph Joseph are eye-catching and immensely practical, saving you precious space while giving you a broad scope of bowls for a variety of kitchen tasks. The biggest dish in the set is a 4.5-litre mixing bowl with a handy non-slip base and carry handles with a smaller 500ml mixing bowl also in the stack. There's a 3.0-litre colander, 1.65-litre sieve and five measuring cups too, all of which stack satisfyingly in the bix mixing bowl.
The smaller mixing bowl has handy metric and imperial measurements on the inside while the sieve has stainless steel mesh for added durability. A choice of colours are available including a tonal grey, but the hypnotic rainbow of the red or green sets are likely to make the biggest impact in the kitchen.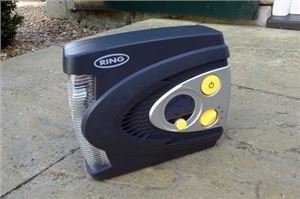 6
Ring RAC 635 digital tyre inflator
As any seasoned tourer will know the need to inflate tyres, beach toys and sleeping provisions is a regular one — which makes a tyre inflator like this Ring RAC 635 a highly useful tool. Its primary purpose is to inflate tyres of course, and the digital operation is a real help here. Simply plug the power lead into a 12v socket and set the digital gauge to the required pressure - the 635 does the rest, automatically stopping when the target pressure has been achieved.
It also has a torch for nighttime inflation, a flashing red light in case of an emergency and a release valve if you need to deflate. Crucially it also comes with a handful of attachments so you can keep bicycle tyres, air beds and beach balls topped up and ready to play, and all for a low price too.
Buy it now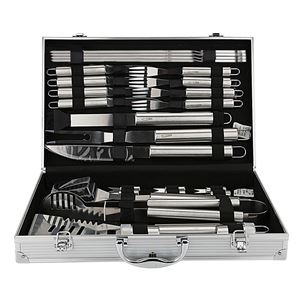 7
U-MISS BBQ Grill tools
You only make the mistake of taking kitchen utensils from home on a camping holiday once; the right decision is to get a set just for the camper. And, as barbeques are a likely staple, this utensil set from U-MISS will see a lot of use. Sensibly the whole 26-piece set is comprised of stainless steel, so no matter how long it stays neglected it won't rot or fall apart.
As well as four forks and four steak knives — the kit includes tongs, a spatula, a cutting knife, a barbeque fork and a grill cleaning brush, with the key tools given extra-long handles to avoid you getting too intimate with a hot grill. There's also six corn holders, four skewers and a pair of seasoning boxes, so you have everything you need for serious BBQ action.
Buy it now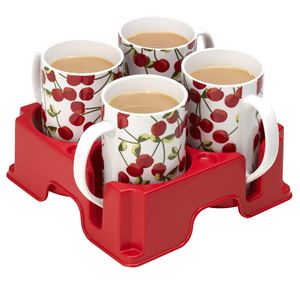 8
MUGGI drinks holder
An idea so simple and clever you'll be cursing not coming up with it yourself, the MUGGI v2 is the quick answer to the problem of transporting hot drinks in confined spaces. Designed to sit a variety of drinks sizes, hot or cold, and be carried with just one hand thanks to dedicated finger and thumb grips, the MUGGI makes short work of tea-making duties.
Available in a choice of seven colours - and the black MUGGI is made from recycled material - it is dishwasher-safe and fitted with rubber feet on the bottom to ensure it stays put. It's even stackable should you be regularly entertaining and it is guaranteed for life too.
Buy it now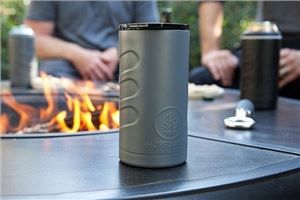 9
BruMate Hopsulator Trio
Evoke glorious memories of the summer months by buying your loved one a Hopsulator Trio, one of the best drink holders (or koozies) on the market. It is packed with clever features to keep your drink as cold for as long as possible while your hands avoid the deep freeze.
Constructed from stainless steel with a layer of copper sandwiched between for extra insulation, the bottom section contains an adapter filled with freezable gel, resulting in a drink that stays cold for a very long time. The supplied lid also means you can also fill it with any other liquid you want to keep cold.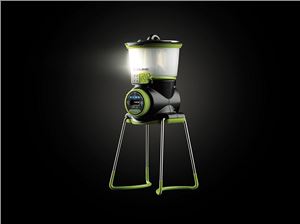 10
Goal Zero Lighthouse Mini
For those occasions when you're out in the wilderness or just parked up at a campsite without a hookup, an extra source of power can be a real lifesaver and the Lighthouse Mini is fully-equipped for those situations.
It serves as a powerful lantern that can be hooked onto anything or stand on its own, charges via a USB port or from Goal Zero solar panels and can run for up to 500 hours. The bonus is it has a 3000mAh battery that can deliver a full charge to a mobile phone or other USB devices when power is running low.
Buy it now