Top 10: BBQs under £100
Everyone wants a fancy BBQ but there are plenty of good value offerings that will give you more to spend on the food. Here are ten of the best for £100 or less.
Top 10: BBQs under £250 | Top 10: Charcoal BBQs 2019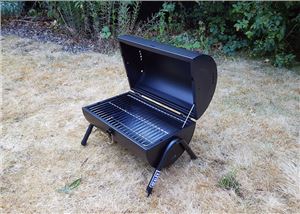 1
Sealey Portable Charcoal BBQ
If you have a motorhome or like to go camping there's a lot to be said for having a BBQ that can be transported and used home or away, which is a major plus point of this Sealey cooker. It's compact but because it is barrel-shaped and opens out down the middle, you can use both sides for lots of cooking surface.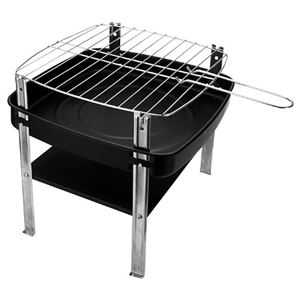 2
Backpack BBQ
Sometimes you need a compact and low-cost BBQ instead of making do with one of those unpleasant disposable types, and this Backpack example could be just the thing. It has a 31cm square grill area but weighs under 2kg, so it's a breeze to take with you.
Buy it now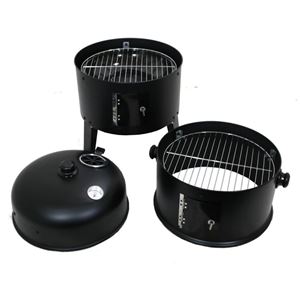 3
Pisces 3 in 1 BBQ Upright Outdoor Smoker Barbecue
This offering from Pisces is more than just a BBQ, with three sections including a hanging section at the top so you can smoke meats or fish. The BBQ is fuelled by a charcoal pan at the base of the unit with the temperature controlled by the air dumper valve at the top of the lid as well as two front located doors that control the air circulation and ventilation. There's a gauge on the top lid so you can control the temperature, and its compact size means you can pack in a lot of food to a small space.
Buy it now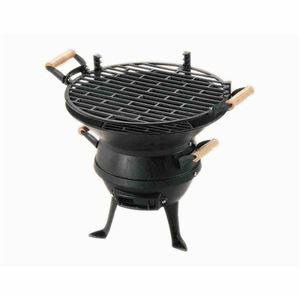 4
Landmann cast iron BBQ
Not everyone wants a hulking behemoth of a BBQ that takes over the garden, so this attractive cast iron item from Landmann will look good in your garden as well as cooking your food. The cooking area is 36cm in diameter so is better for smaller gatherings, but it will also easily store out of the way if required.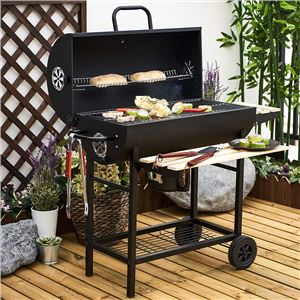 5
Charles Jacobs Large Charcoal Barrel BBQ with Mini Smoker And Accessories
The classic barrel shape BBQ makes a lot of sense, giving you a good cooking area without taking up lots of space, and this example from Charles Jacobs has some additional features too. The grill area of 70cm x 35cm is generous, and there are two working areas, a metal storage tray and a removable mini-smoker too, all for under £80.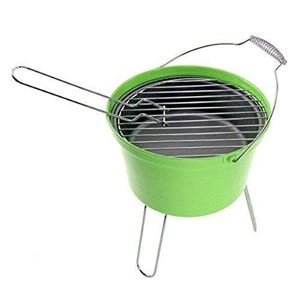 6
4YourHome Lightweight Portable Camping BBQ Bucket
You'd do well to find a reusable BBQ cheaper than this one, but don't let the low price put you off. Ideally suited for camping or occasional home use, its small dimensions mean you can store it anywhere. The simple grill and pan arrangement means it takes seconds to set up and just minutes to clean afterwards too.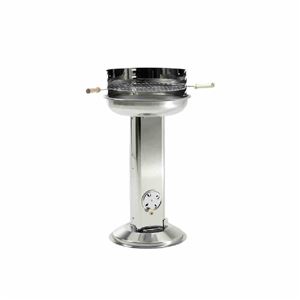 7
Landmann Stainless Steel Pedestal Charcoal Barbecue
Another offering from Landmann, this BBQ takes a different approach with its attractive stainless steel finish and pedestal design, putting the grill area at a comfortable height but also taking up less space in your garden. There's a built-in ash catcher and ventilation control so you can get the right temperature for your food too.
Buy it now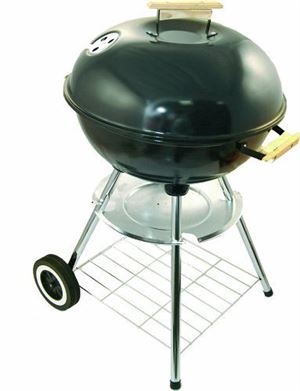 8
Hamble Redwood Leisure 18-inch Round Kettle Barbeque
The classic kettle-shape BBQ makes a lot of sense, particularly for anyone with a smaller garden or who wants to store it away when not in use. This offering from Hamble is compact and easy to move with a weight of only 5kg, yet comes with 46cm diameter grill area and lower storage tray.
Buy it now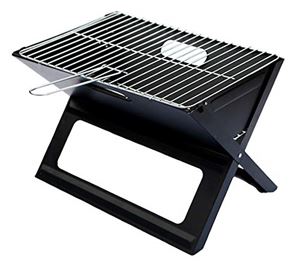 9
Notebook Folding Grill
Portable BBQs don't have to be just for camping - if your garden is on the small side or you have kids or animals running around you might want it stored away, which makes this portable notebook folding grill from Direct Designs a smart choice. It folds down simply into a very compact size and weighs only 3kg but still gives you a 45cm x 30cm cooking area.
Buy it now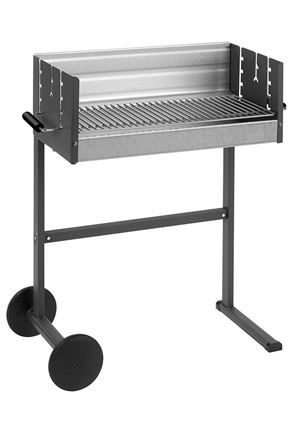 10
Dancook 7400 box grill BBQ
About as straightforward as BBQs get, this Dancook 7400 model is simple, tough and generous in size. The grill area is a big 62cm x 25cm while the materials are designed to make your life as easy as possible, with a chrome-plated grill, aluminium-plated tray and Teflon-coated exterior. The grill has four positions so you can vary the heat and a pair of wheels at one end for easy transportation.