Top 10: Best roof bags
Need extra storage for holidays but don't want to buy a second garage to store a roof box? Try one of these roof bags that can swallow your stuff and be packed away more easily.
Top 10: Best roof boxes | Top 10: Cheapest roof boxes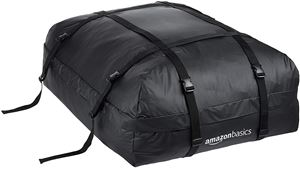 1
AmazonBasics Rooftop Cargo Carrier
This inexpensive bag from Amazon has more than just an attractive price tag going for it. With 425 litres of storage capability it offers significantly more than many comparable products, and uses a simple set of eight cinch straps to secure it to your vehicle's roof bars.
It comes with a storage case and folds down to take up less room, while the seams and zips are weather-protected for peace of mind. It also comes with an AmazonBasics one-year warranty.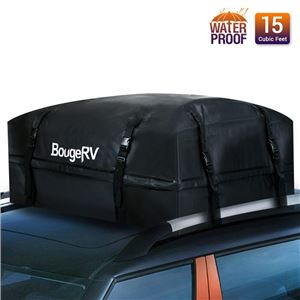 2
BougeRV Cargo Bag
This Cargo Bag from BougeRV promises strong, reliable performance and is clearly designed with tough conditions in mind. The zippers are waterproof sealed and covered with a flap.
Seams are melted for strength and the bag itself is made from 1000 denier PVC, which BougeRV say is five times as durable as Nylon Oxford. There's 425 litres of space, and this is designed for larger vehicles so check the dimensions before purchase.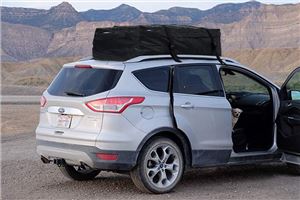 3
Sailnovo 425L
Sailnovo's 425-litre roof bag is made with 500D heavy-duty Waterproof PVC material, coated on both sides with abrasion-resistant waterproof vinyl. It can fit onto side rails or cross bars and the material makes it foldable so it can be packed into a small bag, which you can keep in the car.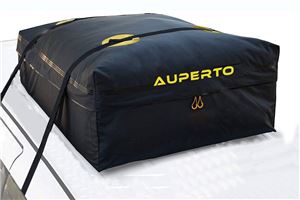 4
AUPERTO 425L
The 425-litre AUPERTO roof bag is waterproof and windproof, with heavy-duty straps which can be easily attached to rack or side rails. However, you don't need roof bars as the strap can be secured from the top of the bag through the inside of the car. The roof bag also comes with a one-year warranty for some peace of mind. 
Buy it now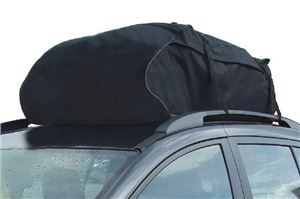 5
Tirol roof bag
The Tirol roof bag is constructed of heavy-duty waterproof 600D oxford cloth, protecting cargo against road grit, sun, wind and rain. Easy to install with 4 straps for fixing and mounting, plus a scratch-resistant soft layer on the bottom to prevent scratching car paintwork, the bag offers 15 cubic feet of space.
It's suitable for most SUVs and vehicles and the soft sides flex to fit odd-shaped loads. The bag also compacts for easy storage.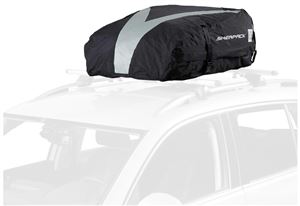 6
Green Valley Sherpack 158002
A smart and compact offering from Green Valley, the Sherpack has a capacity of 270 litres and can carry up to 50kg in weight and is currently showing strong ratings from Amazon customer reviews.
Weighting a modest 3.8kg and able to fold down for storage, the Sherpack is double-layered for protection against the elements, has its own carry case and metal reinforcements for security.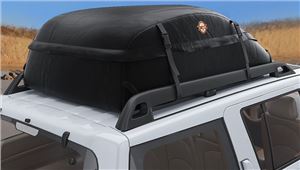 7
Sailnovo 450L roof bag
This second roof bag from Sailnovo is 450-litre, made from heavy-duty, 1000D waterproof tarpaulin to protect your gear and luggage from rain and dust on the road. It can compact for storing in a hard top box and attaches via four wide straps to ensure that everything stays in place even on rough and bumpy roads.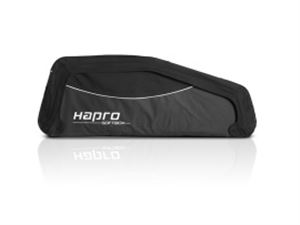 8
Hapro Softbox
Far from a cheap option, the Hapro Softbox comes with the reassurance of a TÜV certificate and five-year guarantee, promising sturdy construction and a long life. It is heavier than many bags weighing in at 13kg, but this has the advantage of allowing the Softbox to kept on the roof even when empty, unlike many other roof bags.
Also included are two padlocks, a bespoke storage bag and a zipper that can divide up the storage area.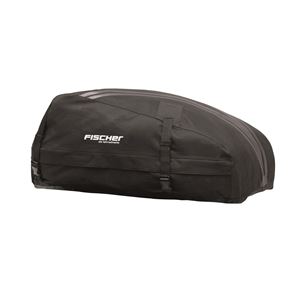 9
Fischer 126000
This roof bag from Austrian brand Fischer is made out of water-repellent polyamide material with a strong zip and sealed seams for a high level of weather protection, and unlike some other offerings has metal supports along its base for secure mounting on any rail system.
There is 270 litres of capacity available and it can handle up to 50kg in weight, and folds down to a quarter of its width and height to store in its purpose-designed bag.
Buy it now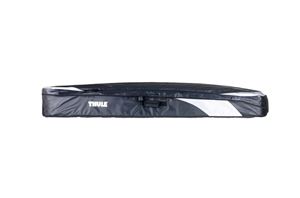 10
Thule Ranger 500
Slimmer than many of the roof bags listed here but still offering 300 litres of storage, the Ranger 500 comes from the well-respected Thule brand. With an overall length of 190cm and width of 50cm it is better suited to carrying sports equipment like skis and snowboards, although it has a series of internal zips so you can secure smaller loads with ease.
It also features the Thule Easy-Snap system for quick and secure mounting.