Top 10: Car covers
Let's be honest, if you live in the UK your car could experience baking sunshine, torrential rain and inches of snow in the same week. Be ready for every eventuality with these low-cost and easy fit car covers.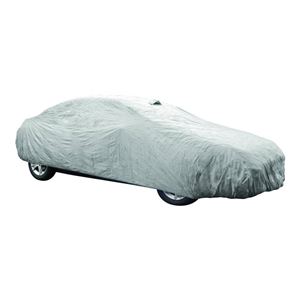 1
Carpoint Tybond Full Size Cover
This Dutch brand is known for its car accessories, and this Tybond car cover is available in a choice of lengths to suit a variety of vehicle sizes. It is primarily designed to protect from dust and sun rather than rain, but has vents to avoid trapping moisture and a degree of water resistance.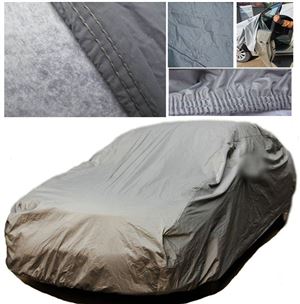 2
A-Express XXL Heavy Duty Car Cover
This cover from A-Express comes in several sizes designed for specific cars, but as the dimensions are given you can choose the right one for you. The cover itself is double-layered, with a non-scratch surface inside and a strong waterproof outer finish that is resistant to snow and heat too. It's also elasticated at each end and has a zip panel to access the interior without having to remove the whole thing.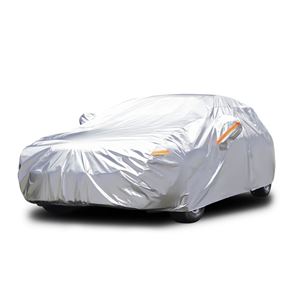 3
Audew Full Car Cover
One of the more expensive options, this cover from Audew is available in L and XL sizes, both costing around £45. For that outlay however, you get a six-layer cover with a cotton inner, an aluminium layer for UV protection and three layers designed to resist dust and moisture. It has elastic ends but also comes with straps and buckles to secure it underneath your car.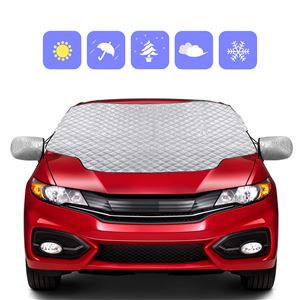 4
Zenoplige Car Windscreen Cover
Depending on where you leave your car and the time of year, a windscreen cover can help to keep your car cool or make it easier to defrost, and this cover from Zenoplige can do both. Three magnets secure it to the bodywork and it includes two covers for your door mirrors too, with two sizes to suit a variety of cars.
Buy it now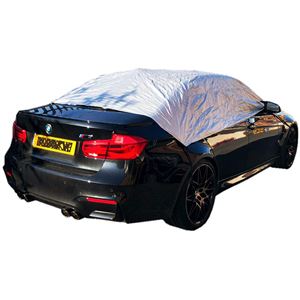 5
A2B Shopping Car Top Cover
One of the cheapest car covers on the market, this cover sits over the glass area of your car, so although it won't protect your paintwork it will help to regulate the cabin temperature and speed up your getaway in wintery conditions. Four straps are finished with four plastic hooks for security, and it comes in its own storage bag too.
Buy it now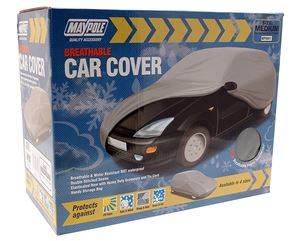 6
Maypole 9861 Full Car Cover
The XL size of this car cover is something of a bargain at £22, but with offers currently on the smaller versions it represents exceptional value. Whatever the size, this cover is made from polypropylene for resistance to water, UV and other weather-related nasties. Four straps with plastics hooks ensure it stays in place and the elasticated hem keeps it snug up against the bodywork of your car.
Buy it now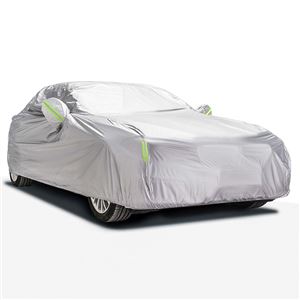 7
TekBox Car Cover
Another multi-size car cover, this offering from TekBox is available in five versions from XS to XXL so you should find a size to suit any car. It is constructed from a high thread count polyethene vinyl to make it waterproof and hard-wearing, while the outside has fluorescent strips to make it easier to see in the dark. Elasticated corners and an under-strap ensure security, and door mirror covers are built-in too.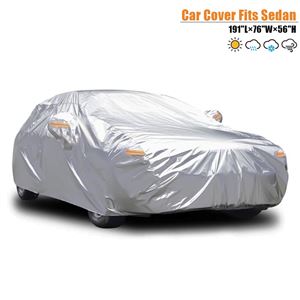 8
Carbaba Car Cover
Similar in design and construction to the previous TeKBox cover, this Carbaba design is made from 190-thread polyester with a silver outer coating to reflect as much heat as possible. It is made to cope with heat, cold and wet weather, and has orange fluorescent strips for safety in dark conditions.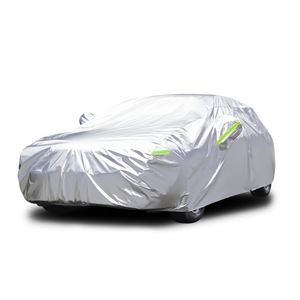 9
Yibeico Sedan Car Cover
This cover from Yibeico is billed as one designed for saloons, but the included dimensions mean you can check against your own car for the ideal fit. Polyester construction means toughness and resistance to water, with proofing against dust, snow and UV rays too. An elastic hem and an under strap means a snug fit, plus there's a 12-month warranty for peace of mind.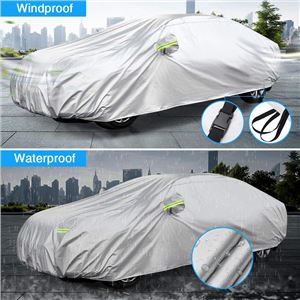 10
Eluto Car Cover
Available in two sizes near the larger end of the scale, this car cover from Eluto is made from tough polyester with a silver coating to reflect heat and offer further protection. Four straps and a centre strap running underneath the car ensures it will stay in place, and it is designed to be easy to clean too.