Top 10: Cheapest corded lawnmowers
A corded lawnmower is ideal if you've got a small garden. For starters, they're very affordable – often undercutting petrol or battery-powered mowers by a considerable amount.
They're also quiet and easy to use, as you've only got to plug them into a socket and you're ready to cut. Maintenance is minimal too, making them even easier to live with. To help you narrow down your choices, here are ten of the cheapest available.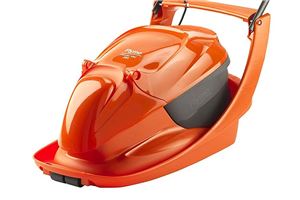 6
Flymo Hovervac 280 1300W 28cm Hover Mower
If you're looking for a mower that's really easy to use, you might want to consider a hover mower. These simply glide over the grass and, because they have no wheels, they're far easier to manoeuvre.
This Flymo Hovervac has a 28cm cutting width, so it's best suited to smaller gardens, and a 20-litre grassbox. It has a maximum cutting height of just 30mm, though, so it's best reserved for use on short grass.
Buy it now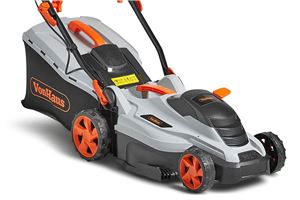 7
VonHaus 1600W 36cm Push Mower
This VonHaus mower is a great choice for those with larger gardens or taller grass. It has a powerful 1600W motor, a comparatively wide 36cm cutting width and a maximum cutting height of 72mm. As a result, it shouldn't struggle when dealing with rougher gardens.

It also has a big 50-litre grass bag, so you shouldn't have to empty it too often. Like the Spear & Jackson, it has a soft-grip handlebar for improved comfort. A two-year warranty is standard.
Buy it now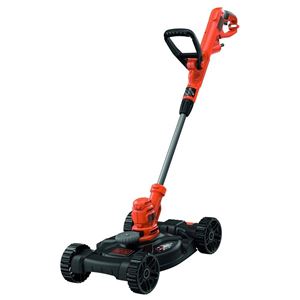 8
Black & Decker 550W 30cm Strimmer with Mower Deck
If you've a rough patch of grass that you need to keep in check, and you also need a strimmer for edging as well, this could fulfil both requirements. It's a 550W corded strimmer which simply clips into a mower deck, making it easier to use over wider areas.
When you're done hacking the bulk of the grass down, you unclip the strimmer and set to work on the edges. Don't expect a terrifically neat finish from the 'mower' mode, though.
Buy it now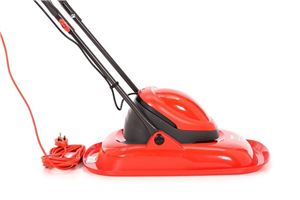 9
Flymo TurboLite 330 1150W 33cm Hover Mower
Like the idea of a hover mower but don't fancy dealing with clippings, or need something a little more heavy-duty? This Flymo Turbolite 330 could fit the bill. It doesn't have a grass collection system, making it lighter and meaning it never needs emptying.

It also packs a 1150W motor, so it should cope well with thicker grass and, because it hovers, it can tackle rough ground with ease. Prices for these vary, though, so shop around for the best deal.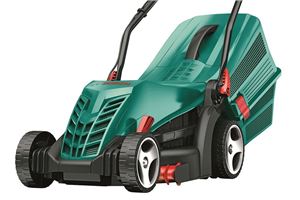 10
Bosch Rotak 34R 1300W 34cm
This Bosch isn't cheap but it justifies its premium. It has a 1300W motor, a 34cm cutting width, a maximum cutting height of 70mm and a 40-litre grassbox.
You've no doubt also spotted the 'grass combs' on the deck, which help the mower trim edges more neatly – reducing the amount of strimming you have to do afterwards. Other neat features include double-folding handles, making it easy to store, and a long three-year warranty. A smaller and less costly version, called the 32R, is also available.

Buy it now