Top 10: Cheapest corded lawnmowers
A corded lawnmower is ideal if you've got a small garden. For starters, they're very affordable – often undercutting petrol or battery-powered mowers by a considerable amount.
They're also quiet and easy to use, as you've only got to plug them into a socket and you're ready to cut. Maintenance is minimal too, making them even easier to live with. To help you narrow down your choices, here are ten of the cheapest available.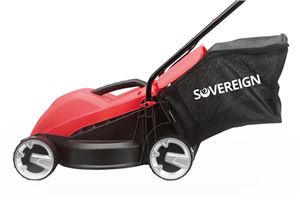 1
Sovereign 1000W 32cm Push Mower
Don't want to spend much? Then this Sovereign lawn mower could be just the ticket. It's a compact mower, best suited to small and medium-sized gardens, and it has a simple three-step height adjustment that ranges from 25mm to 65mm.
The grass collection bag is quite small at just 25 litres but, on the plus side, it comes with a mains cable that's a useful ten metres long. It even has a two-year guarantee, boosting peace of mind.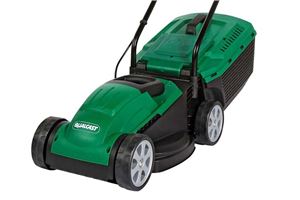 2
Qualcast 1200W 32cm Push Mower
You don't have to spend a fortune to get a mains-powered lawn mower from a recognised brand, as this Qualcast proves. It features a more powerful 1200W motor, making it capable of dealing with thicker grass, while its compact size makes it ideal for smaller gardens.
It has a larger 30-litre grassbox, too, so you won't be emptying it as often as the Sovereign – and it's also slightly lighter. A two-year guarantee is standard.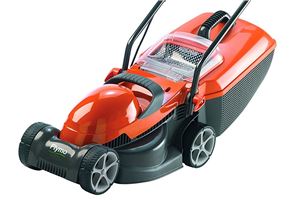 3
Flymo Chevron 1200W 32cm Push Mower
This neat little Flymo lawnmower has a 32cm cut, a stout 1200W motor and a 29-litre grassbox. You might, as a result, wonder why it's more expensive than the Qualcast.
The main reason for the premium, besides its more upmarket finish, is because it has an integrated rear roller. This results in a neat striped cut and makes it far easier to mow over the edges of borders. It only comes with a 12-month warranty, though.
Buy it now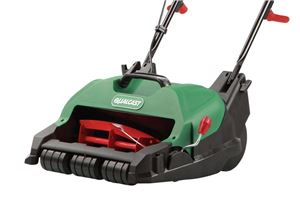 4
Qualcast 400W 32cm Push Cylinder Mower
Those seeking a quality finish to their lawn should consider a cylinder mower. You'll need short grass and level ground to get the best out of them but little else can deliver such a neat, smart cut.
This compact 400W Qualcast has a 32cm cut, a 23-litre grassbox and a mains cable that's 12 metres long. Its cutting height can be adjusted up to 45mm and, usefully, it's compact and easy to store. A two-year warranty is standard.
Buy it now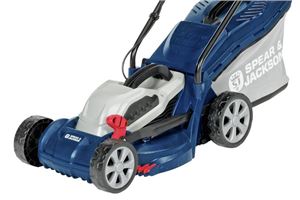 5
Spear & Jackson 1200W 32cm Push Mower
This mower offers lots of features in a sensibly priced package. It has a 1200W motor, a 32cm blade, five cutting heights, a maximum cutting height of 60mm and a 30-litre grass bag.
Lending it further appeal is its integrated rear roller, which delivers a neat striped finish, and a mains cable that's 12 metres long. A soft-grip handle means it's more comfortable to use, too. Unlike many alternatives, it also comes with a three-year warranty.
Buy it now