Top 10: Cheapest rechargeable battery lawn mowers
If you have a small garden and want an inexpensive lawnmower then a rechargeable battery-powered mower could be ideal. They're also quieter and easier to use than petrol-powered alternatives and require no maintenance. Here are ten of the least expensive around.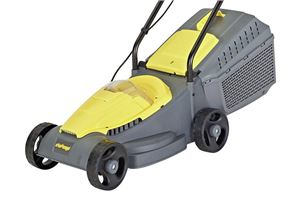 1
Challenge 18V 31cm Push Mower
This Challenge mower is one of the least expensive battery-powered mowers around. It has a 31cm cutting width, making it best suited for small gardens, and its battery is claimed to last for up to 30 minutes.
The included battery can be removed for easy charging, too, but a full charge takes eight hours. The mower also has three cutting heights, a 30-litre grassbox and weighs a manageable 8.3kg. A one-year guarantee is standard.
Buy it now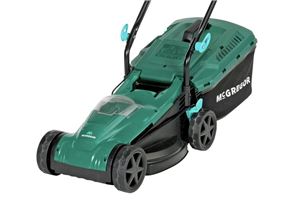 2
McGregor 24V 33cm Push Mower
If you need something a little more capable then you don't have to spend much more, as this McGregor mower demonstrates. It offers a slightly wider 33cm cutting width, an integral rear roller for a neater finish and five cutting heights.
More prominently, it includes a one-hour fast charger. This makes it a better choice for those with more grass to cut. It also comes with a two-year guarantee. It is a heavier mower, though, clocking in at 11.6kg.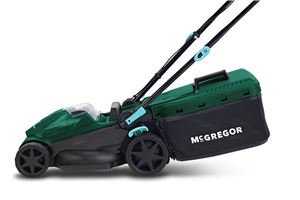 3
McGregor 36V 34cm Push Mower
Those with thicker, rougher grass to cut would do well to consider the likes of this more expensive McGregor mower. Besides including a fast charger and a more powerful battery, granting a 35-minute runtime, this McGregor has a maximum cutting height of 7.5cm. Less costly alternatives, for comparison, typically top out at 6.5cm.
Like the 24V version, it also comes with an integrated roller for a smart striped finish. A two-year guarantee is standard.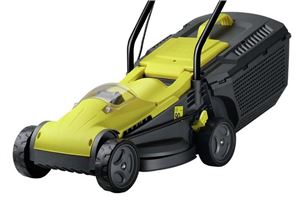 4
Challenge 24V 32cm Push Mower
This affordable option from Challenge offers some significant upgrades over the smaller, less expensive version featured previously. Primarily, it includes a fast charger – so, instead of eight hours, the battery only takes one hour to charge.
It also has a slightly larger grassbox, a wider cut and five height settings instead of three. These extra features do ramp the weight up slightly, to 10.71kg, though, and – like the smaller Challenge – it only comes with a one-year guarantee.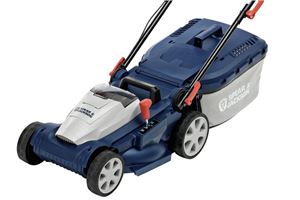 5
Spear & Jackson S2434CR 24V 34cm Push Mower
The batteries used in all of these mowers can be expensive to replace, which might unsettle you. After all, if one packs up outside of the guarantee then that might write off the mower.
Fortunately, mowers such as this Spear & Jackson come with a three-year warranty as standard. This example also packs a wider 34cm cut and a larger 35-litre grass bag, as well as an integral roller for a smart striped finish and a one-hour fast charger.
Buy it now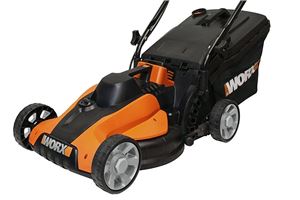 6
Worx WG776E 40V 33cm Push Mower
This Worx cordless mower offers a 33cm cutting width, three cutting heights, a 30-litre grass bag and a battery that can be charged in one hour. It includes a battery and a charger, like the others here, but additional batteries – or replacements – are easily obtained and not excessively expensive.
These batteries can also be used in other Worx tools, making it ideal if you're looking at buying other Worx-offered equipment such as strimmers or hedge trimmers.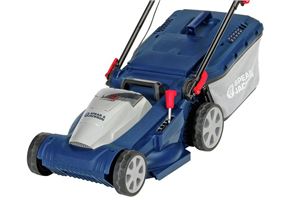 7
Spear & Jackson S4037CR 40V 37cm Push Mower
This mower's 37cm cutting width means you can cut a larger lawn more quickly. It also has a bigger 40-litre grass bag, so you won't have to empty it as often – or you can just use the mulching mode to avoid emptying the bag altogether.
Spear & Jackson also claims that this mower can run for 40 minutes on a single charge and that it takes just one hour to recharge. Other features include five cutting heights, an integral roller and a three-year guarantee.
Buy it now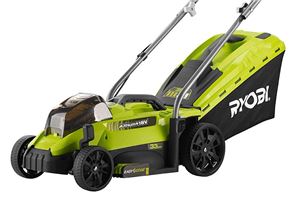 8
Ryobi OLM1833H 18V 33cm Push Mower
This high-quality Ryobi mower shares its batteries with countless other pieces of Ryobi equipment – ranging from impact wrenches through to hedge trimmers. If you've already got some Ryobi batteries, or want to start building up a collection of tools, this could consequently be a smart choice.
Replacement batteries and chargers are easy to source, thanks to their wide usage, and more powerful battery packs are also available. The mower also has a 33cm cutting width, five-position height adjustment, a 35-litre grass bag and a two-year warranty.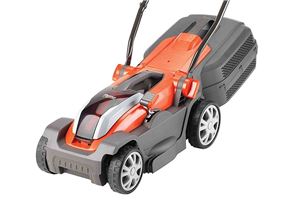 9
Flymo Mighti-Mo 300 Li 40V 30cm Push Mower
You might expect a name-brand cordless mower to cost a bundle but there are affordable options out there – such as this Flymo, which has a 30cm cutting width and is claimed to offer a runtime of up to 24 minutes on the included battery.
That said, many of its plastic parts can be fiddly and it's easily damaged. Consequently, it's perhaps best reserved for level, small gardens with short grass. It only comes with a one-year guarantee, too.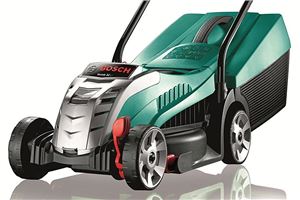 10
Bosch Rotak 32 LI 36V 32cm Push Mower
This 32cm Bosch Rotak is well suited to gardens with plenty of borders, as it has integral combs that guide grass into the cutting deck – like the Ryobi and Flymo. This means it delivers a neater finish along the edges of the grass, helping cut down on the amount of strimming required. It also comes with a 90-minute quick charger.
A two-year guarantee is standard but, if you register with Bosch, the company will extend the guarantee to three years.