Top 10: Solar chargers
There's no guarantee of sun this summer, but if you have one of these solar chargers to hand you can at least juice up should the clouds take a break.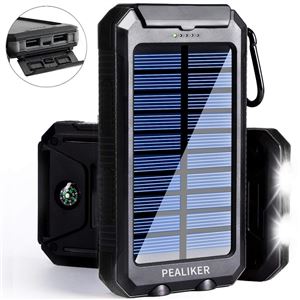 1
PEALIKER Solar Power Bank 10000mAh
One of the cheapest solar power banks on the market, this model from Pealiker still packs in plenty of features for under £25. The power bank has a 10,000mAh capacity, enough to charge an iPhone 8 more than twice over, and you can charge it via USB as well as through the solar panels. It's shock, water and dust resistant and comes with a clip to attach to your backpack so you can charge and walk.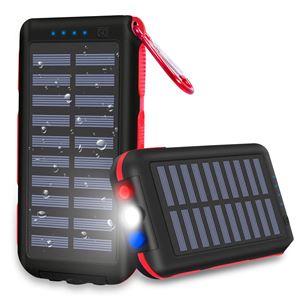 2
CXL 25000mPh Power Bank and Solar Charger
A step up in capacity makes this solar power bank from CXL means it has the capacity to charge most smartphones five times with a little left in reserve. That means charging solely via the panels will take quite some time, but you can charge via a mains outlet and top up when on the move. It is water resistant and includes an LED light with multiple modes to suit the circumstances.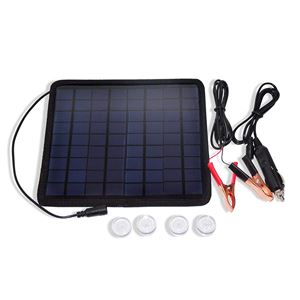 3
NUZAMAS Portable 5.5W Solar Panel Charger
A handy thing to have in your campervan or car, this charger from Nuzamas is designed to top up your vehicle battery, making it ideal for situations where you might want to use the electrics without running the engine. Use the supplied suckers to secure it to the windscreen then simply plug it into the 12v socket - or use the crocodile clips to connect it straight to the battery.
Buy it now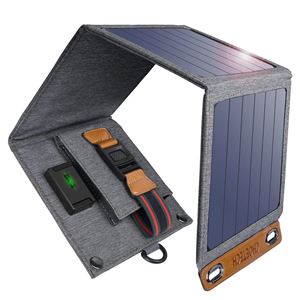 4
CHOETECH 14W Outdoor Solar Panel
Still under the £30 barrier, this four-panel solar charger kicks out a healthy 2.1amps at maximum output despite folding down to a compact size and weighing only 360g. It has two USB outputs and is splashproof rather than fully waterproof, but does include clips so you can secure it to a backpack or in a window for maximum exposure. There are more powerful versions available too, up to 24W.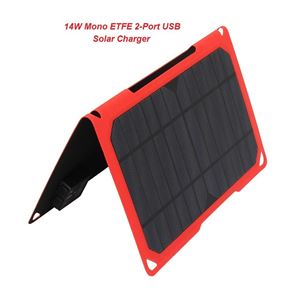 5
JRing Solar Charger
This JRing solar charger may only have a pair of panels but that makes it nice and compact, with an iPad-style arrangement so you can stand it up or lie it down depending on the conditions. Two USB ports allow up to 2.8amps of charging in ideal conditions, while it is IPX5-rated for water resistance, and it also includes an auto-resume feature for the charging process if the light level changes.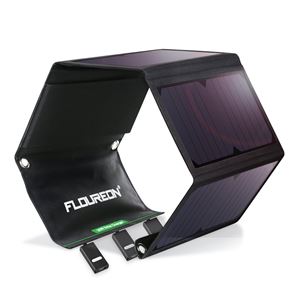 6
FLOUREON 28W Solar Charger
This particular model from Floureon is the top of the range, with four solar panels to give 28W of power - a cheaper two-panel version is also available. Three USB ports allow you to charge multiple devices simultaneously, and Floureon claims its superior panel quality gives a conversion rate up to 23 per cent in ideal conditions.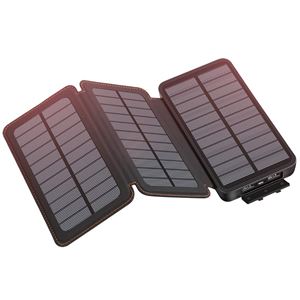 7
Hiluckey Solar Charger
One of the more compact solar power banks on offer, this 24,000mAh model from Hiluckey is no bigger than a typical smartphone, making it easy to carry and stow away. It carries three solar panels that can charge at 2.1amps in ideal conditions, and includes an LED torch. Waterproof and resistant to dust and shock means it is tough enough to travel wherever you go.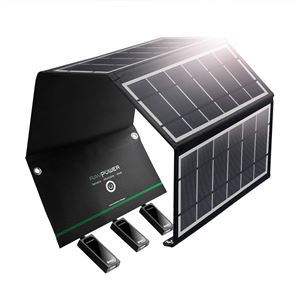 8
RAVPower RP-PC005 Solar Charger
This RAVPower offering is the biggest of three available models, with this version including four panels to give a power output of 24W. Three USB outputs are included, with automatic detection of the required charging rate up to a maximum of 2.4amps per port. It comes in its own nylon case to offer water protection and four hooks allow you to secure it in the best spot for maximum sun.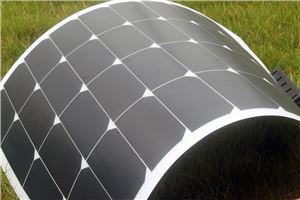 9
SUNDELY 50W Solar Panel Charger
This solar charger from Sundely is designed for 12V batteries found in campervans, motorhomes and boats, with a single panel that is flexible enough to support itself. It can output up to 50W, is weatherproof and can be linked together with multiple panels to create a larger array. It can even be sewn into cloth case so it can be mounted anywhere.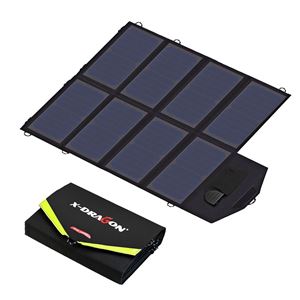 10
X-DRAGON Solar Charger 40W
This particular panel from X-Dragon is relatively expensive thanks to its eight-panel arrangement. Cheaper versions are available, but this version can deliver 40W despite its impressively compact design. It comes with two USB ports plus an 18V DC output, as well as 10 different laptop connectors and a DC cable, so you're prepared for any eventuality.
Buy it now