Top 10: Women's hybrid bikes
Blending the best elements of mountain and road bikes, hybrids are ideal for multi-purpose use and make a good choice for a first bike. Here are ten of the best women's hybrids.
Top 10: Gifts for cyclists | All our cycling product reviews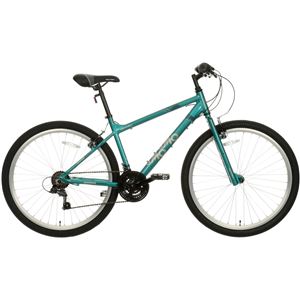 1
Apollo Cosmo Womens Hybrid
As an inexpensive starter hybrid, this Apollo Cosmo from Halfords keeps things nice and simple. An 18-speed Shimano gearset should be enough for most situations while simple V-block brakes and steel forks mean low maintenance too. Weighing a modest 15kg and with hybrid tyres, the Apollo Cosmo comes in 14-inch, 17-inch and 20-inch frames so there should be a size to suit everyone.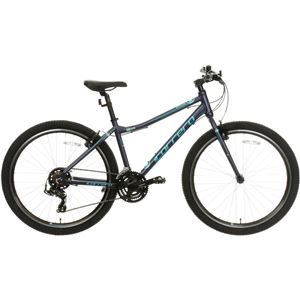 2
Carrera Axle Womens Hybrid
Halford's own Carrera brand has a wide range of low-to-mid priced offerings and this Axle model has lots of appealing features. The alloy frame helps to keep the weight down to around 13kg and the top tube has a gentle curve for easier mounting. The Shimano gearset has 21 ratios to keep you going on all inclines and the Tektro V-brakes offer plenty of stopping power. Available in 16-inch and 18-inch frames, the Carrera Axle comes with a free build from Halfords too.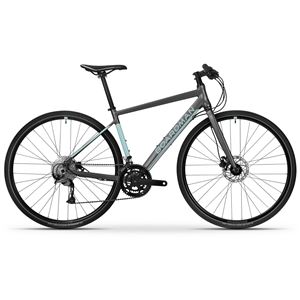 3
Boardman HYB 8.6 Womens Hybrid
If you have a bigger budget and are a bit more serious about your biking, then take a look at this Boardman HYB 8.6. The elegant 7005-spec aluminium frame has strength in all the right places but weighs just 11.4kg, helped by alloy front forks too. You get Tektro hydraulic brakes for maximum performance and an 18-speed Shimano Acera gearset, while the high-spec Schwalbe Citizen tyres promise lowered rolling resistance. You also get a free build and lifetime safety checks thrown in.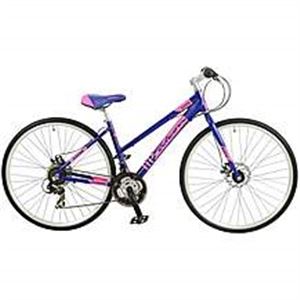 4
Falcon Riviera Womens Hybrid Bike
If you're looking for something with more of a road-bias this Riviera model from Falcon could be just the thing. It's a 17-inch frame only, but the 6061-spec alloy frame helps to keep the overall weight down, and there's a 21-speed Shimano gearset and semi-slick tyres to smooth road riding with minimum fuss. Disc brakes front and rear add reassurance on the commute too, but note this bike is a web-exclusive from Halfords so can't be viewed in-store. It's also exceptionally purple and pink, which will either be a major plus point or a deal-breaker...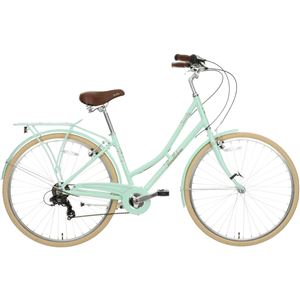 5
Pendleton Somerby Hybrid Bike Mint
Another bike brand with an Olympic legend's name attached, the Pendleton Somerby Hybrid mixes a classic step-through shopping bike frame and a sprung leather saddle with modern tech. The alloy construction means it weighs a modest 14.6kg with steel forks for strength, with alloy V-brakes and a seven-speed Shimano gearset for easy progress out on the road. It also comes with double-walled hybrid tyres, giving added puncture resistance and the ability to cope with minor off-road excursions.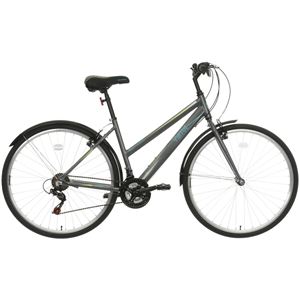 6
Apollo Virtue Womens Hybrid
It may not stay this price for long, but this Apollo Virtue model is currently available for a ridiculously-cheap £89 from Halfords. Despite the bargain price, you still get an aluminium frame with a low top tube and well-padded seat for maximum comfort. An 18-speed gearset means there's a ratio for every situation while front and rear mudguards will help keep you dry whatever the weather. It also comes in 16-inch and 18-inch frames so there should be a frame to suit all.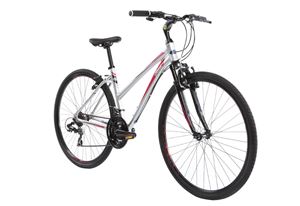 7
Ford Women's Kuga HT Hybrid
If you really love Ford cars then it makes sense that you'd want to buy a Ford bicycle, and happily, Essex's favourite manufacturer is happy to oblige. It's even called Kuga in a nod to the fact that you might occasionally go slightly off-road, including suspension on the front fork for tough going. The aluminium frame has a low top tube, a 21-gear Shimano set and alloy V-brakes, and there's an adjustable stem too.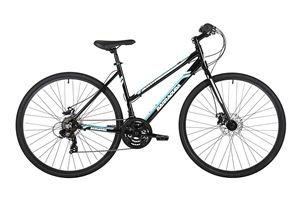 8
Barracuda Hydrus Womens Hybrid
This higher-specification offering from Barracuda is modestly priced given the features on offer. It's currently available with a useful discount too. Available in 16-inch or 19-inch sizes, there's an alloy frame and stem for low weight with 21-speeds in the Shimano gearset. Mechanical disc brakes are a rare feature at this price point too, making this something of a bargain.
Buy it now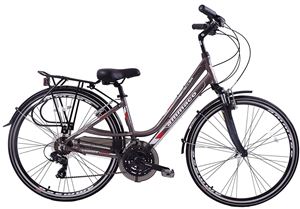 9
Ammaco Traveller 700c Womens Hybrid
This Traveller model from Ammaco is one of the most hybridised at any price, mixing a number of desirable features. The alloy frame is a step-through design, with a padded saddle and rear carrier for comfort and convenience, yet unusually it has SR Suntour front suspension and a 21-speed Shimano gear set for dealing with tougher conditions. Add in the hybrid tyres and you have a bike that can cope with just about anything you might point it at.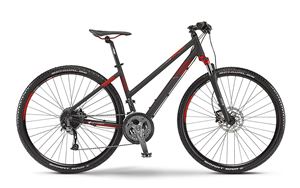 10
STAIGER Daytona 2015 Cross
For the more serious hybrid fan, this Daytona model from STAIGER is one of the lightest in this list at 13.3kg overall, with front suspension and a 27-speed Shimano Alivio gearset for tackling the toughest of climbs. Front and rear hydraulic disc brakes provide high levels of stopping power, and the chunky Schwalbe tyres can deal with harsh conditions. It's not cheap, but the spec is high.