Top 10: Best socket sets to suit all budgets
No garage or workshop is complete without a decent socket set. Whether you're a novice or an expert, even the simplest DIY motoring task requires use of a socket set. But with basic sets available from supermarkets from as little as a fiver, or professional sets from trade suppliers for as much as four figures, how do you know you're making the right choice for your particular requirements?
We've put together our ten top recommendations, basing our findings on a combination of price, quality, usefulness and range. So see which of today's socket sets we think are today's best buys – and let us know which ones you'd personally recommend.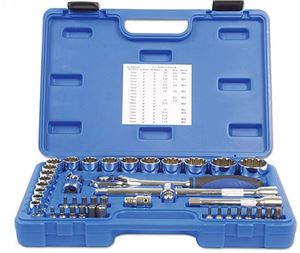 1
Laser 3571 42pc Alldrive: £117.36 (www.lasertools.co.uk)
This might not be the cheapest socket set on the market, but sometimes it's worth spending more to ensure decent quality and real usability. That's why we rate the Laser 3571 set so highly, this 42-piece Alldrive Socket Set's V-profile ensuring compatibility with Spline, Star, AF, Metric and Whitworth fixings.  The set includes 17 half-inch drive sockets and 19 30mm-long bits, plus a 72-teeth oval ratchet, extension bars, universal joint and so on. It might seem a hefty investment at more than £117, but we reckon it's good value for its sheer versatility.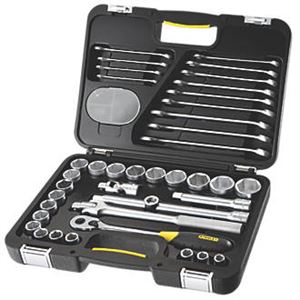 2
Stanley Fatmax 1/2in socket and wrench set 40pc (www.screwfix.com)
This is a heavy duty, professional grade square-drive socket and combination wrench set. It comes with 23 ½in square drive sockets (10-32mm), a ½in square drive pear head ratchet, two extension bars (125 and 250mm), universal joint and 13 combination wrenches (7-19mm). Supplied in a touch plastic case, at 69.99 it's great value.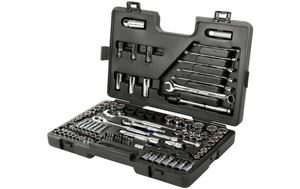 3
Halfords Advanced 120 Piece Socket Set: £90 (www.halfords.com)
You get a lot of kit for your money just now with this 120-piece set from the Halfords Advanced Range - the current deal means you get £130 off. Designed for the Advanced mechanic as well as the DIY enthusiast. It is made from advanced quality chrome vanadium steel and comes with a lifetime guarantee. The set contains both metric and AF sockets, along with different size drives, extension bars and combination spanners. It is supplied in a compact carry case, which is perfect to keep all the pieces organised and together.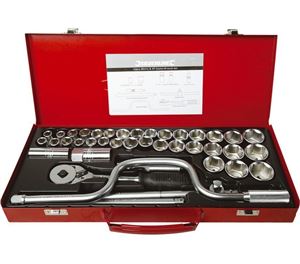 4
Silverline 42pc Metric Socket Set: £44.48 (www.toolstation.com)
This won't be ideal for owners of older British classics, but for anybody looking for a metric-only socket set it's well worth considering. This half-inch drive set comprises 33 different sockets, a couple of extension bars, a universal joint, a speed handle and a rubber-grip quick-release ratchet. Quality is good too, making this a decent buy for metric users looking to spend well under £50.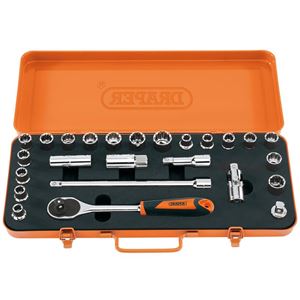 5
Draper Retro 1/2in sq dr combine MM/AF 25pc: £63.58 (www.drapertools.com)
Given the company's history for producing solid reliable socket sets, Draper decided to create an offering to celebrate. This Retro set is made from hardened and tempered chrome vanadium steel, which is chrome plated and polished for added corrosion protection. Inside you'll find 11 metric sockets and seven AF. There's also two spark plug sockets, a reversible ratchet, two extension bars as well as a universal joint.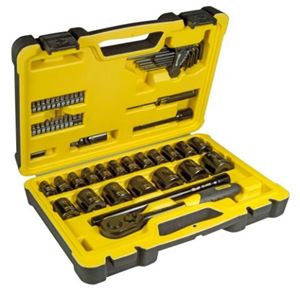 6
Stanley Tech3 61pc Socket Set: £107.09 (www.toolbank.com)
If you're looking for a socket set that's not only tough and durable but also looks more stylish than most (hey, it matters to some folk!), this limited-edition version of Stanley's Tech3 61-piece metric set is perfect thanks to its black-chrome finish. You get a good selection of half-inch sockets (10-32mm), a couple of extensions, a hex key set and universal joint. We're talking seriously good quality here, plus one of the toughest storage/carrying cases in the business. This is a set that we're confident will last extremely well. 
Buy it now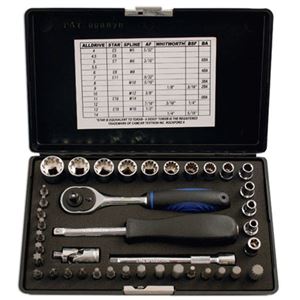 7
Laser 3568 40pc Alldrive: £45.02 (www.lasertools.co.uk)
Designed for use across the same multi-fixings platform as its 3571 big brother, the Laser 3568 40-piece set offers amazing functionality considering its keen list price. It comes with a total of 13 sockets (offering up to 39 different applications), plus a 72-teeth ratchet, universal joint, extension bar and even a 22-piece bit set. We reckon this is one of today's best sub-£50 buys.
Buy it now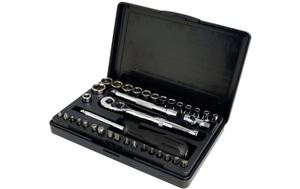 8
Halfords Advanced 36 Piece Socket Set 1/4in: £15 (www.halfords.com)
It's another great value socket set from Halfords. This 1/4in drive set is perfect to keep in your modern classic for a spot of 'on the road' maintenance. It comes in a durable plastic carry case and contains a range of metric sockets from 3.5mm to 14mm. As well as a lifetime guarantee, there's currently £45 off the price, making it just £15.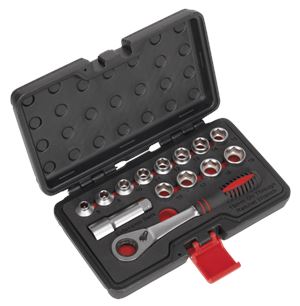 9
Sealey 14pc Low-Profile Socket Set: £63.54 (www.sealey.co.uk)
Something a bit different here, as this compact set is designed specifically for tasks where access is restricted. The low-profile metric (8-19mm) sockets have a projected length of just 13mm, making them ideal for use under dashboards and other tight spaces, and the set also includes a 'go-through' extension and flip-reverse 72-teeth ratchet. It won't replace your existing socket set but is an interesting addition to any DIY motorist's workshop.
Buy it now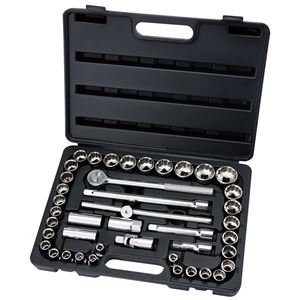 10
Draper 1/2in sq dr MM/AF 42pc: £46.18 (www.drapertools.com)
A sturdy set from Draper which you can currently get on Amazon for just over £40. For your money, you get 22 metric sockets (3-32mm), 11 imperial sockets (3/8-1in), three spark plug sockets, a reversible ratchet, sliding T-bar, universal joint and three extension bars.
Buy it now