Top 10: Essentials for maintaining your car at home
Trips to the garage can't be avoided. MoT tests, tyre changes and various other jobs require specialist tools and the right kind of training – so they're best left to professionals - but that's not to say you can't do some work yourself. If you want to get your hands dirty this set of 10 items will get you set to do most car maintenance tasks at home.
Obviously you'll need to have a workshop manual to follow and a second pair of hands is often handy. But this gear should set you up to tackle all routine maintenance and servicing jobs, from changing spark plugs and oil to renewing brake pads and discs. 
1
Hilka three tonne low profile trolley jack – from around £55
Most modern cars come with a scissor jack, which is fine for roadside tyre changes but far from ideal for maintenance. They're not particularly stable and require quite a bit of effort to raise and lower. A trolley jack is more stable and better suited to use in your garage. Ensure the one you choose is rated to take the weight of your vehicle.
You can spend anything from peanuts to hundreds on a trolley jack, but for occasional at home use around £50 will get you something reasonable. Jacking up the car is essential for brake and suspension maintenance and for oil changes. You'll also need some axle stands – see the next item in our top 10.
Buy it now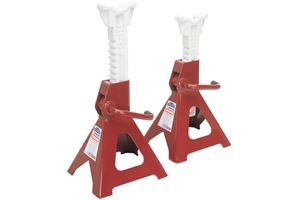 2
Sealey three tonne ratchet type axle stands - £40
Axle stands let you safely keep a car lifted so you can get underneath. This is important for changing brake parts, suspension components or just for carrying out a routine oil change. Like with a trolley jack, it is possible to get axle stands for next to nothing, but for safety it's best to spend a little more.
Even so, £40 will get you a decent set of easy-to-adjust ratcheting axle stands, rated for vehicles up to three tonnes. They should last more or less forever, so while there is a bit of expense up front they should save you money on garage bills in the long run, like most of the items in this list.
Buy it now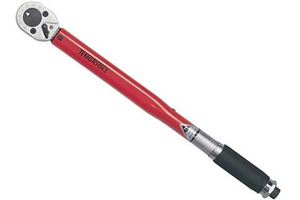 3
Teng quarter-inch torque wrench – from around £40
Most households will have a socket set and some spanners laying around, but for many car jobs a specific torque setting is important. Workshop manuals will usually specify a torque setting for nuts and bolts that need to be carefully adjusted and it's important to follow the specifications.
Over- or under-tightening important nuts and bolts can cause headaches in the long run. This Teng torque wrench can be used to tighten from 5-25Nm (4-18 lb.ft) and can be set to metric or imperial. It can be used to tighten or loosen as well as for final checking of torque.
Buy it now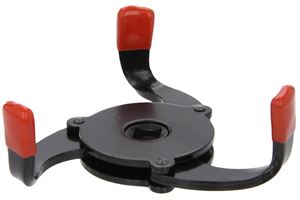 4
Silverline oil filter removal tool -  £6
A routine oil change will require a tool to get the oil filter off – but thankfully the cost is just a few pounds. New oil filters cost very little and once the oil is drained they are very easy to replace, providing you have the correct tool. There are various different designs – this one has legs, but some use belts or chains to grip and loosen the filter.
Oil services cost very little at a garage, but equally they are simple enough at home with the right equipment. So if you're investing in a collection of tools then an oil filter removal tool might as well be on the list, especially since it will cost so little and should last for years of oil services.
Buy it now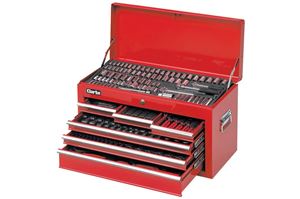 5
Clarke 300 piece Home Garage Repair Kit - £145
Many households have a few tools kicking around, but it is worth getting a full set of essentials. This 300 piece kit includes a ratchet and extender bars, sockets, hex keys, screwdrivers, spanners, pliers, various fasteners and other odds and ends, all in a neat organised tool box.
Included in the set are spark plug sockets – changing spark plugs is a very easy job and one of several service items that can be easily and cheaply changed at home, along with filters and oil. Obviously buying a full tool kit like this isn't essential - you can buy spark plug sockets separately.