Top 10: Maxi scooters
If you've taken the plunge and gone for a full licence, the world is your oyster. Maxi scooters might be bigger and heavier than their 125cc counterparts, but they're still very easy to ride in town and, since they are a more powerful, they can be used for motorway cruising and longer distance too.
In this guide we're focusing on scooters over 125cc, with something to suit most budgets. We haven't included any car licence-friendly three-wheeled scooters in this guide. Also, some of the bikes in our list require different category licences, so check you are entitled to ride before you buy. This list is in price order.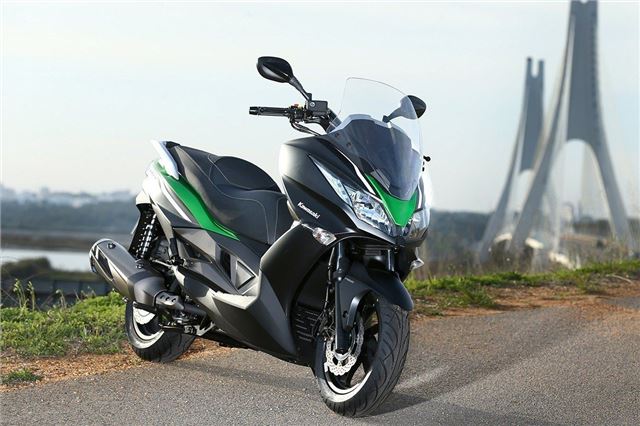 1


Kawasaki J300 - £4049
Licence Category A2
Kawasaki also sells a 125cc version of this scooter, but the 300 is better suited to riding out of town. Surprisingly powerful for a 300cc bike, the J300 is perky and responsive away from lights and is more than capable of keeping up with motorway traffic – in fact its performance isn't far off more powerful scooters.
Yet, despite its excellent performance, it is relatively cheap. That's partly down to Kawasaki partnering with Kymco to produce it – a brand that isn't quite as well established as Japanese manufacturers, but with good quality control standards. If you'd rather buy the Kymco version, it's called the Downtown 300i and is £50 cheaper.