Top 10: Maxi scooters
If you've taken the plunge and gone for a full licence, the world is your oyster. Maxi scooters might be bigger and heavier than their 125cc counterparts, but they're still very easy to ride in town and, since they are more powerful, they can be used for motorway cruising and longer distance too.
In this guide we're focusing on scooters over 125cc, with something to suit most budgets. We haven't included any car licence-friendly three-wheeled scooters in this guide. Also, some of the bikes in our list require different category licences, so check you are entitled to ride before you buy.
1
Kawasaki J300
Licence Category A2
Kawasaki also sells a 125cc version of this scooter, but the 300 is better suited to riding out of town. Surprisingly powerful for a 300cc bike, the J300 is perky and responsive away from lights and is more than capable of keeping up with motorway traffic – in fact its performance isn't far off more powerful scooters.
Yet, despite its excellent performance, it is relatively cheap. That's partly down to Kawasaki partnering with Kymco to produce it – a brand that isn't quite as well established as Japanese manufacturers, but with good quality control standards. If you'd rather buy the Kymco version, it's called the Downtown 300i and is £50 cheaper.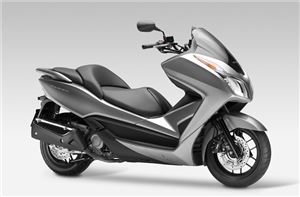 2
Honda Forza 300
Licence category A2
Easy-to-ride, impeccably well-made and capable both in and out of town, the Forza 300 is the ideal everyday scooter. It's as at home zipping through traffic jams on an urban commute as it is cruising out to the coast for a day trip to catch some sun and ice cream.
It isn't the cheapest scooter in its class, but Honda models are never budget-priced. If you want the same kind of riding experience and looks but you can only ride up to 125cc, Honda also makes the PCX 125, which is very similar in appearance but is more at home in town at low speeds.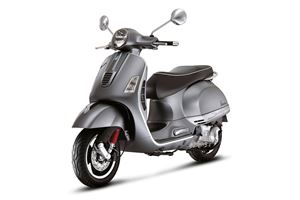 3
Vespa GTS Supersport 300ie
Licence Category A2
While it isn't technically a maxi-scooter, we've included the Vespa GTS Supersport 300ie because of its 300cc engine. It's still more at home in town than on the open road, owing to its small size and lack of weather protection, but it is still capable of keeping up with traffic on the motorway.
The rest of the bikes in our list are more practical and versatile, but for some, the stylish appeal of a genuine Vespa is more important than anything else – and if you have a full licence this is one of the most enjoyable Vespa variants on sale.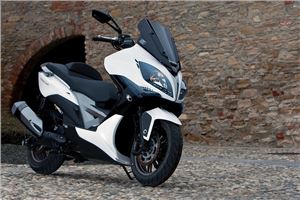 4
Kymco Xciting 400i
Licence Category A2
Kymco might not be as well-known among UK buyers as Japanese manufacturers, but it's well established in some European countries and in the far east. The Xciting 400i is large and plush, with plenty of storage space and comfortable seats, yet it's priced competitively.
There's enough pace to keep up with larger, more powerful scooters or to go on long-distance touring trips with a pillion, but at a price more appropriate for a commuter machine. The Xciting 400i is really a bit of a bargain and could be the star of our list if it wasn't for the next entry.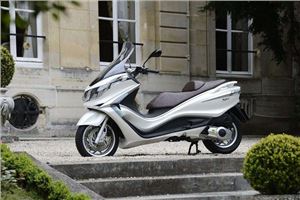 5
Piaggio X10 350 Executive
Licence Category A2
If value is important to you, then the X10 350 is probably the best scooter in this list. It's plush, stylish and has a smooth, powerful 330cc engine that's up to the task of carrying a pillion. There's enough storage for a pair of helmets, plus there are some smaller storage areas up front for odds and ends.
Unlike larger capacity scooters, the X10 is very economical and unless you're planning on long-distance touring its engine is more than adequate. For riding around town in style it's great, although the X10's size might be problematic when filtering through traffic or finding a suitable space in an overcrowded London bike bay.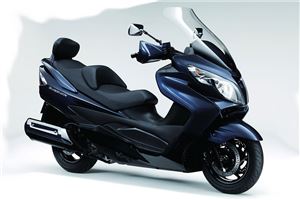 6
Suzuki Burgman 400
Licence category A2
The Suzuki Burgman 650 is considered by many to be the ultimate maxi scooter, but it's only available to those with a full category A licence. If you're on an A2 you're restricted to the 400cc Burgman, which is less plush but, fortunately, almost as practical, with loads of storage space.
Under the seat, there's more than enough room for everything a rider might need, from a change of clothes to a work bag or even gear for a touring trip – and you can even keep your nav charged with a 12v socket. For an extra £500, you can get a Burgman 400Z, which includes a pillion backrest to make life easier for passengers.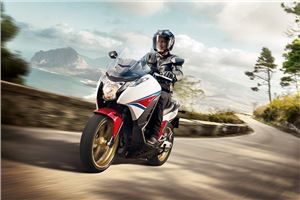 7
Honda NC750 Integra
Licence Category A
The Honda NC750 bridges the gap between scooters and proper motorcycles, with a seven-speed DSG transmission in place of the usual CVT automatic arrangement. The result is far more direct power delivery, resulting in serious pace – but with the relaxed riding position of a scooter.
Handling is on par with a proper bike too. In fact, the underpinnings of the Integra are shared with the NC750 and NC750X, which are proper motorcycles, yet with automatic transmissions. Sadly, the Integra isn't very practical so if you want to store helmets or bags you'll need panniers or a top box.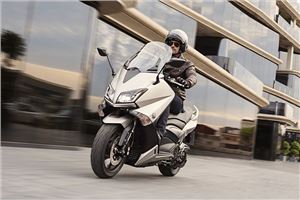 8
Yamaha TMAX 530
Licence Category A2
The TMAX is about as fun and sporty as scooters get without going up to licence category A. From a standing start its incredibly punchy, which has made it quite a popular choice in London, where leaping away from traffic lights and getting to the front of the queue is almost essential if you're on two wheels.
It's not as practical as some of the scooters in our list, but it has more attitude and style if that's important to you. Unfortunately, you have to pay a premium for it – the TMAX is about as expensive the Honda Integra and BMW C 650 Sport, which are both more powerful.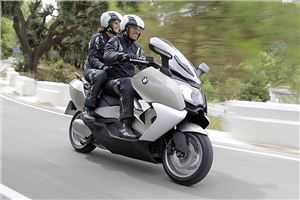 9
BMW C 650 GT
Licence Category A
Those who ride traditional motorcycles will question why anyone would spend almost £10,000 on a scooter. It's a valid question – plenty of geared bikes are available with better performance for less money – but that misses the point. A scooter is meant to be an everyday tool that's practical and user-friendly, rather than a weekend-only toy.
On that front the C 650 GT is great. It's big, powerful and packed with useful touches like a power adjustable windscreen, blind spot alert and loads of storage. Quality is top notch too. In fact, you could use it as a touring bike at the weekend as well as a workhorse through the week. It is a lot of money, though.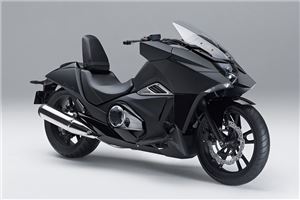 10
Honda NM4 Vultus
Licence category A
Honda might be one of the more conservative motorcycle manufacturers, but you'd never guess by looking at the Vultus. It looks like something an anime character would ride into battle with a giant sword strapped to their back. It turns heads more than most things on two wheels, too - even big sports bikes.
Underneath the swooping styling and multi-coloured dashboard, it's actually the same as the NC750 Integra, so it's very easy to ride. It's not the best scooter in the world in terms of practicality, but there's nothing else like it. If you want to stand out with minimum riding effort, this is the bike for you. You might have trouble getting hold of one, though – it's a limited edition.