The Piaggio MP3 500 Sport is a motorcycle that most car drivers can ride on a car licence.
Not many people know that a recent realignment of pan European licensing has handed car drivers a set of handlebars.
That is, as long as they steer two front wheels and conform to some other specific regulations. (Though, weirdly, to drive something like a Morgan 3-wheeler, you now have to pass a full motorcycle test.)
The huge advantage of this is that car drivers, many with a lifetime's driving experience, no longer have to go through the kerfuffle of Compulsory Basic Training, Direct Access and everything else they need to ride a motorcycle of more than 50cc.
And the benefit of that to society is no need to surround a person with a tonne and a half of metal, fork out Congestion Charges and pay outrageous parking charges merely to commute into town.
To gain this wondrous freedom of the city, the 'trike' has to have two front wheels at least 465 millimetres apart, and an integrated footbrake so that one-foot pedal operates both front and rear brakes.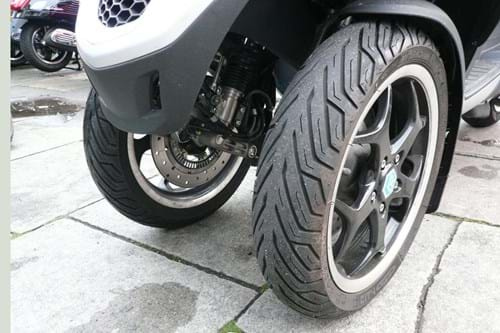 Piaggio makes the whole business a lot easier for novices (like myself), by equipping its MP3 500 Sport with a CVT automatic transmission, so it's twist and go, and a switch to lock the machine completely upright when at a standstill.
An ingenious (patented) steering system involving individual front wheel struts and a parallelogram structure give exceptional stability, even in poor weather conditions. Where the front wheel of a motorcycle could slip away if you hit some wet leaves while cornering, the Piaggio MP3, with Anti Skid Control, stays stable.
When you consider that the MP3's 493cc engine puts out 40PS, gets it to 60 in about 6 seconds, tops out at 95mph, yet gives you 75miles on a gallon, you're not going to be holding up the traffic or diminishing world oil resources.
Three wheel disc brakes with ABS and ASR give exceptional stopping power, with, of course, 50% more rubber on the road than a motorcycle's. (Best to use the rear and front handbrakes rather than the footbrake.)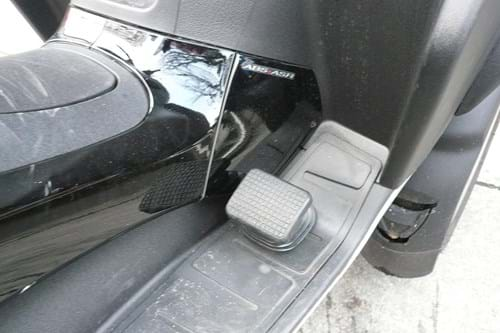 Though you don't have to undergo CBT, it's still a good idea to spend an hour or so understanding how the trike handles. You have to turn the bars more than with a bike to keep it tidy, and at first this is a little counter-intuitive. It's also best not to set off with the front wheels locked vertical until you get used to the way this automatically releases. Soon, though, you'll find yourself balancing the bike as you slow to a standstill at the lights and won't always need to put your foot down.
It's not a dirty business either. Obviously you're open to the elements, but you can get mittens to cover the handgrips and even a sort of tent contraption to keep your legs warm and dry. (You see these all the time in Paris where trikes are extremely popular.)
Get to your destination, apply the handbrake, and you'll find a vast, lockable compartment under the seat capable of accommodating two helmets, or even a couple of supermarket bags. So you may even find yourself using the trike to visit Waitrose (or Tesco, or whatever).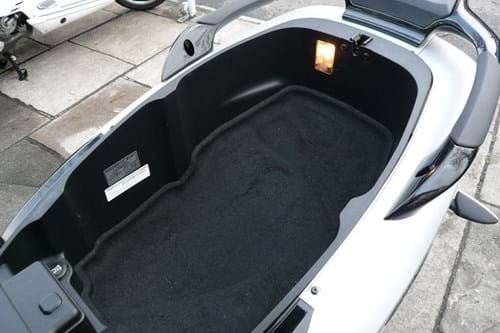 In the video I suggested that a Piaggio MP3 was a great answer for the summer, at least. But we filmed it in the middle of November without any problem.
You can add all kinds of kit such as a smartphone cradle and helmet mounted Bluetooth system, and various satnav systems that sit in a shoe in the centre of the handlebars. So you're not even out of touch when you're riding.
The price might come as a bit of a shock: £7,632, though the Piaggio MP3 range starts at £6,013 for the MP3 Yourban 300.
And interestingly, not only car drivers are buying them. Many former bikers, now married with kids and looking for a safer commute, are switching to Piaggio MP3s.
Even though I only rode it for about 3 hours, the Piaggo MP3 500 Sport convinced me.
If I were you I'd get in there, and stay at the head of the queue.