What is it?
The Buckle & Seam Ralph Portfolio is a modern interpretation of a classic, designed with compartments to neatly store all the knick-knacks that go with modern life — from headphones and charging cables to power banks to charge your mobile on the go.
The brand probably isn't a name that you're familiar with, which is likely to be because the firm has only been around for a couple of years. But when you buy something from Buckle & Seam, you're also buying from an ethical company that supports fair worker pay and working conditions, as well as donating to education in Pakistan.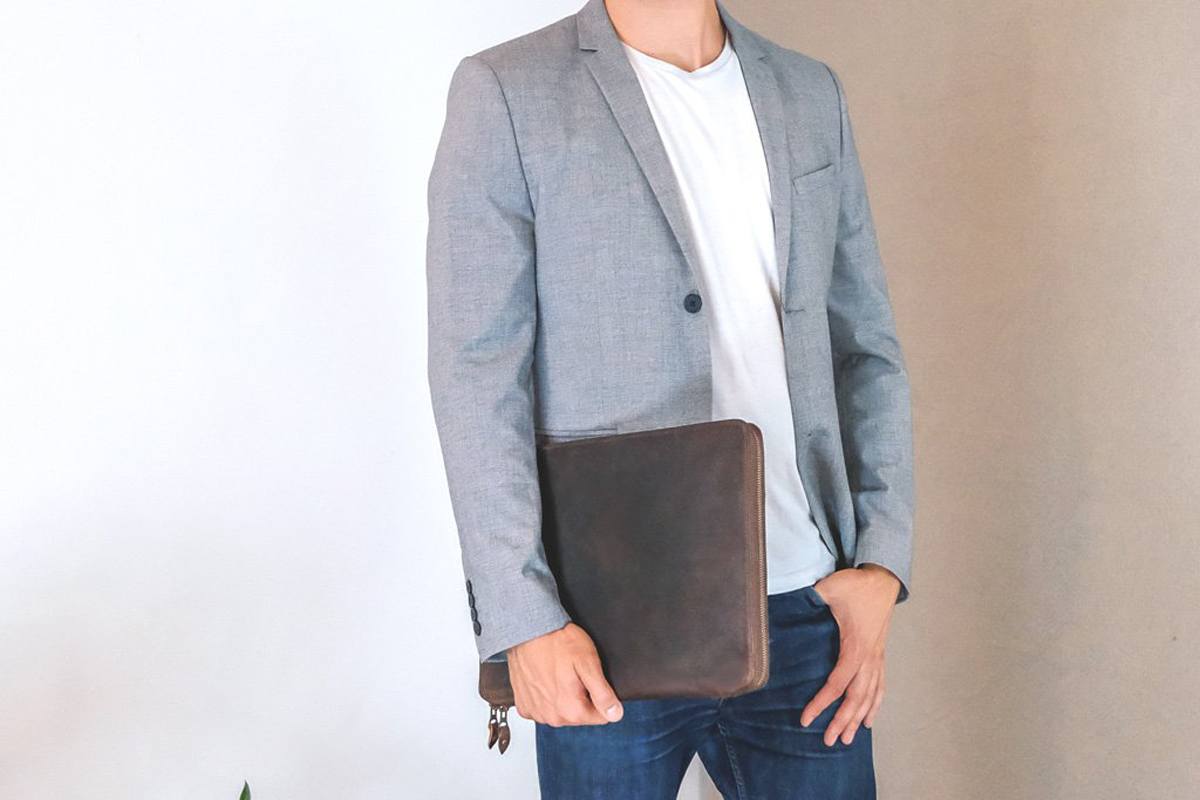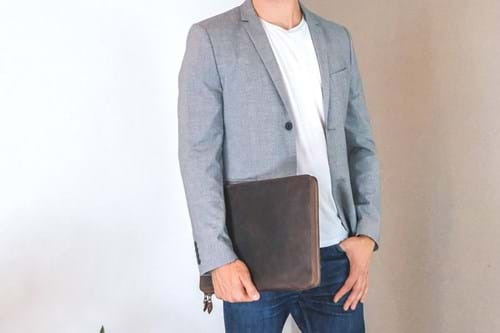 What's it like?
When you order a Buck & Seam portfolio case from the manufacturer's website, you're given the option of giving it a bespoke feel with a choice of pocket fabrics (we went for a rather sober blue) and engraving.
As soon as you open the box, you're given the impression that this is a good quality product. The real box is nicely presented with Buck & Seam branding and you get a real waft of leather as you open the lid. The portfolio case is wrapped in paper and its travel bag, and there's a hand-written note to thank you for purchasing it.
Along with the thank you, there's also advice about how to look after the portfolio case. Such attention to detail means it's a product that gives you confidence if you're giving it as a gift. The case itself looks good and oozes quality.
Open the chunky zip and it folds out. One half has a large pocket for papers and a small laptop (12 - 14 inches, which will fit the 13-inch MacBook Air). The other side is where you'll find the selection of pockets and, with a hardboard backing, it does a good job of providing protection.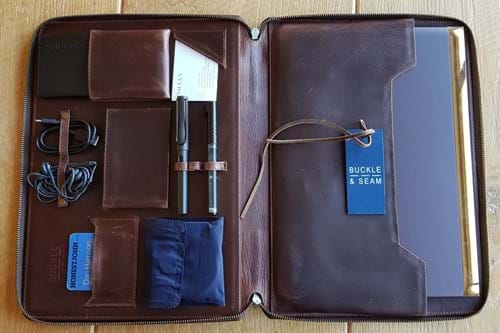 The top two loops unclip and work well for keeping headphones and cables tidy. The large one to the right is ideal for a compact portable charger, while there are other pockets and loops for pens and business cards. The one thing it doesn't really take account of is a mobile charger - it looks as though it's assumed you'll be fully charged. 
After a few weeks of use, you'll find that it does mark easily from being placed on desks and in general use. If you want to keep it looking 'as-new', these can be buffed out. Or, if you prefer, these can be left to build-up a fashionable, weathered patina (a soft sheen that develops on the surface).
Buckle & Seam is also giving back to the region that makes their goods. Although designed in Germany for a western market, Buckle & Seam's products are made in Pakistan (a large chunk of the world's leather goods come from the Indian sub-continent). The company donates 3 per cent of every bag sold to Anum School, which spread girl's education in Karachi, Pakistan.
It also takes care of its workers by paying 35 per cent above the market standards, as well as implementing bonuses, official working contracts and social protection.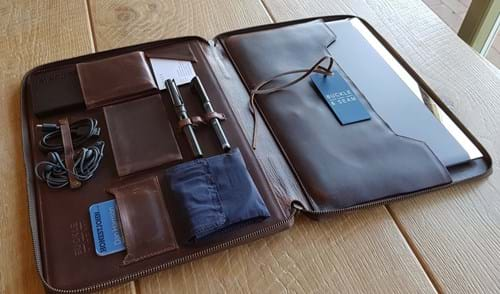 Should I buy one?
Buckle & Seam's pricing compares well to other firms offering similar high-end products, so if the brand name isn't important to you then the ethical element may well be the clincher. That said, despite being well-made, useful and smart-looking when you want to impress in meetings — the £162 price tag is likely to be off-putting for many.