You can't use it to power your house or even your lawnmower, but this model will show you how a V8 works
What do I get?
Like a Haynes manual brought to minature life, this is a model of the classic V8 configuration engine, similar to ones you'll find in everything from 1930s Fords to modern Ferraris and McLarens. Rather than being just a static model however, once properly constructed, this V8 actually works – or at least moves with a little help.
In the kit you get pistons, a crankshaft, rocker arms and cams plus a host of other detailed internal parts, right down to an ignition system that flashes to show the spark plugs working. There's close to 300 parts and as chief builder it is your job to put them all together in the correct fashion so it can strut its stuff.
It is marketed as suitable for ages 10 and over, which is worth bearing in mind if you're buying this as a present. Similar to many plastic kits, individual parts are attached to sprues which must be snipped off, requiring care and patience. For the best results it's also worth smoothing off any remanence of the plastic sprues to ensure as little friction as possible. The assembly process itself is relatively straightforward. Expect to spend about three hours putting it all together if you tackle it in a single sitting, though it is always wise to re-read the instructions, give yourself plenty of space and time in which to put it together and try not to rush it.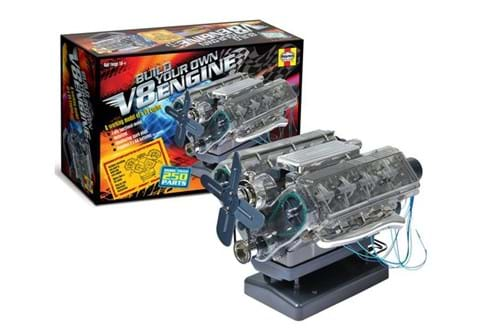 It doesn't operate as an actual engine of course - it can't burn fuel or produce power, but when you provide it with 4 x AA batteries and turn it on, it springs into life. The crankshaft spins, the pistons go up and down and the whole valvetrain moves as it should. Having already built it you'll know how these parts mesh together, but with power running through it you can see how they all interact. It even pipes through some authentic V8 sounds recorded from a real engine, although these are somewhat drowned out by the sound of the plastics parts themselves.
Arguably there is a fraction more satisfaction in the building process, but if you have a mechanical mind or want a gift for someone of that nature, it would be a pleasing thing to own.
Should I buy one?
If you're considering it, then the answer is yes. The frustrated mechanical engineer in you will savour the process of putting it together, and the quality of the design means that seeing it in operation is both technically accurate and satisfying to watch. Unless you can stretch to buying a Caterham Seven kit, the Haynes V8 is the perfect way to get your car-building kicks.