What is it?
When it comes to baby seats, Britax is one of the most well known names around. After all, this is the company that, working with Volkswagen, invented Isofix in 1997. The German-made Britax Baby-Safe is its most affordable Group 0+ baby seat so is suitable from birth until your little one is around 12 to 15 months old.
Priced at £99.99 it's available from the likes of Mothercare for £89.99 which makes it one of cheapest car seats on the market from an established brand. As a comparison the lowest priced Maxi Cosi starts at £135.
If you want the Isofix base - and most people do as it's far easier to take the seat out and put it back - that will set you back £109.99. A strange quirk of the base costing more than the actual seat. Still, it does mean that you're getting the whole package for less than £200. 
What's it like?
The Baby-Safe may be at the cheaper end of the Group 0+ seat range but it certainly doesn't feel like a budget baby seat. The first thing you notice is how light it is - just 3.6kg, which is 8lb in old money - and it feels lighter than many other car seats, although the handle isn't that comfortable, especially if you have to carry it for any length of time with your baby in it.
But the impressive padding inside makes up for that. Britax says the Baby-Safe has been designed to produce cocooning comfort in a lightweight shell. That certainly rings true with plenty of cushioning, particularly behind your baby's lower back and a cosy insert to support their head - ideal for creating a natural sleeping position. You feel very happy settling your little one into something that's so comfortable.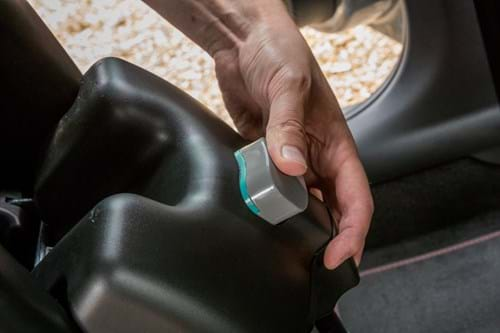 Removing the seat from the base can be tricky
The seat belts are a little narrower than other car seats, such as models from BeSafe, but the Britax does have a five-point harness. However, adjusting the belts is a little awkward as it involves locating a small switch with your finger through a hole in the base.   
Our main criticism of the Baby-Safe is that the seat belt buckle has no fabric cover. As a result it's quite easy to pinch your little one's skin, especially when they have bare legs in the summer. Also, folding the main handle down and back up is quite awkward due to the design of the buttons on the rear, it's not a very ergonomically-friendly design.  
However, on the plus side the sun shade attached to the handle is a nice design and very handy in the summer. There is also a summer cover for the seat, made of a lightweight towelling material, plus of course a raincover cover for those less-than-sunny days.
We tested the Britax Baby-Safe with the Isofix base and it fitted into our Skoda Octavia Estate easily, clipping first time onto the Isofix mounts. Adjust the foot prop and you're done in no time. The angle of the seats in the back of the Octavia is quite steep but Britax supplies an extra wedge that slides under the base to help level it out.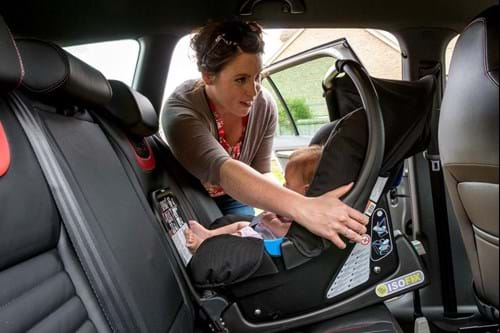 Odd design of buttons makes handle awkward to fold down   
The base does rattle a bit on the move though, especially if it's in situ without the car seat on. Fitting the seat to the base isn't that smooth, although as with many car seats in our experience, this gets better over time. Similarly, the button to release the seat from the Isofix base isn't that easy to press in and takes quite a lot of force, however we'd also expect this to get smoother over time.
The base certainy feels solid and reassuringly weighty plus it comes with an anti-rebound bar for extra safety. This stops the car seat bouncing back against the seat back after an accident. We'd always recommend using an Isofix base over seatbelts if you can. It makes the car seat far more secure and offers better protection for your little one in the event of an accident.
Should I buy one?
If you want the reassurance of an established car seat brand but at an affordable price, the Britax Baby-Safe is an ideal choice. It's also perfect as a second car seat, for instance if you want a seat for the grandparents to have in their car.  
For the money, the Britax is very good value. It's lightweight, well padded for your little one and feels like a good quality product. This is no budget seat. There are a few small foibles - we'd like to see a cover the back of the seat belt buckle for instance, but they don't detract from the overall quality of the Baby-Safe. It only comes in black or red, if you want something more colourful or design-led you'll have to look elsewhere, but the Baby-Safe is easy to recommend at this price.
Details
Price: £99.99 (Isofix base is an additional £109.99)
Size: Group 0+ (Birth - 12/15 months or 13kg)
Weight: 3.6kg 
Alternatives
Graco Junior £89.99 
Recaro Young Profi Plus £115.99
Babystyle Oyster £99.00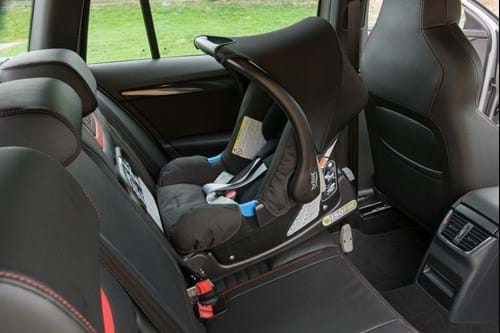 The Honest John Kit Car Seat Chooser
Choosing - and buying - a car seat for your baby or child is a pain. It means visiting every child seat manufacturer - either online or in-store - to see if their seat fits your car and, if it does, it goes where you want it to. So we decided to do something about it. We built a car seat choosing tool that starts with the most important thing (well, after your child, that is): your car.

Tell us what car you have, or plan to get, and we will show you those that fit your car.
Select your car's make to get started
Tell us what car you have, or plan to get, and we will show you the car seats that fit.