What is it?
Britax is probably the best known name in the UK when it comes to car seats and the Dualfix is its top of the range 360 degree rotating car seat. This means it can be used as a rear facing seat from birth and then a forward facing seat from 15 months. Plus of course the real advantage is that it swivels to make getting your little one in and out much easier. 
It has a built in Isofix system in the base - this seat is only compatible with cars with Isofix and won't work if you only have seatbelts - but it's currently not i-size compliant. The chances are Britax will soon revamp it to make it meet the new regulations.
Priced at £375, it's competitive with the handful of other similar car seats, including the Maxi-Cosi AxissFix, although if you search online you can find it for nearer £300. Given that it can be used from birth up to four-years-old, this makes it good value.
Designed in Germany, it has multi-position recline settings - four when rear facing and three for forward facing - along with a five-point harness, a choice of different coloured removable and washable covers plus a height adjustable headrest and rebound bar with foot prop.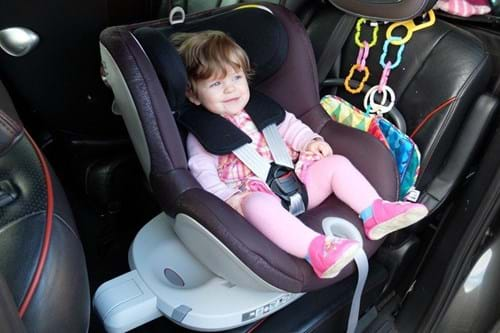 Britax Dualfix proves popular with our tester Lily
What's it like?
With its white outer shell, the Dualfix doesn't look like your ordinary car seat. There are no drab black plastics here, instead Britax has given its combination car seat a clean and modern look. Several fabric colours are available for the seat itself including a bright red and a nice purple - good for little girls. Plus of course blue for boys. The covers are well padded and washable too, although we found a damp cloth cleans everyday marks and spills well enough.
Whether that white plastic will still look good after a few years remains to be seen. But as this isn't the kind of car seat you'll be moving around much, it shouldn't get too marked. And tipping the scales at 14.7kg - more than the Nuna REBL - it's not exactly light. In fact moving the Dualfix is not that easy due to its sheer bulk. Once fitted into your car, it's not a seat you'll want to keep swapping about.
Of course you can only use the Dualfix if you have Isofix in your car, as with all the 360 swivelling seats. It comes with plastic guides if you car doesn't have them (common on older cars) and fitting the Dualfix is simple, as long as you remember to move the front seat forwards first. 
The Dualfix is of course one of the few 360 rotating car seats on the market, alongside the Nuna REBL, which we've previously tested, the Cybex Sirona, which has just been improved to be i-size compliant and the Maxi-Cosi AxissFix. This year will also see the launch of another swivelling seat - the Recaro Zero.1 Elite.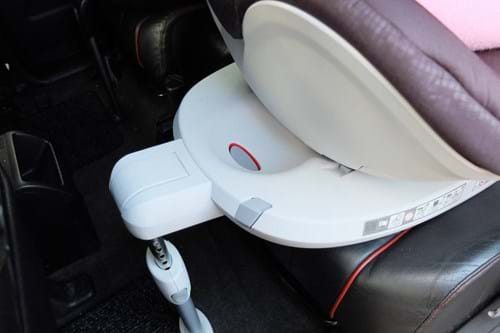 Swivelling is made easy thanks to simple action button
The fact that it swivels is a real boon for parents, especially if your little one is in that wriggly phase. You don't have to bend and twist to get them safely strapped in. The five-point harness has the usual adjustment, so it loosens via a metal catch in the seat base, you and just pull the tab to tighten it. We found it easier and smoother than the Nuna REBL plus the seat belt pads are smaller and more flexible too, good for newborns.
What we're not so keen on is the seatbelt prongs that seem to gravitate to the centre of the seat when not being used, even if you try and leave them hooked over the sides. Unlike other seats there are no magnets of pockets to keep them in place. It means you end up sitting the child on top of the belts and fishing the two belts out from under their bum.
Swivelling the seat is a doddle though, thanks to one large and easy accessible button that allows it to rotate. It also locks when side facing, so you don't have to fight to hold it in place when attempting to persuade a wriggling toddler to sit in the seat. Another plus point is the low profile which means that it's very easy to see the child in the seat when using a mirror on the headrest.
Lily, our 10-month-old tester, is quite excited by the car seat so she doesn't complain when getting in, unlike the constant struggling and back arching that occurs when attempting to get her into the Group 0+ seat she is rapidly growing out of. The fact the Dualfix reclines is useful as your little one gets older and gives you flexibility depending on how your child likes to travel (Lily has it reclined as much as possible still). However, there are four recline positions where other seats offer up to seven settings.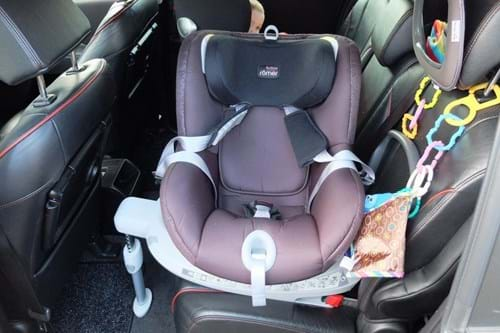 Britax comes in a variety of fabric colours
The headrest is easy to adjust with a little loop at the top so there's no need to root around the back of the seeat looking for tabs and catches. What is tucked away is the instruction booklet. It's situated in the back of the seat but is so discreet it took us a week to actually find it. Thankfully, the visual instructions on the side are very easy to follow. 
Britax say the Dualfix can be switched from rear facing to forward facing from 13kg. In fact, cleverly, it won't let you rotate the seat forward for a child under 13kg. Once they're bigger than that, you can switch to forward facing. The i-size legislation says that children should be rear facing until 15 months - it's been proved to be five times safer than forward facing in the event of an accident.
The general advice now coming from safety experts is that children should rear face until four years old, but in practical terms, how they'd actually fit in a seat like the Dualfix is another matter. There's nowhere near enough legroom.
Should I buy one?
The Britax Dualfix retails at £375 although if you shop around you can get it for considerably less. We found an online only deal from Boots for £310. That undercuts the competition by quite a margin. It may not be i-size compliant but it does have what Britax calls 'side impact protection' plus the performance chest pads and the Pivot Link System.
It doesn't feel quite as solid as the Nuna REBL, which has things like metal seat belt buckles rather than plastic and is easier to swivel due to the better design of the button. But in every other respect the Dualfix is very impressive and our tester Lily, sleeps happily and safely in it.
If you can find it at a discounted price, you will certainly be getting a lot of car seat for your money. Given that it can be used from birth - thanks to an extra padded insert for newborns - it means you won't need to buy another car seat until your little one reaches the age of four.
If you don't need a car seat that fits onto a pushchair and will mainly be using it in one car, the Dualfix is an ideal choice. 
Details
Price: £375.00 (seat and base are all one unit)
Size: Group 0+ to 1 (Birth -  4 years/18kg)
Weight: 14.7kg 
Alternatives 
Nuna REBL £395.00
Cybex Sirona Combination £375.00
Maxi-Cosi AxissFix £375.00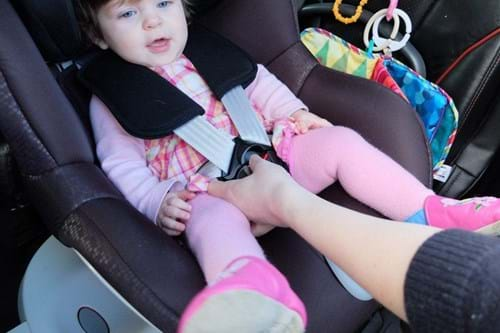 The Honest John Kit Car Seat Chooser
Choosing - and buying - a car seat for your baby or child is a pain. It means visiting every child seat manufacturer - either online or in-store - to see if their seat fits your car and, if it does, it goes where you want it to. So we decided to do something about it. We built a car seat choosing tool that starts with the most important thing (well, after your child, that is): your car.

Tell us what car you have, or plan to get, and we will show you those that fit your car.
Select your car's make to get started
Tell us what car you have, or plan to get, and we will show you the car seats that fit.