What is it?
Dyson's V11 cordless vacuum cleaner is much more of an evolution than a complete reinvention of its predecessor - the V10. One of our biggest gripes with the Dyson V10 was the relatively short battery life, and Dyson seems to have listened to those complaints from its customers. The V11 makes strides over the V10 when it comes to suction power and conserving power, including some smart energy-saving sensors - but it still only comes with one fixed battery (boo). 
It's also very expensive at £599, with the cheaper V11 Animal sitting at £499. The V10 Total Clean was £400 at launch and hasn't dropped since so we're not expecting big discounts any time soon. Considering most buyers will be those already on the Dyson bandwagon, upgrading their ageing V6, V7 or V8 for a V11, we've done some comparisons between the V10 and V11 to help you decide if it's worth stepping up to the newest model or to spend a little less and opt for the V10 instead.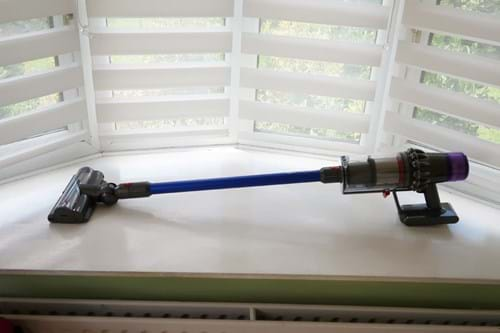 What's it like?
For your £600, you get the top of the range V11 Absolute with a range of attachments - including the new Torque Drive motorhead (exclusive to the Absolute model), soft roller head, mini motorised tool, crevice tool, mini soft dusting brush, mains charger, docking station and wand storage clip. The Torque Drive head is a brand-new accessory for the Dyson premium cordless vac, working to increase the surface area and featuring a slider to increase or decrease suction.
The storage clip connects onto the V11 wand, allowing two smaller attachments to be held - saving us walking back and forth to the utility room constantly when we want to change attachments. It's a small, new addition, but a very helpful one.
There's also more power from the motor itself, which now delivers 185 air watts in Boost mode. That's more than the V10 in max power, and you can manually alternate between Eco, Medium and Boost mode in order to save energy. When the High Torque cleaner head is attached to the V11, you can enable Auto mode, too. This uses smart sensor tech to detect whether the vac is on hard floor or carpet to use the most effective level of suction power.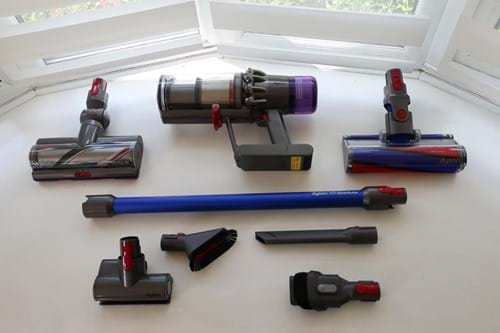 As with the V10, Dyson claims a full battery will last 60 minutes in Eco mode with a motorised head, but this varies drastically depending on which attachments and power mode you use. In Boost mode alone, the V11 does better than the 6 mins of max power we got from the V10, but it still only lasts about 15 minutes. That's enough for us to vacuum the downstairs, but larger houses will require a charge between uses. Then again, we think it's easier and more efficient to leave the vacuum in Auto mode.
There's a brand new screen on the back of the V11's head, too, which displays remaining battery life and, very usefully, how much time you have left before the power runs out. This changes as you use different attachments and change suction modes, i.e. if you move from carpet to a hard floor, the battery percentage and the time it shows left will increase because the vacuum will automatically change to a lower suction mode. Switching between these suction modes can be handled manually by a single button below the LCD screen.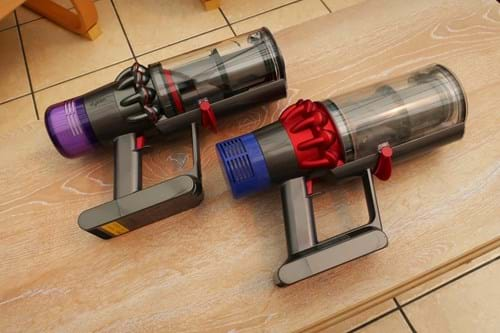 The screen also troubleshoots any issues the V11 is experiencing by displaying a graphic highlighting the problem and how to fix it. On the V10, we would be alerted to change the filter via a white flashing light on the handle - but the V11 ramps up that feature to a more detailed explanation of problems, i.e. showing you which part of the vacuum is blocked if it stops working. Impressive stuff.
All this extra tech adds more weight to the Dyson V11, with it tipping the scales at almost 3kg. That's not too much heavier than the 2.68kg V10, nor does it feel too weighty when you use it as a cordless vac - but without the wand in place to balance it, say when you're vacuuming your car or cobwebs off the ceiling, the V11 can feel a bit tiring.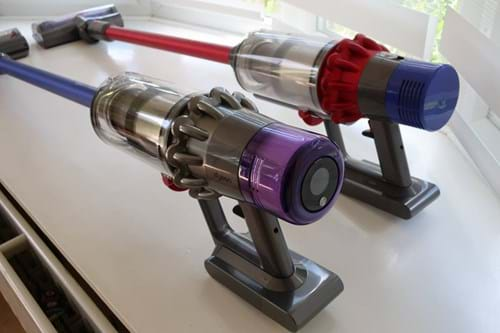 As a vacuum, the Dyson V11 Absolute is excellent, as you'd expect at this price. It easily handles hair, fur, ground-in dirt etc on carpets - as well as all sorts of debris that gets dropped on our kitchen floor. However, full charge time is a long 4.5 hours - an hour longer than the V10. It's not ideal, especially as the V11 only comes with one fixed battery rather than any replacements, but we tend to do a bit of vacuuming every other day or so, then leave it on charge on the docking station, instead of trying to vacuum the whole house at once. If you're used to doing a once-a-week, big vacuum, a cordless vac probably won't suit you.
Emptying the dustbin is very simple and works exactly like the Dyson V10, with the barrel sliding forward and opening with a push of the red lever. However, we had to stick our hand into the barrel a few times to extract hairballs (ew). The bin also gets fairly dirty with things like breadcrumbs sticking to the transparent barrel, but it's large enough to not need emptying too often.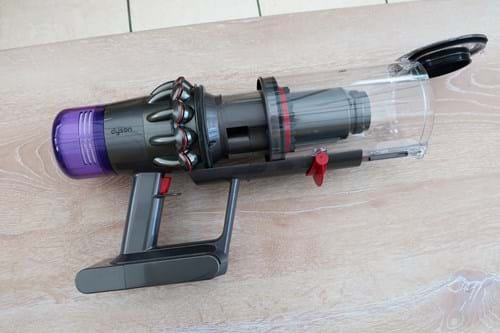 Should I buy one?
The V11 is a fantastic update when it comes to suction power, better user experience and smart features. It's heavier than the V10 and doesn't offer a whole lot more in terms of battery life, especially as the bigger battery increases charge time, but these are outweighed by how useful the LCD screen is.
It's a genuinely helpful addition to Dyson's V11, with live battery updates that allow you to drop to Eco mode when the power runs low. The troubleshooting capabilities also place this cordless vac head and shoulders above competitors. However, it is very expensive. And, with the Auto mode strictly Absolute-only, there's not really any big incentive to go for the V11 Animal over the V10 Total Clean. It's no doubt the best cordless vacuum cleaner available in the UK, but that title comes at a premium price.