What is it?
JustPark is one of many new services that make up the 'Sharing Economy'. Websites and apps like Airbnb, JustPark, Uber and Lyft are just some of the biggest names when it comes to quickly and easily share your space, knowledge, car etc to make some extra cash.
Services like Airbnb, for example, are much cheaper than booking a hotel because you book directly with whoever owns the property. JustPark works that same way and, by cutting out the middle man, there are fewer fees to pay - making finding places to park much quicker and cheaper. 
What's it like?
Fantastic. We really can't recommend it enough. We use JustPark mostly to park in a car park outside a shop, which is a short walk from our local train station, about once a week. At £5 for an entire work day (9 hours), it saves us about £10 every time because the alternative is the £15 overflow car park next to the station.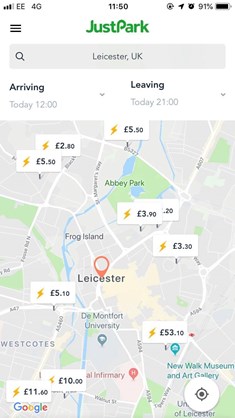 We also recently parked on someone's driveway right next to Lincoln Cathedral to avoid paying the high charges at the multi-storey car park and the very steep walk up Steep Hill to the shops. We needed to spend a few hours in Bermondsey a few weeks ago and parked on someone's driveway for £7 for the entire day. Being right next to the Tube station also meant getting around for the day was very easy but we could drive home whenever we wanted without having to fight central London rush hour or get the train home.
The app features over 20,000 reservable spaces across the UK, with the majority of these obviously in large cities. The app also gives you info about availability, price and restrictions in the area. On top of the reservable spaces (on people's driveway, using their allocated parking space on street, pubs, churches etc), there are millions of parking spaces that JustPark also shows - but these aren't reservable so it's a bit of a gamble.
The car park we use near the station has a parking attendant and a ticket machine, but we pay the night before for the convenience of not using the machine on the day. Finding, reserving and paying for space is a doddle and the app gives you the option to navigate to your chosen space using a variety of smartphone nav apps like Waze and Apple Maps. Once you've booked a space, you'll get handy reminders about it and, if you need more time, extending your time there is easy enough as long as no one else has booked it (which is never an issue we've run into in the two years we've used it).
Rebooking is very simple, which means if you find a space you like to use then you can easily find and book it again. Payment is also very easy with the app accepting Apple Pay, PayPal or card payments. If you cancel a booked space, you won't get your money back - but if the space owner cancels (which is another issue we've never faced), then you are refunded.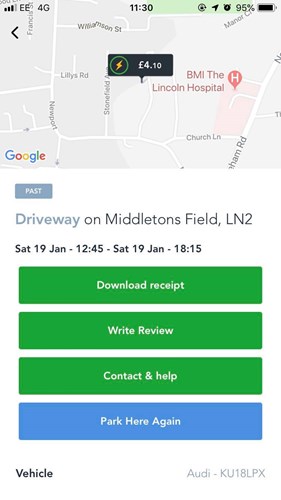 One problem we've come up against is that spaces aren't always that easy to actually find. We decided last minute to go to Winter Wonderland in London last December, meaning we needed to park at Bedford train station and drive in so we could responsibly enjoy some mulled wine. However, the overflow car park was full. After quickly finding and paying about £6 for a space on a driveway right opposite the station, we actually couldn't find it. Eventually, we gave up and parked further away and walked to the station.
It took a few hours for the owner of said space to see my messages on the JustPark app, to which he apologised and refunded me my money. It turned out he kept a gate locked across his driveway to stop people parking there without paying. His gate was, therefore, locked when he left for work, meaning we couldn't use a space we'd paid for. Although, as mentioned, we did get refunded.
This was an annoying oversight on the owner's part, although we did book last minute. More common issues you'll definitely find in the reviews of JustPark on the app store are glitches with the app itself - not accepting payments, not accepting the reg number of your car etc. That's all part and parcel of using apps, so it isn't exclusive for Just Park. We also haven't personally experienced these issues, but it is something to bear in mind about being reliant on the app for parking.
In that sense, we always leave a little extra time in case something goes wrong - however, we've never turned up to a booked space to find it already used. When it comes to navigating to the parking space, we'd always recommend using Waze if possible so you know of potential traffic, especially if it's time sensitive like parking near an airport or football stadium when traffic is likely to be slow.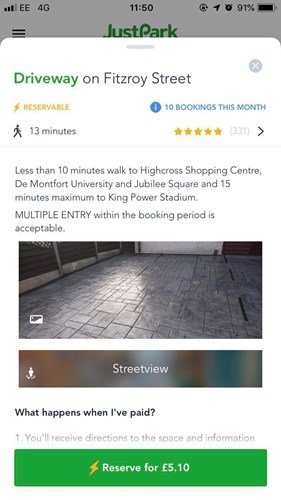 Should I buy it?
Considering it's free, yes. JustPark has made parking far more convenient, stress-free and cheap. There are a few issues with the app, but nothing major. If you've got the space on your phone for another app, this one should definitely be on your list.