What is it?
The LEGO Architecture Skyline Collection offers models for those interested in architecture and design, featuring cities like London, San Fransisco, Shanghai and - obviously - New York City.
This set features the Flatiron Building, Chrysler Building, Empire State Building, One World Trade Center and the Statue of Liberty - each scaled to give an accurate representation of the comparative size. At £45, it isn't cheap, but is it worth the money?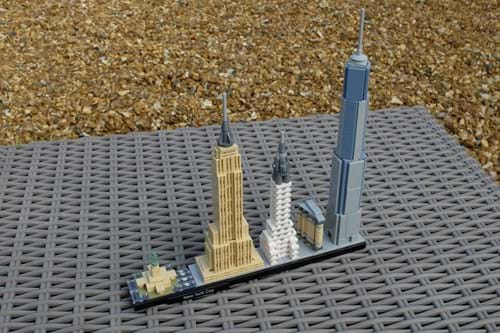 What's it like?
The set comes in a smart-looking black box containing all the relevant pieces (as well as some spares), a 4x32 New York City nameplate and a booklet that includes the building process and some facts about the structures that make up New York City's famous skyline. As you build, you can also read up about the designer, architecture and history of each building, as well as historical facts about New York City and its architectural heritage.
With larger LEGO sets that may take a few days, the bags are numbered so you can come back to the build without having loose pieces all over the shop. This isn't the case with the New York City set, which means we had to open all four bags at once. It wasn't a huge issue, but the entire build took us about three hours and it would have been easier to find the relevant parts if each building was divided into its own bag.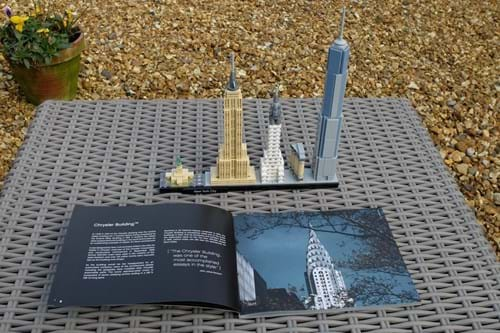 The finished build looks very good and accurately represents the iconic skyline well. It's interesting to learn about the buildings while you work through the set and to see the size differences by the end as well. It's very intricate, with lots of small pieces - but isn't too difficult even for someone who doesn't play with LEGO a lot.
It's definitely a coffee table display type piece, which means it won't be as much fun for a kid to build as it would be for an adult. But it would make an excellent gift for a LEGO or architecture enthusiast. Our only criticism is that it looks a little bit dull because of the prominent blue and beige colour scheme.
The Statue of Liberty is a LEGO figurine, which is a nice touch - but it looks a little bit small in comparison to the taller buildings even though that's accurate scaling. You also get a spare statue in case you lose one, which is likely if you knock it off because it's quite hard to see on a carpet...
You also get a LEGO Brick separator in the box, which is only a couple of quid if you need to buy a spare. It comes in very handy when you inevitably attach two bricks that don't actually go together. The set, when built, measures 10-inch (26cm) high, 9-inch (25cm) wide and 1-inch (4cm) deep - meaning it's perfect for displaying on a windowsill, mantlepiece or the like in a home or office. 
Should I buy it?
If you or someone you're buying for loves New York City, LEGO builds, architecture or all three - this is the perfect gift. It's a little bit expensive, but we think it's a reasonable price for the build time and quality of the set. The sets are also regularly discounted on Amazon, so if you keep an eye out - you might be able to bag one for under £40.