What is it?
Moshi bills itself as a producer of 'premium accessories and peripherals' for Apple, Android and Kindle. It sells a vast range of stylish cases, adapters and the like. Plus of course power banks. The IonBank comes in two versions - 5K or 10K - depending on the capacity and is designed to be slim enough to keep in a jacket pocket. It's finished in aluminium with black trim or there's a bronze version with brown.
On one edge there's a little flap made from 'vegan' leather (in other words fake leather) that lifts to reveal two concealed connectors — a USB and a Lightning cable for charging iPhones and iPads. The advantage here is that you don't need to carry extra cables with you.
It also has an extra USB port so you can charge two things at once. The unit itself weighs slightly more than an iPhone 7 (about 162g) and at 12cm x 8cm is about the same size as the average wallet. On one side it also has four LEDs to show you how much charge it has.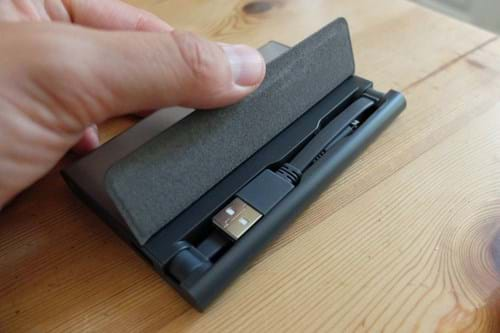 What's it like?
The first thing we have to talk about with the Moshi is the price. There are hundreds of power banks for sale of varying shapes, sizes and capacities, as a quick search on Amazon shows. In fact, prices start at less than £10.
The Moshi sits at the other end of the market. Indeed, priced at £70 — we're testing the lower capacity 5K model — it is extremely expensive for a power bank with 5150mAh capacity, especially when you can find power banks with four times the capacity for less than half the price. 
So how does it justify that price tag? Well, Moshi talks about its sleek design (it has won a Red Dot Design Award) and the aircraft-grade aluminium. Although that's just on the top, the bulk of the unit is grey plastic. It's a solid thing though and despite lots of scratches to the metal trim as it's been battered around the bottom of our bag, there's been minimal wear and no chips or cracks.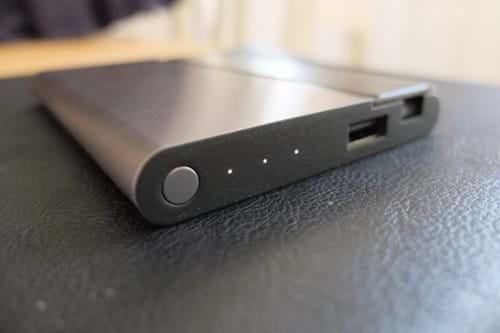 What's different from many other power banks is the integrated cables. These are concealed beneath a little faux leather flap. It's a very neat bit of design that means you don't have to have the usual iPhone cable messily wrapped around your power bank.
It's straightforward to charge thanks to the built-in USB cable while the other cable is a Lightning connector. There's no Android or USB C equivalent, but there is an extra USB port for whatever lead you have, although that kind of defeats the object of the 'no extra cables needed' design.
The Moshi is useful in that you can charge the power bank up while also using it to charge your phone. The issue we have is that when your phone is plugged in to charge, it's very awkward to use it. The power bank either sits below and gets in the way, or you have to place it behind your phone, which is equally as annoying.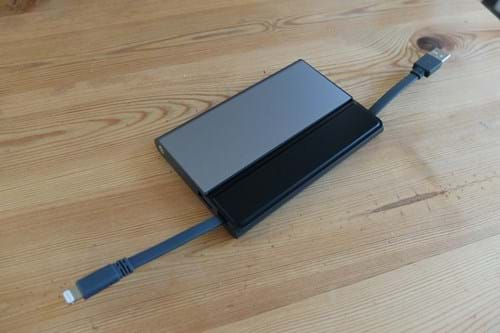 Should I buy one?
The Moshi Ionbank does exactly what a power bank is supposed to do. It will charge your iPhone twice, in fact, we managed two and a half charges. But it took around two hours to get our iPhone 7S from 1% up to about 97%, even though it was in low power mode.
It's a nice design and feels more upmarket than many power banks. But that's not enough to justify the high price. We have seen similar capacity units for £12 on Amazon. Admittedly these don't have integrated cables and aluminium trim, but those features are not enough to justify how expensive the Moshi is. We think your money is best saved and spent elsewhere.