What is it?
If you're after a 360 degree swivelling car seat then there are only a few to choose from. And one of the newest on the market is the Nuna REBL. The Nuna name may not be as well known to parents as Britax or Maxi-Cosi, but the Dutch company - founded in 2007 by a father of two - has quickly grown with the idea of making baby products that take some of the work out of being a new parent.
The REBL is a swivelling car seat that's suitable straight from birth until your not-so-little one is four-years-old or 19kg in weight (105cm in height). It is very expensive at close to £400, but it will last you around four years without the need to invest in a bigger seat and spend more money. On the downside it's a big all-in-one unit and not pushchair compatible. That means you'll more than likely have to wake a sleeping baby in order to get them out of the car. 
It does however exceed i-size standards - the new European wide standard which keeps children rear facing for longer and increases support for the child's head and neck. Research shows that rear facing seats are 75 per cent safer in the event of accident so the move to i-size is an obvious one. The REBL also has side impact protection thanks to energy absorbing foam along with an integrated rebound bar. The seven recline positions are handy as your little on grows up plus there's an adjustable head rest.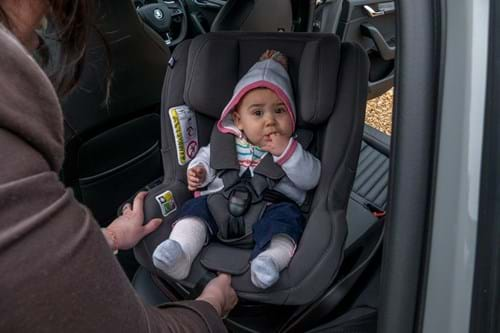 Easy swivelling action makes it easy to get little one strapped in safely  
What's it like?
Given the high price of the REBL you'd expect it to feel like a high quality product and it doesn't disappoint. It's not light, tipping the scales at almost 14kg - this is not a car seat that's easily moved between cars - but it's solid and well made with high grade plastics on the base and a top notch feel to the seat material.
Fitting the REBL is straightforward enough and only made awkward by its sheer bulk. Once fitted it's not a seat you want to keep moving. Although we moved our seat several times and once you have the knack, it's a quick process. Fitted in the back of our Skoda Octavia vRS Estate there is a bit of sideways movement, but in other cars this wasn't the case. It's worth trying it in your own car before buying if you can.
It has the usual safety buttons that click green so you know the Isofix mounts are properly locked and similarly the adjustable footrest. The seat itself is reassuringly well padded as are the seat belt covers, although when new these are quite stiff and hard to flex round your child's arms. This is more of an issue with newborns and less of a problem with toddlers.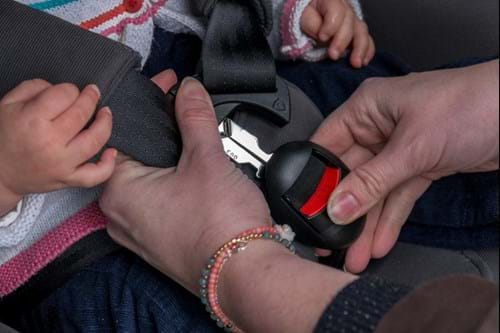 Spilt seatbelt can be tricky to do up, especially in the dark
The fact the REBL swivels round 360 degrees means getting your little one in or out is so much easier than a conventional rear facing seat. You just press a little button under the front of the seat and it smoothly swivels, with a reassuring click when in the correct position. If your toddler has perfected 'the plank' and isn't that keen on being strapped in, being able to have them face you makes life so much easier. It also saves you straining your back...
The seatbelt is a split design so you have to lock the two metal halves together before clicking it into the buckle. It can be a bit fiddly, especially if you have cold hands or you're in a dark car park, but tightening the seatbelts is easy with the usual metal thumb button in the base of the seat. A quick pull of the belts and you're ready to go.
There are little pockets for the seat belts ends to slot into, keeping them out the way when you're putting your little one in. Again they can be fiddly and not as handy as some designs which have magnets.
There's a snug and soft extra insert for smaller babies - the lighter grey sections in the top photo - and you can remove sections of it as your baby grows. Our daughter Eden, who helped us with the testing, is eight months old and more than happy without them. In fact she loves the REBL despite us initially thinking it might be a little big for her.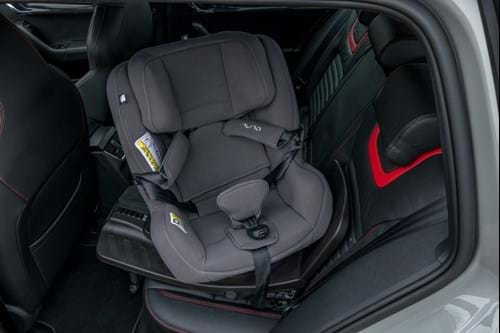 Four colours are available including this slate grey 
The headrest, with its side supports, is great to stop her head flopping about when she's snoozing and the thick seatbelt pads and large seatbelt buckle cover means she's really secure when strapped in. It only takes a few minutes of driving before she's asleep which wasn't the case with her previous car seat.
At the moment we have it on the most reclined setting, which is quite upright compared to a standard Group 0+ seat like the Britax Baby-Safe. Our daughter seems to prefer it but some parents might find their child's head will flop forward when asleep. But the fact we can gradually move it more upright (hopefully without her noticing too much) as she gets older is very useful. There is also built in ventilation in the seat shell which will be handy in the summer.
Whether she'll be happy to be rear facing until she's four-years-old remains to be seen and indeed whether she'll fit is another matter. The rebound bar isn't overly intrusive but taller toddlers might find legroom a little tight when rear facing.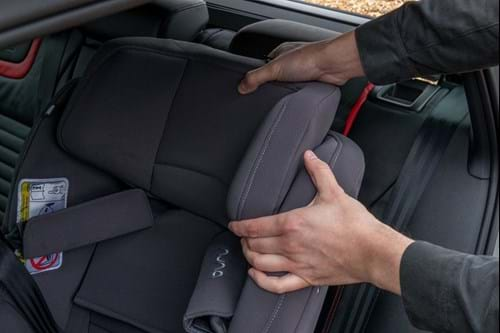 Well padded headrest is adjustable as your child grows
Should I buy one?
At close to £400, the Nuna REBL is expensive. If you're upgrading from a Group 0+ seat it's a big investment. However if you're buying it as a seat from birth that will then be good until your new arrival is four-years-old, it's a good buy. Think of it as £100 a year. As it exceeds i-size standards it's future-proof too.
The fact it's suitable for babies from just 40cm means it's ideal for premature or small babies. A Maxi-Cosi AxissFix goes from four months (61cm) so while the Maxi-Cosi is cheaper, you'd need another seat for the first four months.
We think the REBL is the best 360 swivelling combination car seat on the market and while it is very pricey, it's a good investment that feels reassuringly safe, sturdy and comfortable. Once fitted, it's easy to swivel and although the straps can be a little fiddly, this is only a minor criticism.
True it doesn't recline as much as you'd expect, but this is no better or worse than similar swivelling car seats. The materials used feel like they will easily last four years. And beyond if you're passing it down to a younger sibling. What may put new parents off is the fact it doesn't come out and attach to a pushchair like the majority of Group 0+ seats do. This does however mean you're less likely to leave your newborn in their car seat for longer than the recommended two hours.
Details
Price: £395.00 (seat and base are all one unit)
Size: Group 0+ to 1 (Birth -  4 years/19.5kg or 105cm)
Weight: 13.5kg 
Alternatives 
Maxi-Cosi AxissFix £350.00 
Britax DualFix Combination £350.00
Cybex Sirona Combination £375.00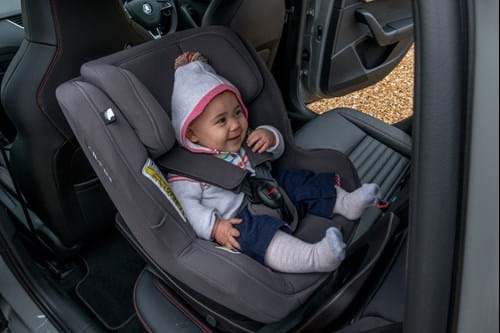 Strapped in, happy and ready to go!
The Honest John Kit Car Seat Chooser
Choosing - and buying - a car seat for your baby or child is a pain. It means visiting every child seat manufacturer - either online or in-store - to see if their seat fits your car and, if it does, it goes where you want it to. So we decided to do something about it. We built a car seat choosing tool that starts with the most important thing (well, after your child, that is): your car.

Tell us what car you have, or plan to get, and we will show you those that fit your car.
Select your car's make to get started
Tell us what car you have, or plan to get, and we will show you the car seats that fit.