What is it?
The Oxford Heritage Tech 1.0 is a waterproof motorcycle jacket aimed at those who want a classic style. It has a breathable lining and WarmDry thermal liner so it can be used in the colder ends of spring and autumn. The dry wax cotton material has nylon overlays and there's CE Level 1 armour for elbows and shoulders. For £199.99, the Heritage Tech 1.0 in Olive as tested here is less expensive than alternatives from the likes of Barbour or Belstaff.
What's it like?
If you're after a jacket that looks as good when you're strolling through town as nipping down a back road on your bike, the Oxford Heritage Tech 1.0 does the trick. It has that classic look, especially in the Olive colour of our test jacket, or you could choose navy blue. It's made from dry-waxed cotton with nylon overlays to give improved protection. It also comes with a WarmDry removable thermal liner to keep you warmer on those chilly mornings.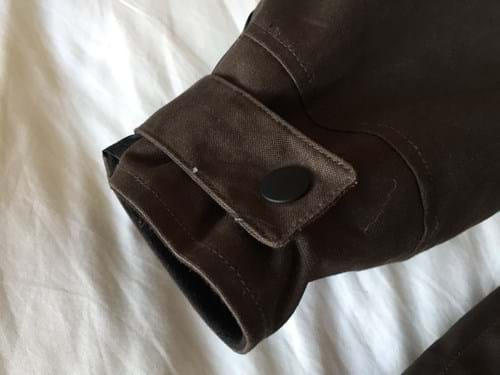 We tried the Heritage Tech jacket in warmer weather and it was ideal. Light enough to be our go-to jacket for most rides, it also kept out some heavier rain bursts while we were riding. The collar of the jacket is lined to make it more comfortable and the adjustable belt meant you can tighten it to keep out the wind, though a Velcro fastening would make this even more effective. The same applies to the cuffs, which have only two studs for adjusting the fit, though we didn't personally find any issue with this.
The thermal liner was only needed on a couple of colder mornings but it's quick and easy to zip and clip into place. Colour-coded pop studs mean you get it into place first time, every time. The lining doesn't add to the bulk of the Heritage Tech jacket and nor does it restrict movement as you ride, so it's worth using or stashing under the seat.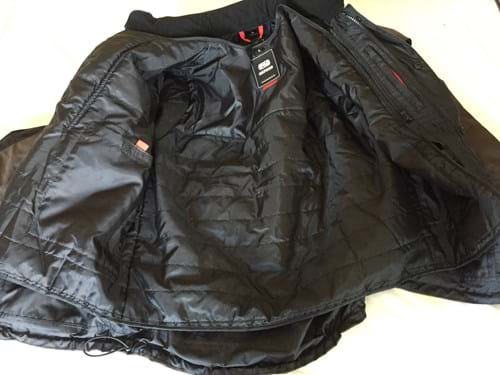 Also easy to fit is the CE-approved Level 1 armour that comes as standard for the shoulders and elbows of the jacket. They slip into their dedicated pouches quickly and then sealed in place with Velcro fasteners. There's also provision for a fitted back protector inside the jacket for added protection in the event of a spill.
Oxford doesn't stint when it comes to places to store items in the Heritage Tech jacket. There are four small-ish waterproof lined pockets outside and a further two poacher's pockets inside with Velcro closing. Added to this is another small left breast pocket that's perfect for keeping your wallet, cash and phone dry and accessible. The thermals lining also comes with a pair of inner pockets.
Wearing the Heritage Tech jacket over several weeks, we found it very comfortable and easy to tailor its fit. We soon tied the belt around the back of the jacket to prevent the buckle from scratching the petrol tank, but otherwise, there's very little to dislike about this well made and durable jacket. Perhaps one small gripe is the very limited reflective material used on the arms, so you need to be aware of this when it gets dark.
Should I buy one?
The style-conscious rider should find the Oxford Heritage Tech 1.0 a fine value for money alternative to others of this style. For others, it's a well constructed and hard-wearing jacket that fits well and keeps out the worst of the rain and chill. Larger outside pockets would be a welcome addition, but for this money, we reckon this is a sound bet in all but the worst weather.