What are they?
These are jeans with built-in armour, like many others on the market, but the Oxford Original Approved jean is made from Armourlite. The material has been specially developed to include a hard-wearing fabric, similar to that used in parachute cords, so it has strong wear resistance coupled with flexibility.
The trousers retain the simple, classic looks of jeans but are also more water-repellent, help wick away sweat and are quick-drying. There's a choice of slim or regular fit, with colours including blue (which we tested), black or two-year aged - which offer a vintage-look.
What are they like?
On first acquaintance, we thought the Oxford Original Approved jeans were not much more than a pair of denims with some built-in armour. There are plenty of this type of motorcycling jean on the market and many cost a lot less than the £120 for the Oxford ones. However, closer inspection of the technical specification shows these jeans are a lot abler than most to resist wear and tear in the event of an accident. Crucially, that means literally saving your skin.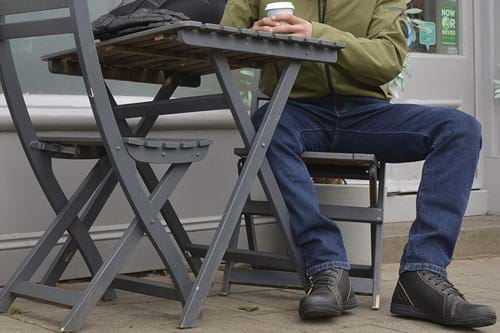 The company says these jeans can withstand a spill at up to 45mph and remain intact. We didn't try this out, but we can tell you the material feels thicker than normal denims while remaining sufficiently pliable to be very comfortable. Everything about their look and feel says classic blue jeans, but they give more confidence on the bike when you know they won't tear, rip or come apart in a low-speed incident.
There are CE-approved armoured inserts for the knees and hips, with the latter a good size to spread any impact you might suffer if you come off. The knee pads are surprisingly thick for this type of trouser yet they also mould well to the shape of your legs and are not obtrusive when walking around. We found we could wear these jeans without anyone noticing we were wearing a dedicated motorcycle trouser.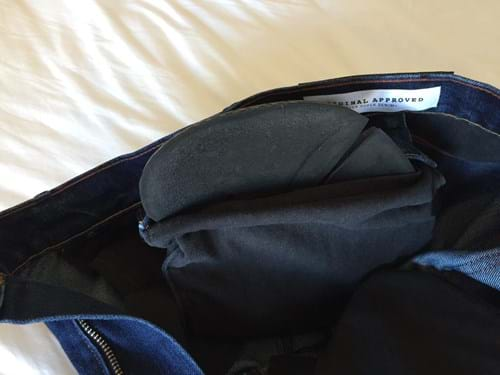 The pouches the armour fit into at the hips is very easy to use, too, but the knees take a little more care when putting your legs in as the netted pouch can catch an unwary foot. However, the armour is easy to remove when washing the jeans and replace. As for the general fit, the stated waist size was similar to most big brand name but the legs are a little longer to allow for the stretch to keep your ankles covered when riding.
Other neat touches are the triple stitching along most of the seams to give better resistance to pulling apart should you come off the bike. The pockets are big enough for a wallet or phone to stash away easily and the belt loops are broad. We also found the rear of the trousers was a little higher than normal jeans to give better protection from the weather and any accident. However, there's no way of attaching the jeans to a jacket with a zip.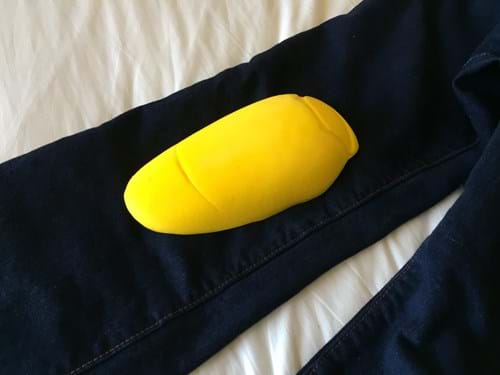 Should I buy them?
At this price, the Oxford Original Approved jeans are a bit of a bargain. As more riders move away from Kevlar-lined jeans to single layer trousers, these ones retain plenty of protection. They are also very comfortable and avoid looking like motorcycle jeans thanks to the unobtrusive way the armour fits.
You also don't get the multiple seams that plague many motorcycle jeans designs, so the Oxford trousers are ideal for those who want to blend in when not on the bike.
>> Buy the regular fit (rinse wash) Oxford jeans here for £120
>> Buy the slim fit (black) Oxford jeans here for £120