What is it?
When you're new to riding, or if you're just using a bike as a commuting tool, spending a huge sum of money on a carbon-fibre helmet isn't going to be top of your to-do list. But equally it's a bad idea to go for something from the bargain bin - your head is important, after all.
That's where a mid-priced helmet like the Shark Skwal comes in. It has most of the features riders want, but it costs a perfectly reasonable £200, or less from some sellers. It also has a trick up its sleeve in the form of green LED lights to provide a little more night time visibility, or just to look good if that's your cup of tea.
What's it like?
The Skwal has an integrated sun visor, two air vents, a Pinlock-ready main visor and a washable, removable lining. The Skwal's party trick is its built-in lighting system, with two green LEDs front and rear. These can be switched on and off with a waterproof button on the base of the helmet that can be operated easily with gloves.
There are two illumination settings – on or flashing – or the lights can be left off entirely. Charging is as simple as connecting a micro-USB charger, like those used on most phones, to a port hidden in the lining. A full charge provides 5-8 hours of light. The lights themselves are neatly integrated and look like little styling details when switched off.
At night they glow quite brightly, but how much they'll do to make a rider more obvious to other road users is debateable. It's certainly something different though and if you want to stand out it'll certainly work – as will the loud, vibrant colour schemes. If you're more restrained there are plain schemes too, including gloss black or white.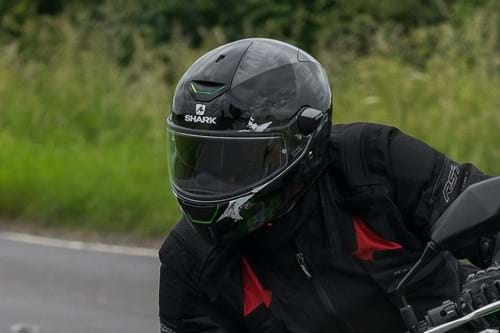 The green areas illuminate
There are two shell sizes and five fitments overall, which seem to correspond to other helmet makers' sizing schemes – but it's always best to try a helmet on before buying. If you wear glasses then the Sqwal is fine, it shouldn't pinch your frames against your head too much even over long distances.
Operating the vents and built-in visor while riding is very easy even with thick gloves on, so the Skwal is very user-friendly and it's comfortable too. That said, it could be quieter – at high speeds there is a fair bit of bluster, which, while far from bad, will still make long distance rides frustrating.
In terms of safety the Skwal obviously meets European regulations, plus it has a good 4/5 SHARP safety rating which is fairly typical of thermoplastic helmets in this price bracket. It scored the top 'Very Good' grade for front and rear impacts and a middle grade for side impacts. It's British Motorcycle Sport approved too, so can be used on track.
Should I buy one?
The Shark Skwal is comfortable, well-priced and includes all the features most riders demand, including a built-in sun visor. It's not the quietest helmet for long touring trips, but for B-roads and town riding it's ideal. Factor in its LED light party trick and a huge range of designs and it's easy to see its appeal.
It's also comfortable for glasses wearers and it has some nice extra features, including preparation for Shark's Bluetooth system. It also has a Pinlock ready visor, so a Pinlock insert can be fitted out of the box to prevent the helmet fogging up. These cost roughly £35.
Details
Price: £199
Construction: Thermoplastic
Features: Sun visor, Pinlock ready, LED lighting
Alternatives
AGV K5: £210
Icon Airmada: £184
Scorpion Exo 1200: £190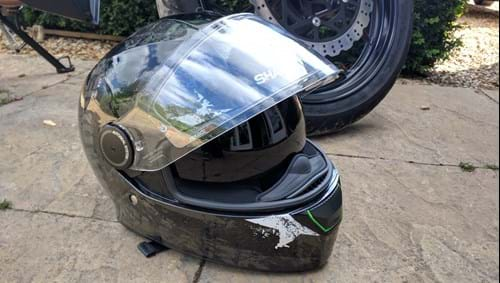 Integrated sun visor is handy