What is it?
The Thinkware F70 is a mid-range dash cam, retailing on Thinkware's website for around £80 (or £100 if you add an external GPS module for location tracking). It's ideal for drivers who want an unobtrusive, decent quality dash camera. Thinkware also has dash cams that are compatible with rear dash cameras, but the F70 can't be used with a rear cam.
The F70 records in 1080p at 30fps (which is decent) and can be paired with an optional GPS unit for speed, date and location details — as well as alerts to safety speed cameras and mobile speed zones. However, the lack of a screen on the dash cam makes setting it up more difficult than it needs to be.
What's it like?
The first thing you'll notice about the F70 is how small it is. Cylindrical in shape and weighing just 42g, the camera is very unobtrusive on the windscreen. It comes with an adhesive mount so you need to make sure you know where you want the dash cam before you fully secure it. The adhesive pad makes it very difficult to remove if you decide you want to move it. Fortunately, you can get a suction mount from Thinkware for just £9.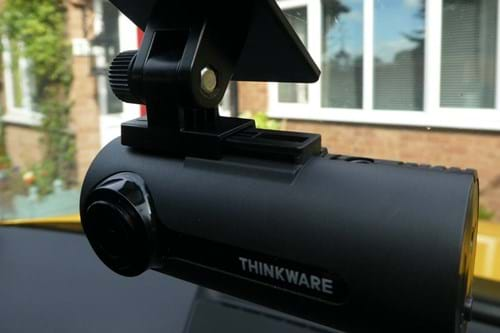 The lack of suction mount isn't a that much of a negative though. If you want to remove the dash cam (to hide it in the glove box away from prying eyes for instance) you can just slide the F70 out of its mount rather than remove the whole contraption. It will, however, leave a sticky residue to deal with once it's removed from the windscreen.
A bigger issue than the mount is the lack of a screen. Thinkware obviously sacrificed a screen to make the dash cam more compact, but this means it's very hard to work out if the F70 is positioned correctly to capture a useful view of the road.
In fact, the first week we used the camera, we thought we were getting footage of the road, but it turned out we were filming at an upwards angle and only captured footage of the sky. There's no way to check without a screen and it's not helpful if you miss an incident. We only found out when we watched our footage on a computer.
The alternative is setting the camera up, recording a few seconds, then removing the MicroSD and checking it on a computer to ensure the view from the camera is accurate. Connecting to a computer is the only way you can configure settings too, which is a massive pain for a camera that was otherwise simple to set up.
To alter settings, it's a case of downloading Thinkware's aptly named 'PC Viewer' programme here, then putting the MicroSD card into your PC or Mac. Once you have the programme on your computer, you can alter the dash cam's settings — like brightness levels, language options, safety camera alerts and parking mode. The programme looks a bit old school, but it works just fine and downloads quickly.
You can use PC Viewer to update the software and speed camera database, so the mobile safety camera zones and speed camera alerts are up to date. The speed camera functions are useful, with the camera being fairly loud when it says how far you are from a safety speed camera and what the speed limit is.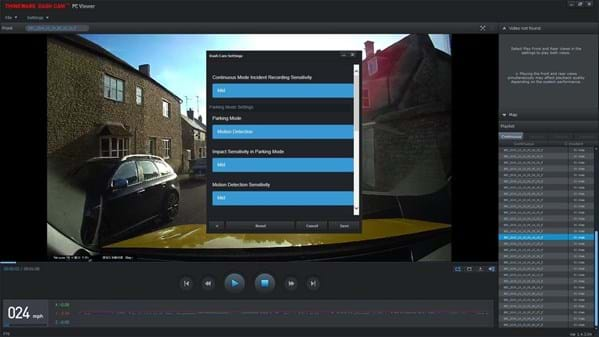 When hardwired (which can be done by a Thinkware engineer through the RAC website), the F70 switches to parking mode when the ignition is switched off, recording events that are triggered either by motion or impact detection.
In the PC Viewer settings menus, you can choose how sensitive you want the camera to be in triggering a recording if it detects motion in Parking Mode, i.e. if someone hits your car while your car is parked.
In normal parking mode, the camera records 10 seconds before the sensor is triggered and 10 seconds after. If you plan to leave your car for a long period of time, like to go on holiday, the F70 can be set to Energy Saving Parking Recording. This reduces the battery drain and puts the camera in sleep mode. When an impact is detected, the camera wakes up and records footage for 20 seconds.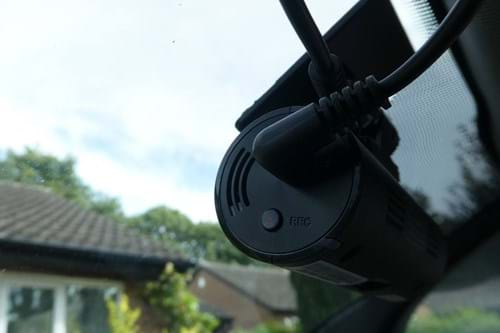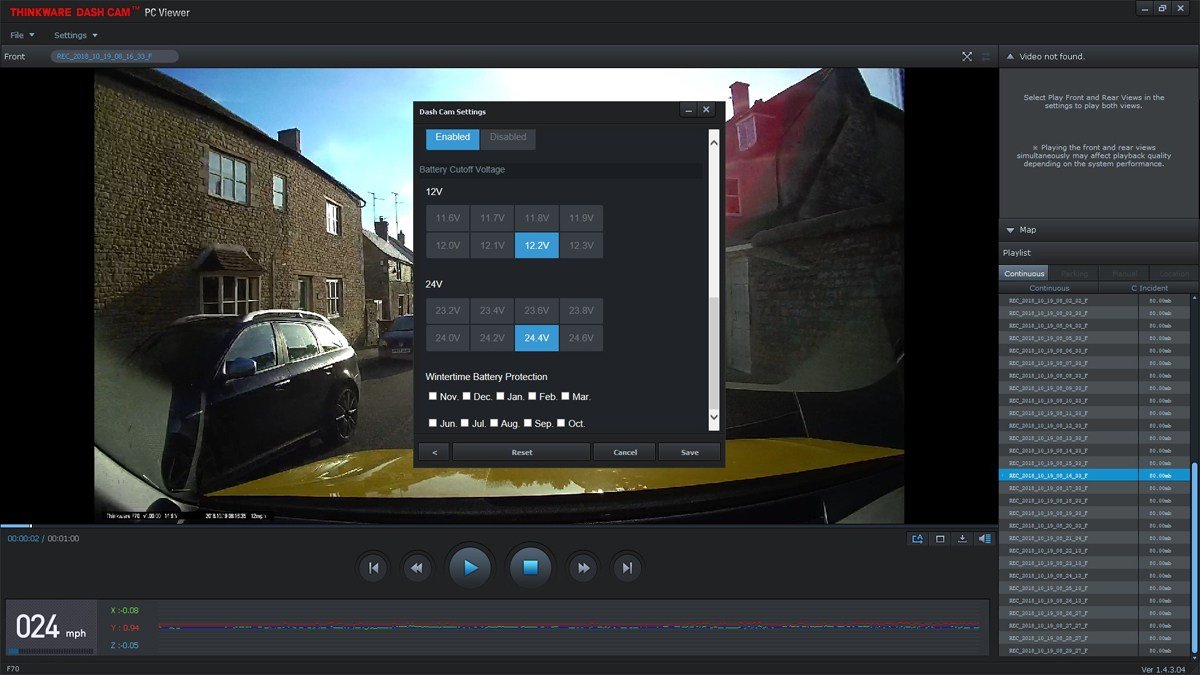 The F70 offers multiple recording modes — manual (when you click the red REC button), motion detection, energy saving, continuous, and incident recording. The F70 also offers Front Vehicle Departure Warning, which alerts us when a queue of traffic ahead starts to move.
Videos are recorded in one-minute loops, so a five-minute trip appears as five separate videos files. If an impact is detected, the F70 saves 10 seconds before impact to 10 seconds after. There's no option for three-minute loops, the standard on the majority of dash cams.
You can get an additional GPS receiver which costs £25. It slots into the side of the F70  and while that's easy enough, the actual wiring is a bit of an issue. As the wire from the F70 was already tucked into the windscreen trim to prevent it from hanging down and bothering our passengers, there was nowhere to keep the GPS wire out of the way — as you can see in the picture below.
The GPS unit alerts you to upcoming safety cameras. This feature worked, but we found it slightly irritating that it constantly told us we were in a mobile safety camera zone, although you can turn these alerts off.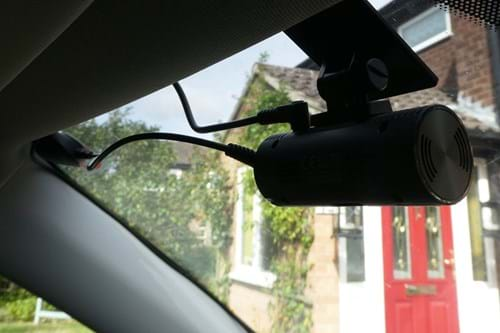 The GPS feature will also allow you to embed the speed onto recordings. Insurers often require this information on footage if there's an incident, so it's worth paying extra for. A package deal on Amazon also means you can get the hardwire kit and GPS unit with the F70 for a total of £100.
While the footage captured is of decent quality and looks crisp and clear even on a large computer screen, it can be tricky to read number plates when you pause the video. This is likely due to the 140-degree wide angle lens, while it improves the view you can see across lanes of traffic, it can skew details a bit. Reading details like registration plates on videos in slow moving traffic, like at red lights, is easy though.
Even as higher-end dash cameras zoom towards 4k footage resolution, the 1080p that the F70 records in is good enough to read number plates (usually). Footage at 1080p also isn't very space hungry, so a 32GB dash cam should do the job for the average driver that just wants to use a dash cam in case of an incident.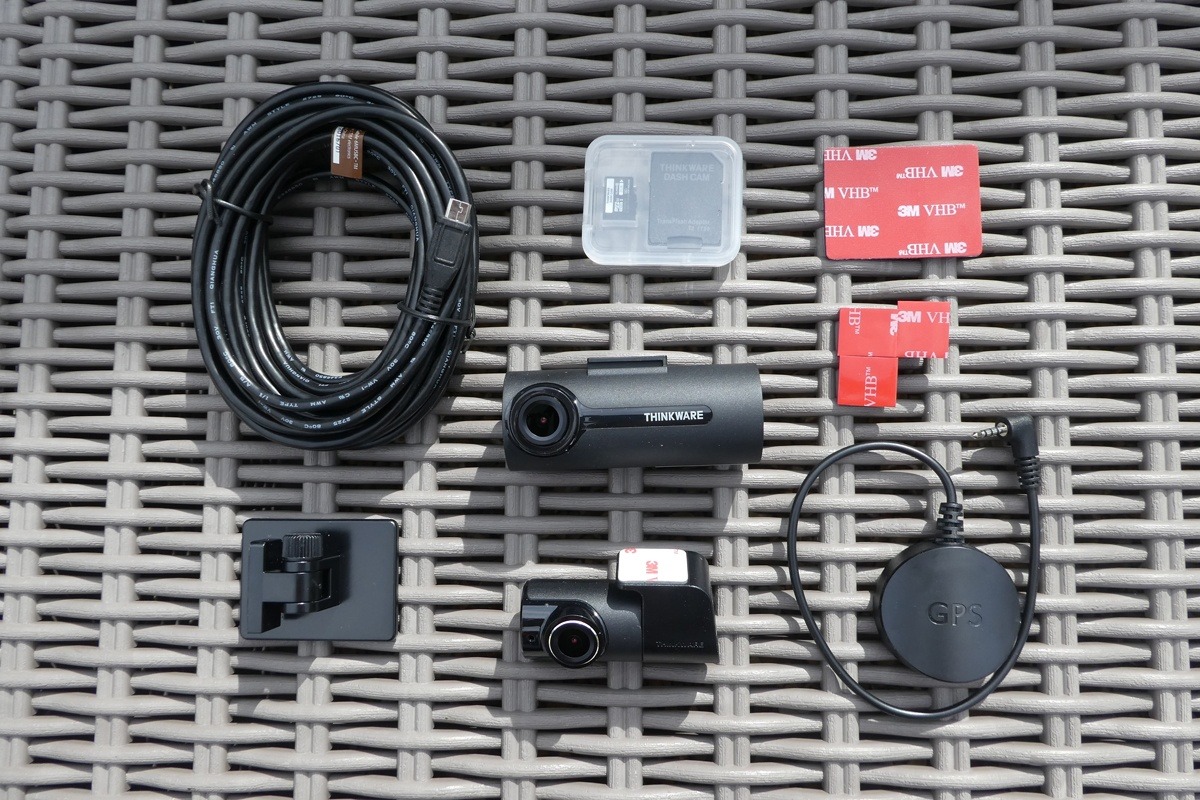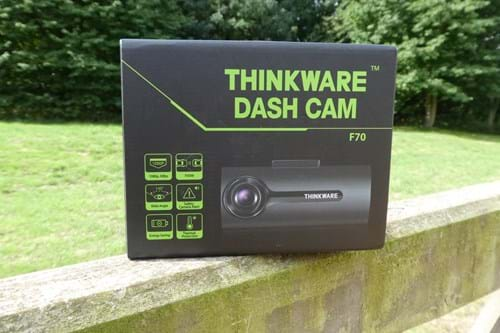 The F70 is powered by a cable with a 12v/cigarette lighter connector, rather than a USB connector. This means that the car's 12v socket is completely occupied by the dash cam. Other dash cams, which use USB adapters, seem more innovative in this sense — allowing you to power a dash cam as well as charge another device, like a smartphone. If you only have a 12v socket, rather than USB ports in your car, the Anker two-port car charger is a very handy accessory.
As well as a 12v in-car charger, optional cable to hardwire the camera (which must be fitted professionally) and the F70 unit, Thinkware also provides an 8GB MicroSD card and adaptor in the box. The 8GB MicroSD can record 124 minutes before it starts to loop and erase other videos to save new footage.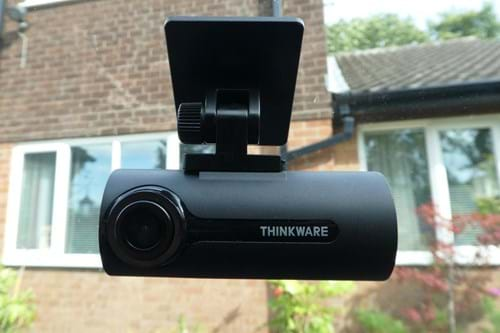 Should I buy it?
For £80, the Thinkware F70 is a reasonable dash camera with a range of features and recording modes. You can get cheaper dash cams, like the YI Smart if you're fine with fewer features (no safety speed camera alerts, parking mode or GPS capability), but if you do want these things — the F70 is a decent choice.
For this price, 1080p resolution is about standard and the footage is definitely clear. GPS is, in our opinion, a useful extra — although it's one that'll bump the price up to £100. But the camera does feel old in a few ways, namely the adhesive mount and 12v lead rather than USB cable — meaning you can't use the 12v socket for any other devices you might need to power, like a sat nav.
Mostly though, the lack of screen and the fact you need to download a programme to change the settings is a nuisance. Of course, you shouldn't have to do it more than once or twice, but it's an annoying extra step that you wouldn't expect with a camera that costs £80.