What is it?
Keep losing stuff? One possible solution is attaching the Bluetooth-tracker Tile to it, and hope that you can hang on to your phone long enough to find whatever you've lost. There is a stack of options to choose from when you purchase a Tile, including multiple Tile packs, iron-on pockets, straps and so on.
The most basic option is a solitary Tile. Buy this and once you've downloaded the companion app for iOS or Android, you can pair your phone and your Tile over Bluetooth and in theory never the twain shall be separated.
Lose your keys, bag etc and you can use your phone to find it. Lose your phone and your Tile can make your phone bleep back at you. Lose both and you can call upon your fellow Tile users to help you find it - every running Tile app tracks Tiles around it, so with a bit of luck some good soul can help you find it again.
What's it like?
Tile Sport and Style are the 'Pro' offerings in the range, which means they get a higher spec. Compared to the standard Tile the Pro versions have twice the Bluetooth range at 60 metres, can bleep at you with twice the volume and have higher dust and waterproof protection, claiming IP68 and 30 minutes at up to 1.5 metres depth respectively.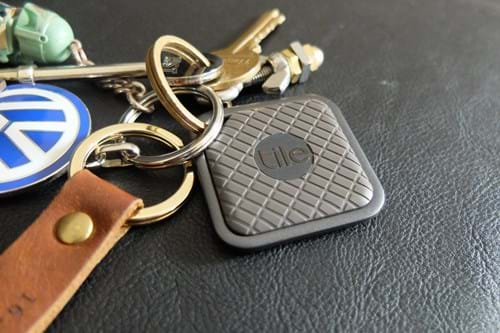 Tile Sport is 2.5mm longer and wider than Tile Style but the same thickness; other than that the biggest difference is colour. Sport is 'Dark Slate and Graphite' – in other words aimed at boys, whereas Style is 'Champagne and Satin White' and designed to be sufficiently inoffensive to be attached to a handbag.
Once you've been through the straightforward set up process there's nothing more you need to do. Locating whatever is attached to your tile is a matter of opening the app. You can make the tile bleep so you can follow the sound or you can look up on a map the last place it was seen. You can also have multiple apps linked to the same tile, allowing the whole family to look for your car keys if things get really desperate.
Working in reverse, a double press of the Tile's button will make your phone ring even if it's on silent. Either one of these facilities could save you a lot of time depending on how regularly your stuff gets misplaced. All Tiles are designed to last a year before the battery is depleted. You can't replace the battery, but Tile offer a discounted replacement service which offers up to 40 percent off the regular cost.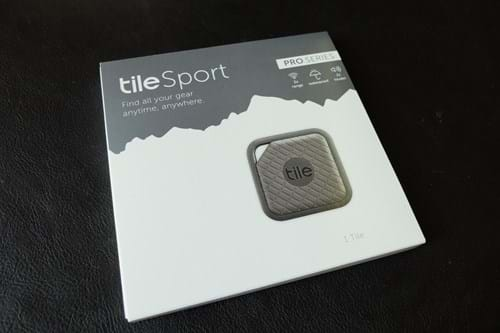 Should I buy one?
Only you can say whether the Tile sounds like a lifesaver or a total waste of time, but the functionality is clearly well thought-out and is easy to use. Whether the Sport or Style Tiles are worth almost twice the price of the regular version is also a matter of choice. The replacement cost of what you're attaching it to is probably a good place to start.
Buy direct from tile here