Top 10: Car seats that are fun for kids
If you are a particularly generous kind of parent you may want to consider choosing a seat that your child can get excited about, rather than one that is just practical, safe and good value. Here are ten seats that should help delay the first complaints about boredom at least until you've made it off the driveway.
Don't forget to check the compatibility of your own car by using our unique Car Seat Chooser.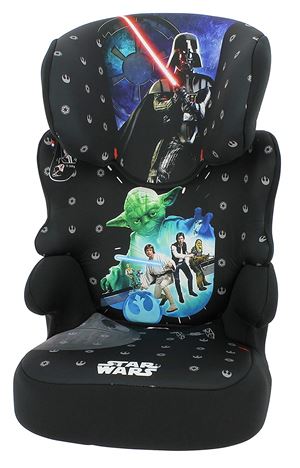 1
Befix SP Star Wars LUKE SKYWALKER HBB Group 2/3 car seat
Could this be the car seat you're looking for? Parents will certainly approve of this Star Wars car seat by Befix, which features the cast from the original trilogy. As it's designed to suit children between the ages of four and 11, you can be sure they'll have some strong opinions about the films too.
A straightforward booster at a low price, the Befix SP has an adjustable headrest to suit all ages and that precious cover is removable and washable too.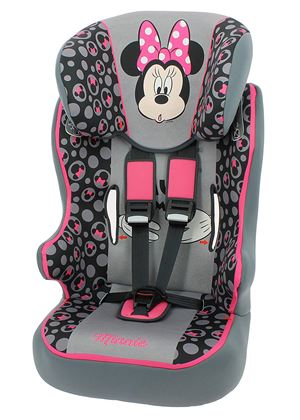 2
MyCarSit Disney Racer
The MyCarSit Disney Racer has enough cover options to suit the pickiest child in your life: as well as this Miss Minnie version you can have Mickey, Lightning McQueen, Aurora, Elsa and Arna, Spiderman and more.
The seat itself is built for children from 9kg-36kg and installs with the standard three-point belt. Individual harness tensioners mean you can achieve a secure fit, and there's an adjustable head support too.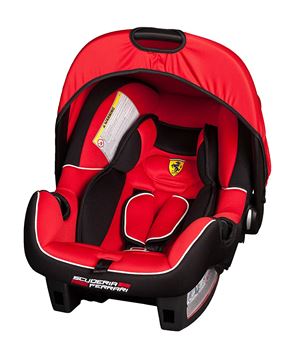 3
Ferrari Beone SP Infant Carrier
Start your child's obsession with expensive Italian sports cars by installing them in this Beone SP carrier, emblazoned with the famous prancing horse and finished in unmissable Rosso Corsa.
Like the standard Beone SP, this is a group 0 seat with newborn support cushion. Although it is a seat-belt only installation, it's lightweight and inexpensive.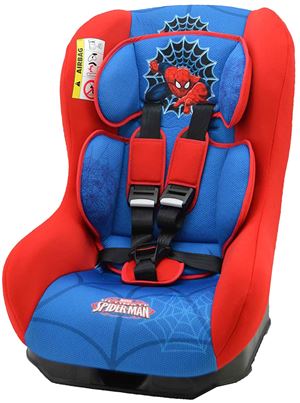 4
Marvel Spiderman Driver Car Seat
Maybe your newborn won't quite have the Marvel fervour that would justify this Spiderman seat but it will certainly keep dad happy and pave the way for a childhood of superhero worship.
For the adults, the important things to note are this group 0+ seat has a newborn support cushion and a five-position recline function, as well as a pleasingly low price.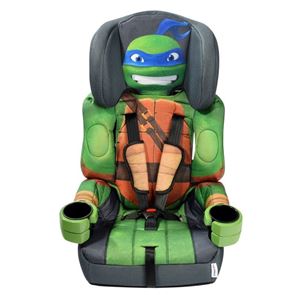 5
Kids Embrace Batman Deluxe/Ninja Turtle
The Embrace moniker applied to this car seat is entirely accurate; in Teenage Mutant Ninja Turtle form as shown here, Leonardo looks like he's holding on for dear life, as well as taking a firm grip of whatever you put in the cupholders.
There are Batman and Spiderman versions too, but all the seats are designated groups 1, 2 and 3, offer a five-point harness and seat-belt installation, and are forward-facing only.
Buy it now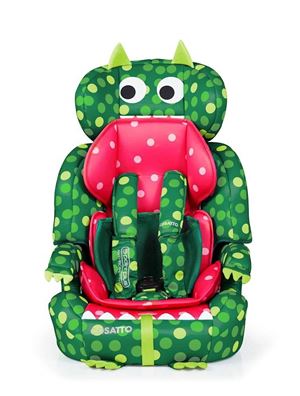 6
Cosatto Zoomi Car Seat Group 123, Dino Mighty
This Cosatto Zoomi comes with a bigger range of coverings than any other seat we could find, so much so you may even be tempted to let your child decide which one they have.
The Dino Mighty gets our vote though on account of the pointy ears and claws that catch the eye but don't intrude. Better yet the Zoomi covers groups 1, 2 and 3, making it a seat for the long-haul. There's a five-point harness with an anti-escape design too.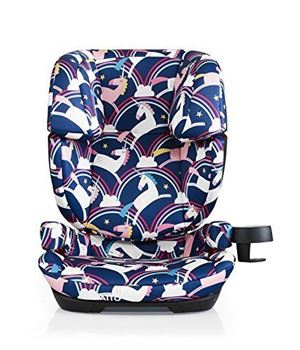 7
Cosatto Skippa Fix Magic Unicorns
Cosatto's Skippa Fix can be ordered in two designs; Dragon's Kingdom and Magic Unicorns (shown here). Both may have a particular audience in mind but, in truth, are reasonably gender-neutral if such things are a factor.
More crucially the Skippa Fix is an excellent seat, suiting children aged between four and 12 years and can be installed via Isofix or a three-point belt. There's a drinks holder and the cover is removable to keep the unicorns clean, plus a four-year warranty is a standout feature at this price.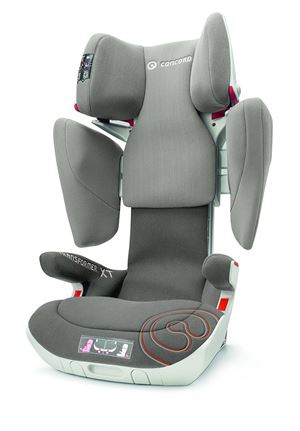 8
Concord Transformer XT Group 2/3
Despite the name, this seat has nothing to do with CGI-laden Michael Bay movies, although the Concord Transformer could do a passable impression of one. Finished in smart fabric in a range of sober or zingy colours, the Transformer has a pair of wing-like side supports and a headrest that looks straight out of a sci-fi flick.
It looks so smart it might make some adults envious.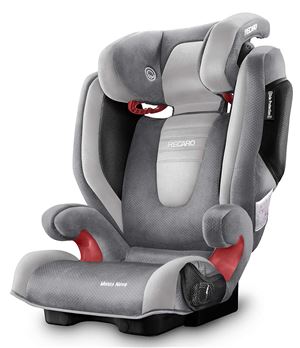 9
Recaro Monza Nova 2
For the more discerning child who wants a sports car for their 18th birthday or dreams of being a BTCC racer, the Recaro Monza Nova 2 is bang on the money. Aside from the smart Recaro branding, the Nova 2 has all the wings, supports and bucket-like appearance of the real thing - which should also mean it offers excellent comfort.
Suitable for groups 2 and 3, the Nova 2 even has speakers in the wings that you can plug an MP3 player in to, which is likely to be a popular feature with your small person.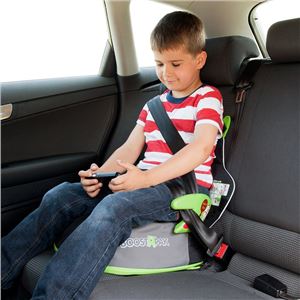 10
Trunki BoostApak Travel Backpack Booster Seat
A car seat that not only keeps your child entertained, but one that they'll be happy to carry around for you? It sounds too good to be true, but the Trunki BoostApak does just that.
Converting from an eight-litre backpack into a booster seat for children of 15kg and up, the BoostApak is the ideal solution to the problem of taking car seats on holiday and - at £50 - it won't break the bank either.
Buy it now