Top 10: Best Multimeters
Tackling electrical issues, like diagnosing an intermittent fault in your car, is almost impossible without a decent multimeter. These devices typically allow you to measure variables such as current, voltage and resistance in electronic devices. They're an inexpensive and useful addition to any garage or workshop. To help you find something suitable quickly, here are ten of our favourites.
Top 10: Welders for under £300 | Top 10: Tool Chests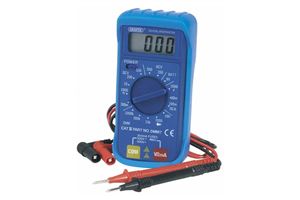 1
Draper 16-function 52320 Digital Multimeter
If you think it might be useful to have a multimeter in your toolkit, but don't want to spend much, this Draper offering could be ideal. For starters, it comes with probes, a battery and a protective rubber casing – so you won't need anything else to use it.
It's not a professional-grade unit by any stretch, but it's ideal for the odd job. Its compact size and light nature also mean it's a doddle to carry around and store and, despite its budget price, it's guaranteed for a year.
Buy it now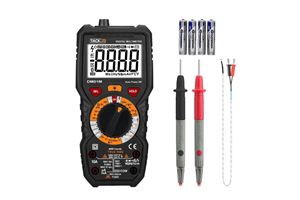 2
Tacklife DM01M Digital Multimeter
This inexpensive multimeter is packed with tech, making it a great option for those seeking a useful and capable tool that won't cost a fortune.
Its comprehensive feature list includes continuity and temperature testing, as well as measurement of resistance, current, voltage, amps and capacitance – while useful touches such as a backlit screen and an integrated LED torch further make the Tacklife a good option. It also comes with a two-year warranty as standard.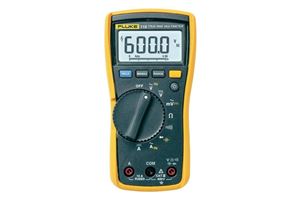 3
Fluke Industrial 115 Digital Multimeter
This Fluke multimeter is ideal for those on a tighter budget who need a professional-grade tool. It's much more expensive than many alternatives but it's a more accurate, more responsive tool; its main numerical readout, for example, updates four times every second – giving you a precise idea of what's happening – whereas many rivals are only updated twice per second.
It also comes with a three-year warranty, so major issues should be few and far between.
Buy it now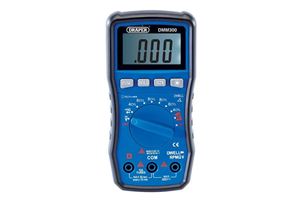 4
Draper 41821 Automotive Digital Multimeter
If you intend to primarily use your multimeter for testing your car's electronics, such as its ignition system, then you'll need an automotive multimeter. These, outside of conventional voltage, current and resistance measurements, can be used to measure the dwell time of the ignition system and the engine speed – which can help quickly diagnose issues.
This Draper unit is a good entry-level automotive multimeter, which features a backlit screen, and it comes with a case and test leads.
Buy it now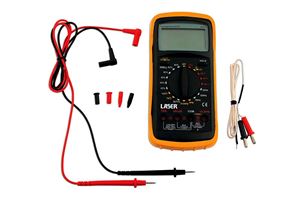 5
Laser 5990 Digital Automotive Multimeter
This Laser multimeter, like the Draper, is aimed primarily at automotive use – but, among its extensive features list are additions including modes that allow it to measure the duty cycle of components and a temperature probe.
It comes with a battery, test leads and an integrated stand, too, but the display isn't backlit like some alternatives which could make it harder to use in dark conditions. It's also typically more expensive than the Draper equivalent but there are sometimes good deals available, so shop around.
Buy it now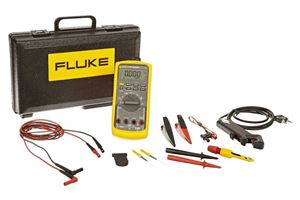 6
Fluke 88V/A Digital Automotive Multimeter
If you're a professional, or a keen enthusiast who wants to invest in top-drawer tools, the Fluke 88V/A is an excellent choice – albeit a particularly expensive one. This high-quality automotive multimeter comes with a lifetime warranty, for starters, as well as leads, clips, test probes and magnetic mount and a carry case.
It also has numerous features, such as a min-max recording mode to catalogue responses, all of which make it an excellent diagnostic tool.
Buy it now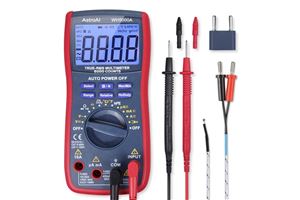 7
AstroAI WH5000A Digital Multimeter
Those needing a more capable multimeter for diagnostics, albeit one that won't break the bank, should make a beeline for the AstroAI WH5000A.
This inexpensive multimeter is packed with features, including a backlit display and auto shut-off, and also comes with a thermocouple – allowing you to quickly take accurate temperature readings, which can help diagnose issues in all manner of situations. It even has a multi-function socket that can test components. A three-year warranty is standard.
Buy it now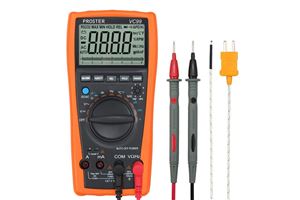 8
Proster VC99 Digital Multimeter
The Proster is another inexpensive, feature-laden digital multimeter that's worth putting on your shortlist. Like some rivals, it's an auto-ranging multimeter – which means you don't need to know the value of what you're measuring, just the type of measurement you're trying to make.
Consequently, instead of having to manually switch through a selection of ranges until you find the right one – say, you know you want to measure voltage but don't know quite how big a voltage – an auto-ranging multimeter will just display an appropriate readout immediately. This Proster offering has plenty of features and, usefully, comes with an 18-month warranty.
Buy it now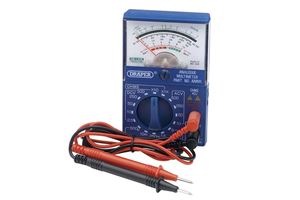 9
Draper 37317 Pocket Analogue Multimeter
Prefer your multimeter to have an analogue readout? You're in luck, as Draper still makes this retro-looking compact analogue multimeter. It's often less than £10, too, so a good choice if you don't want to spend a fortune.
It can measure AC and DC voltage, resistance and DC current, and includes a set of probes. You can get a set of inexpensive crocodile clip test leads for it, too, which make it easier to use.
Buy it now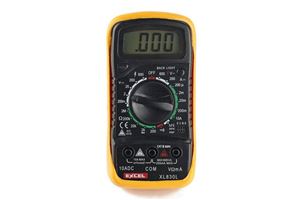 10
Excel XL830L Digital Multimeter
If a bargain's what you're looking for then look no further – as this Excel multimeter can often be picked up for under £5. Yes, just £5 for a digital multimeter that comes with probes, a rubber protective case and an integral stand.
Okay, it doesn't include a battery but a single 8V battery will only bump your total expenditure up to around £7. In any case, it's great value for money and could be ideal for those working in environments where tools often get lost or damaged.