Top 10: Best Tool chests
These tool chests, which typically feature myriad drawers and storage compartments, can help you organise your tools and protect them from damage. They can often be stacked, too, creating comprehensive cabinet units that can be outfitted with wheels to make them movable. You need not spend a fortune to get a decent tool chest, though, as there are plenty of good options around for sensible money.
Top 10: Best socket sets to suit all budgets | Top 10: Toolboxes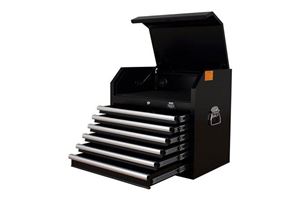 1
Halfords Advanced Six-drawer Tool Chest
The Advanced range from Halfords consists of an extensive line-up of quality tools that are great value for money – such as this tool chest. It features six drawers, each of which has a 30kg load rating, and a storage area in the top for bulkier tools.
Each storage area is lined, to reduce noise and tool damage, and the drawers have ball-bearing sliders and a soft-close mechanism. It comes with a three-year guarantee, too, and a range of matching cabinets, drawers and wheeled units are also available.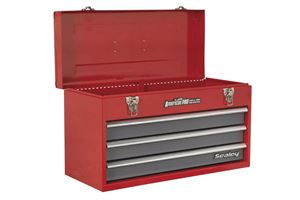 2
Sealey Three-drawer Portable Tool Chest
If you're looking for something bigger than a tool box, but don't want a full-size tool chest or to spend a fortune, this Sealey offering could be an ideal middle ground. It has three drawers, as well as a large storage area in the top, so it offers plenty of storage while remaining moderately portable.
The drawers will even be held closed when the lid is shut, preventing your tools from spilling everywhere. More prominently, it's also comparatively inexpensive and often available for less than £60.
Buy it now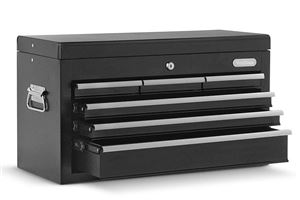 3
VonHaus Portable Six-drawer Tool Chest
VonHaus produces a wide range of affordable tools and workshop gear, including this portable six-drawer tool chest. Each drawer is outfitted with a non-slip mat and ball-bearing runners, for smooth opening, while a locking bar and key secures all the compartments quickly and easily.
It's not expensive, either, but it has a powder-coated finish and all-metal construction for durability. Integrated side handles also make it easy to move and, for peace of mind, it comes with a two-year warranty.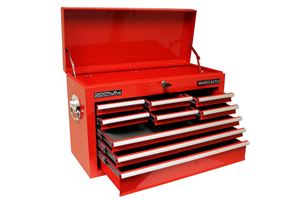 4
Hardcastle Nine-drawer Tool Chest
Those needing more storage space, without blowing the budget entirely, should consider this Hardcastle tool chest. It has nine drawers, for starters, as well as a storage bin under the lid in the top.
Even though it's a comparatively inexpensive offering, it still has some neat touches – such as liners for the drawers, a security lock and ball-bearing runners for the drawers. Hardcastle also makes a range of other chests and trolleys, allowing you to build up an affordable storage solution.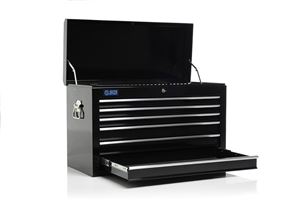 5
SGS Professional Six-drawer Tool Chest
This sensibly priced SGS tool chest features six wide drawers, capable of supporting 20kg apiece, and a top storage compartment. Each drawer is also lined, and runs on ball-bearing sliders, giving the tool chest a high-quality feel.
It has a tough powdered protective finish, too, and heavy-gauge steel construction for durability. An integral lock boosts security, while heavy-duty handles make it easier to move. A range of matching units are available as well, boosting its appeal further.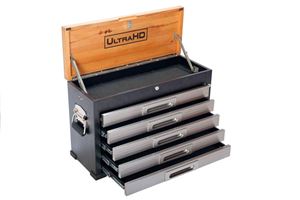 6
Seville UltraHD Five-drawer Timber Top Tool Chest
Looking for something a little more visually appealing and upmarket? This Seville tool chest could be just the ticket – particularly if, say, you're seeking something that might go in a utility area instead of a garage. It has five drawers, with heavy-duty ball-bearing slides for a smooth action, and a timber-topped storage compartment on top.
It's more expensive than some comparable rival offerings but you may well judge the premium worthwhile for the looks alone.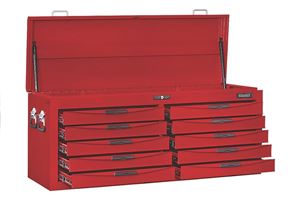 7
Teng Tools 8-Series 10-drawer Tool Chest
If you've got a lot of tools, and want a high-quality tool chest, this Teng Tools 8-Series could be perfect. It's not cheap, by any stretch, but it's a superb heavy-duty counter- or trolley-top tool chest. It has ten drawers, which can support 25kg each and have ball-bearing slides, and a large top box.
There are four tough carry handles, too, which help make the tool chest easier to move. Teng supplies it with rubber feet, so it can be used on its own, but it's perfect for coupling with other Teng Tools roller cabinets and boxes.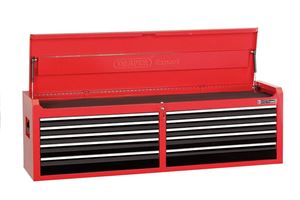 8
Draper Expert 10-drawer Tool Chest
Need a similar amount of storage to the Teng Tools 8 Series but want something more affordable? This Draper Expert tool chest will do the job; it's even wider than the Teng offering and packs ten drawers, foam linings, ball-bearing runners and a gas strut-lifted top storage box.
Draper also offers a wide range of other tool chests and roller cabinets which can be paired with this, making it a good option for semi-professional users who are building up their workshop or garage.
Buy it now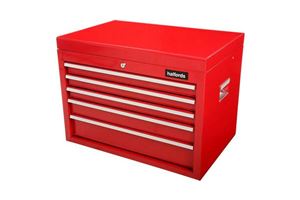 9
Halfords Five-drawer Tool Chest
If you're not looking to spend a fortune then this more affordable Halfords tool chest could be a good purchase. It's not as heavy-duty as the Advanced alternative – the shelves, for example, are only rated to 20kg each – but it's typically far less expensive.
It could be ideal if you've a branch of Halfords local and want to start building up an inexpensive cabinet, as matching roller-equipped drawer cabinets and a mid chest are also available.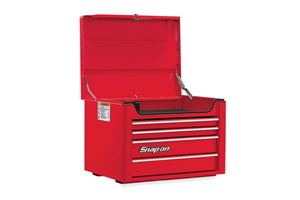 10
Snap-on KRA4014FPBO Four-drawer Tool Chest
It would be remiss of us to compile a list of top-ten tool chests without mentioning Snap-on. The brand, after all, has long been associated with high-quality tools that are ideal for professionals. If you run a garage, for example, Snap-on is likely your first port of call.
This top chest is one of its smaller and less expensive options – although it's still far more costly than anything you'll find here – but its durable finish, heavy-duty construction means it will stand the test of time. Check out Mac tools, too, if you're looking for top-end offerings.