Top 10: Best Toolboxes
Getting your hands on a decent toolbox or tool chest shouldn't break the bank, with prices starting from around £10. In order to help you narrow down your options quickly, here are ten of our favourites.
Top 10: Screwdriver sets | Top 10: Budget petrolhead experience days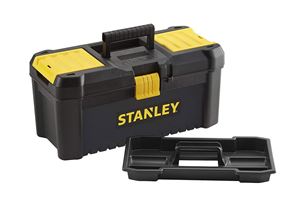 1
Stanley Essential 16-inch Toolbox
You really don't need to spend much to get a useful toolbox, as this Stanley offering demonstrates – as it often costs less than £10. It is admittedly made out of a thin plastic, though, so it's best suited to those with light-duty use in mind.
If you're not looking to store lots of heavy tools, or sling it in the back of a van regularly, it should otherwise prove ideal. It even features a removable tool tray and two storage compartments.
Buy it now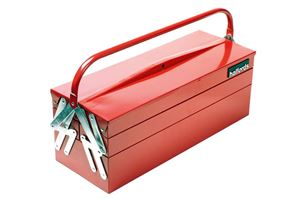 2
Halfords Professional Cantilever Toolbox
If you want a tough, practical tool box that'll stand the test of time then consider this Halfords Professional toolbox. This heavy-duty metal toolbox features multiple storage trays, including a large one in the base of the box for bulkier tools, and quickly expands outwards to allow easy access to everything inside.
The lid also has a fitting for a padlock which, if used, will also stop the box opening up inadvertently during transport.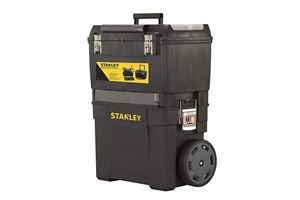 3
Stanley Mobile Work Centre
Got a selection of larger tools you need to store, or have to move them around often? If so, this affordable Stanley set-up is ideal. The wheeled base unit serves as a large storage bin, which is useful for tools such as drills and hammers, while the top multi-compartment toolbox is useful for smaller items.
It's easy to move, too, thanks to its wheels and extendable handle. A similarly sized 'Rolling Workshop' is also offered but it tends to cost a little more.  
Buy it now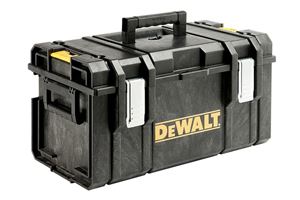 4
DeWalt ToughSystem Toolbox
Slinging a toolbox into the back of your car, or onto concrete floors, can quickly take its toll on a toolbox. Consequently, if you're going to be moving your toolbox around a lot – but don't want one of the bigger rolling tool station set-ups – it's worth investing in something more durable.
The DeWalt ToughSystem toolbox is a great option; it's made from heavy-duty, impact-resistant plastic and is sealed against dust and water intrusion. If you have more than one, they also easily stack for storage and transport purposes.
Buy it now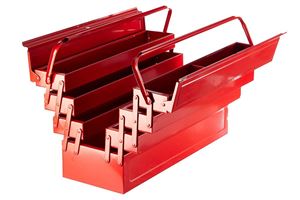 5
Laser 21-inch Seven-tray Toolbox
The Halfords cantilever toolbox, and similar unbranded offerings, is a smart classic-looking toolbox – but it doesn't offer a huge amount of storage space.
If you like the design and look but want to carry more tools, or more accessories and items such as screws and drill bits, then this Laser toolbox is a smart alternative; it has seven storage trays, instead of five, allowing you to store and move more tools easily.  
Buy it now